Please note this article contains distressing content.
It was a normal morning work commute for Melbourne security officer Michael Piacentini, but for four-year-old Darcey Freeman, it was one of the most exciting days of her life: she was on her way to her first day of school.
Nobody could have anticipated that Piacentini and Darcey's lives were about to intersect in an unimaginable horror.
That morning in January 2009, Darcey's father, Arthur, was driving; but then he decided to stop. He pulled his white 4WD into the emergency lane on the West Gate bridge in Melbourne. He dragged his daughter out of the vehicle, and carried her to the bridge's handrail.
Then he threw her from a height of 58 metres into the Yarra River.
Darcey's brothers Ben, six, and Jack, two, were still in the car. Her mother, Peta Barnes, who had divorced Freeman the previous year, was waiting at the school for the important occasion. Only moments before, she had called her former husband, worried.
He told her, "Say goodbye to your children."
Peta never got the chance; Freeman had made sure of that.
But Piacentini didn't miss a moment of the tragedy. In fact, he got what he's describes as "a 360 view of the whole event."
Speaking to SBS's Insight, Piacentini has now described how the incident changed his life.
[Warning: distressing content] "It's something that I'll never forget," says Michael of witnessing Arthur Freeman throw his daughter over the Westgate Bridge.
What is it like to witness a serious crime? #InsightSBS explores, tonight, 8.30pm: https://t.co/Ulrr9kUqEQ pic.twitter.com/n6DItICZLQ

— Insight on SBS (@insightSBS) April 2, 2018
He tells Insight host Jenny Brockie that the traffic was moving slowly that morning, so that he had time to notice that a white SUV was pulled over in the emergency lane.
"I initially thought nothing of it," Piacentini says. He noticed there were children in the car, and thought they might have felt ill and needed fresh air, or even had to relieve themselves. Then he saw Freeman exiting the vehicle.
"I noticed he got out of the car, and I noticed there was a very large sweat patch on the rear of his shirt"; which he thought was strange, and realised immediately that Freeman must have been flustered.
Piacentini watched from his car as Freeman pulled Darcey out of the right hand side of the SUV, and took her towards the fence.
"I still didn't think anything sinister was happening," Piacentini admits.
"I just kept going, and I looked in the side mirror. And that's when I saw that monster throw his child over the handrail."
"It's something I'll never forget."
The rearview mirror magnified the incident, even though by this time Piacentini was a couple of hundred metres ahead. He pulled over, very upset, and doubted what he'd just witnessed.
"For me as a father, it just doesn't compute. It just didn't register, it seemed almost unreal."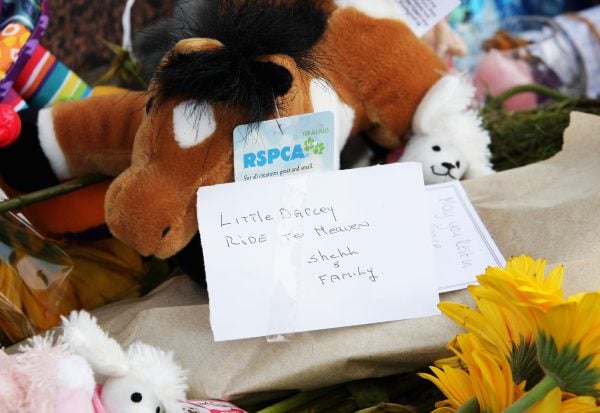 Piacentini felt a rush of furious adrenaline, but it didn't take long for his security training to kick in; he took control of himself, and the situation. He grabbed his mobile phone and began to run back to the site, but then realised that emergency services might not be able to hear him on the windy bridge, so returned to his own car to make the call.
He then organised for other witnesses to convene at a nearby service station, and he made notes in his notebook so everything was fresh in his mind.
Nine years later, it's clear Piacentini still struggles to accept Freeman's motivation for murdering his daughter - which was later found at trial to be a deliberate act to punish his ex-wife.
"A father's duty is basically to protect his children with his whole being and if necessary, with his life," he tells Insight.
"For me to think that a monster could throw his own child off the top of the West Gate bridge, it doesn't compute. You're not sure that you even saw what you saw because it's so foreign."
Piacentini admits that he has internalised the trauma of that morning.
"Before today I haven't spoken about the issue. I've avoided the issue." He never even told anyone in a social situation that he was a witness to the tragedy.
Piacentini's calm demeanour on Insight belies the internal torture he's experienced. He explains that he was paranoid going over the West Gate bridge for a while after, and would say a prayer each time.
"Life changes. It showed that evil exists."
Although he's now at peace enough to be able to accept that telling his story could help others if they were ever in similar situation, Piacentini knows he's fundamentally a very changed man. He's a little more quiet, a little more reserved, and extra observant of everything around him.
Freeman is currently serving a life sentence with a non-parole period of 32 years, but it's not enough for the man who witnessed such cruelty.
"I would have liked him jailed for the term of his natural life. A person like that should never be allowed to be in the public again."
Quietly, to a deeply disturbed audience, he acknowledges,
"It's something I will carry for the rest of my life, I'll carry it until the day I die."