When Kylie Minogue and fiancé Joshua Sasse announced their engagement in February last year, there was a catch.
They had decided they would not marry until same-sex marriage was legal in Australia, out of both protest and a sense of fairness.
It made sense, of course. British born Sasse is passionate about ensuring we legalise same-sex marriage in Australia. He spearheads the Say I Do Down Under campaign, which has quickly accumulated some high-profile supporters.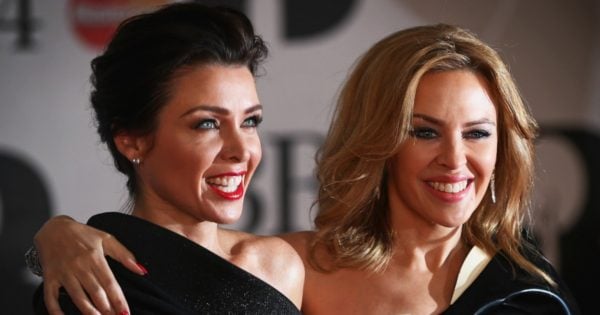 The likes of Sia, Margot Robbie, Dolly Parton and U.S. television host Kelly Ripa have thrown their support behind the campaign.
So, with so much traction, so much air-time and such a platform, does it really matter that sister Dannii Minogue is also a face of it?
On Thursday, many-a-headline brandished the same narrative: Dannii Minogue does not support her sister's Say I Do Down Under campaign.
Talking to the Daily Telegraph, the younger Minogue said she is "doing [her] own thing".
"I guess I have been a part of the movement, as a movement, not as anyone's particular movement (for years)."
She added:"I am doing my own thing and have done for ever and no one can take that away from me."
"I had my own Love is Love T-shirt when I was in Adelaide doing the Peace Festival."
So, yes. Dannii supports marriage equality.
There's no proof that she doesn't support Sasse's campaign. And she also wants to "do her own thing", because contrary to popular belief, both Kylie and Dannii are separate beings. (Who knew!)
Perhaps she is just tired of always being asked about, and compared to, her older sister?
I suspect as much.