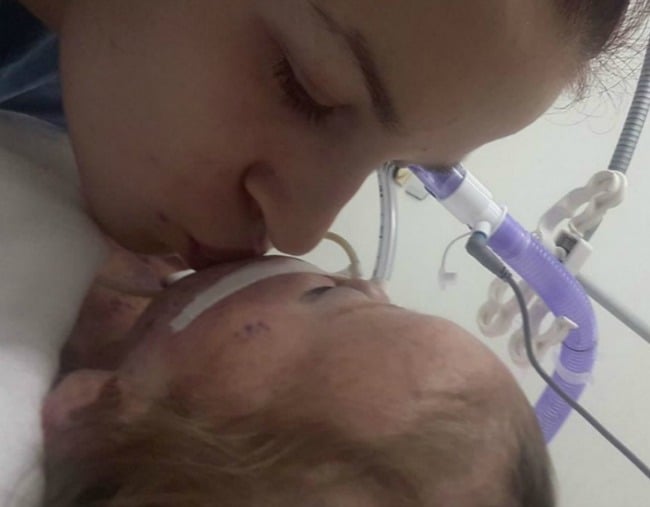 – with AAP
1. Heartbroken mother shares photos of her dying daughter, begging parents to immunise their children.

A mother has shared photos of her dying daughter, pleading with parents to vaccinate their children.
Dragana Petrovic's daughter, Nadja Petrovic, was diagnosed with autoimmune polyendocrine syndrome type 1, which caused issues with her internal organs.
Sharing her story with Perth-based not-for-profit organisation Light for Riley, the Serbian woman said after Nadja was in and out of hospital often several times a week after her first birthday.
Due to her illness, Nadja was not eligible to get vaccines such as MMR, which immunises against measles, rubella and mumps.
Despite her health issues, Petrovic told Yahoo7 her daughter was "playful and energetic" and although her disease could be debilitating, it was not life-threatening.
In January of this year, Nadja was admitted to the intensive care unit, but due to a lack of available beds, the two-year-old was placed in a ward with other patients.
According to Petrovic, a nine-month-old boy was among them, who three days later would be diagnosed with the measles.
By January 12, Nadja had also contracted the virus, and that's when Petrovic's world was, in her words, turned "upside down".
"By the time we were transferred to another floor it was too late," she said.
"My world collapsed; I knew that she would get it but in the depths of my soul I hoped she wouldn't."
Nadja's condition quickly worsened, and led to a three month excruciating battle with respiratory problems, a ruptured lung and eventually sepsis.
In early March, in the words of Petrovic, she "drowned in a dream from which she never woke up," dying after her heart stopped.
Months on, and still struggling to come to terms with her daughter's death, Petrovic's message is clear: Vaccinate your children, because if you don't, the consequences could be devastating – and not just for your family, but possibly for others.
2. Perth couple identified as those who fell to their deaths from Portugal cliff.