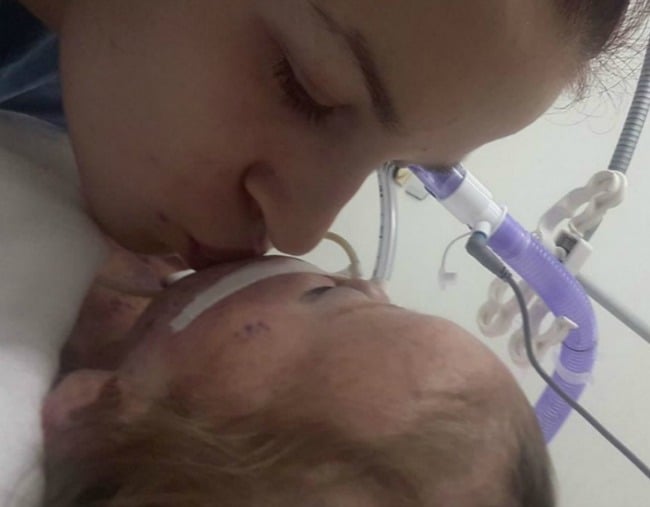 – with AAP
1. Heartbroken mother shares photos of her dying daughter, begging parents to immunise their children.

A mother has shared photos of her dying daughter, pleading with parents to vaccinate their children.
Dragana Petrovic's daughter, Nadja Petrovic, was diagnosed with autoimmune polyendocrine syndrome type 1, which caused issues with her internal organs.
Sharing her story with Perth-based not-for-profit organisation Light for Riley, the Serbian woman said after Nadja was in and out of hospital often several times a week after her first birthday.
Due to her illness, Nadja was not eligible to get vaccines such as MMR, which immunises against measles, rubella and mumps.
Despite her health issues, Petrovic told Yahoo7 her daughter was "playful and energetic" and although her disease could be debilitating, it was not life-threatening.
In January of this year, Nadja was admitted to the intensive care unit, but due to a lack of available beds, the two-year-old was placed in a ward with other patients.
According to Petrovic, a nine-month-old boy was among them, who three days later would be diagnosed with the measles.
By January 12, Nadja had also contracted the virus, and that's when Petrovic's world was, in her words, turned "upside down".
"By the time we were transferred to another floor it was too late," she said.
"My world collapsed; I knew that she would get it but in the depths of my soul I hoped she wouldn't."
Nadja's condition quickly worsened, and led to a three month excruciating battle with respiratory problems, a ruptured lung and eventually sepsis.
In early March, in the words of Petrovic, she "drowned in a dream from which she never woke up," dying after her heart stopped.
Months on, and still struggling to come to terms with her daughter's death, Petrovic's message is clear: Vaccinate your children, because if you don't, the consequences could be devastating – and not just for your family, but possibly for others.
2. Perth couple identified as those who fell to their deaths from Portugal cliff.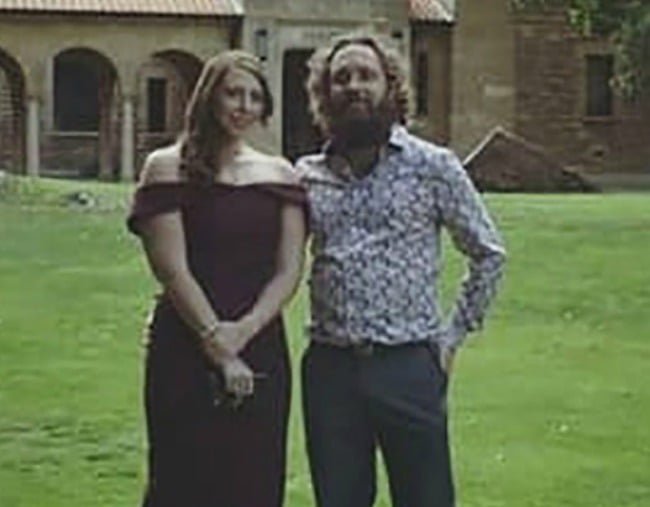 Perth couple Michael Kearns and Louise Benson had been travelling for months when, at a beach in Portugal, they fell to their deaths.
The fly-in-fly-out worker and his partner, a British national, had been atop a cliff in the town of Ericeira on Tuesday morning when they fell 30 metres.
After emergency service workers found a phone in the sand, police believe the couple, aged in their 30s, may have been trying to take a selfie and lost their balance.
Their bodies were reportedly discovered in the sand by a beach cleaner.
3. Police offer warning to the public regarding William Tyrrell search.
Dozens of Riot Squad police arrive for their first day in a new month-long search for William Tyrrell at the scene where he went missing on Sept 12, 2014 @dailytelegraph pic.twitter.com/rX3UtvNf8a

— Nick Hansen (@nickhansen86) June 12, 2018
Police have begun an intensive search of bushland surrounding the area where William Tyrrell disappeared in 2014.
But they have issued a warning to the public - they don't expect to find the toddler's body during the search.
Instead, investigators are hoping to rule out an accident and confirm their suspicions that William, then aged three, was abducted from his grandmother's yard.
Detective Chief Inspector Gary Jubelin is hoping the person involved in his disappearance is feeling the pressure as the search continues.
"And I think the people around that person would be suspicious of their behaviour under pressure," he told A Current Affair.
"And we make no excuse for it. I want that person to feel under pressure."
Up to 50 police officers, from both the public order and the riot squad, spent Wednesday combing through a cordoned-off bush track.
William disappeared from his grandmother's property in Kendall on the NSW Mid North Coast on September 12, 2014.
Hundreds of locals and emergency services workers spent hours looking for him, but the search was called off after just 10 days.
There have been no credible sightings since.
4. Woman's body found on Melbourne soccer field thought to be linked to nearby sexual assault.
Detectives from the Sexual Crimes Squad are appealing for public assistance following a sexual assault in Parkville earlier this year. https://t.co/Keh5Ka29vg pic.twitter.com/lSZdNC1Vv8

— Victoria Police (@VictoriaPolice) June 12, 2018
The discovery of a woman's body on a Melbourne soccer field a suburb away from the scene of a "terrifying" sexual assault has detectives investigating whether the two events are linked.
Police late on Wednesday released CCTV images of a man wanted for questioning over the woman's death, with the pictures bearing a striking resemblance to a computer-generated photo of the alleged sex attacker.
Investigators have warned nearby residents to be on alert after the body was found on a field in Princes Park between Royal Parade and Princes Park Drive at Carlton North on Wednesday.
A passer-by found the woman at about 2.40am and she is yet to be formally identified.
Homicide Squad Detective Inspector Andrew Stamper said his team will investigate if there's any connection to a sexual assault at Parkville on March 28.
The young American woman who was sexually assaulted recounted her ordeal, which she said took place on Gatehouse Street while she was walking at about 2.35am.
She helped police compose a computer-generated image of her attacker, which was also released on Wednesday.
Detective Insp Stamper would not comment on whether the dead woman had been sexually assaulted or suffered physical injuries.
A pair of black shoes were seen near a police tent that was erected on the field, which was completely cordoned off by police tape.
The field is also bordered by popular running tracks, with a number of joggers told by police to take a detour upon approaching the crime scene.
Local Superintendent David Clayton said police will ramp up their presence in the area to give locals "reassurance" about their safety and security.
He urged people to take responsibility for their safety by being aware of their surroundings at all times.
Anyone who may have been in the area early in the day is urged to contact police.
5. PM Malcolm Turnbull will make a national apology to institutional sex abuse victims.
Today, Prime Minister Malcolm Turnbull announced that he will make a national apology to victims of child sexual abuse following the recommendations from the Royal Commission into Institutional Responses to Child Sexual Abuse. pic.twitter.com/OegCyZ6dq7

— Full Stop Foundation (@FullStopFdn) June 13, 2018
Prime Minister Malcolm Turnbull will make a national apology to child sexual abuse survivors for the "shocking" crimes committed against them on October 22.
It's just one of the measure the government will take as it adopts the bulk of the recommendations of the five-year child abuse royal commission.
While Canberra has not rejected any recommendations, the controversial issue of extending mandatory reporting laws to include people in religious ministry remains in the hands of the states and territories.
So far the Catholic Church has refused to insist clergymen report instances of child abuse when they are given in confession.
Australian Catholic Bishops Conference president Archbishop Mark Coleridge said the church does not view the sacramental seal as incompatible with maintaining child safety and wants measures that will genuinely make environments safer for children.
"There has been no compelling evidence to suggest that legal abolition of the seal of confession will help in that regard," the Brisbane archbishop said.
But Turnbull had a clear message for the Catholic Church when it came to the seal of the confession: "The safety of children should always be put first."
He said Australia must commit to lasting reform to keep children safe and ensure the suffering inflicted on survivors who came forward to the royal commission can never happen again.
The government will conduct a nationwide study to determine where child sexual abuse is occurring and has given federal minister David Gillespie responsibility for children's policy issues.
Mr Turnbull also confirmed Western Australia will sign up to the national redress scheme for institutional child sexual abuse survivors, extending it across all states and territories.
Opposition Leader Bill Shorten suggested former Labor prime minister Julia Gillard, who set up the royal commission, should be offered a role in the national apology for survivors.
6. Government pledges $3.2 million for eating disorder treatment.
Butterfly and @OurPHN are thrilled at @GregHuntMP announcement today to fund an innovative trial to improve access & affordability of eating disorders treatment. This will have a profound impact on the lives of so many individuals & families. Full release: https://t.co/Hxmptov4qB pic.twitter.com/OUg4yEwCwm

— Butterfly Foundation (@Bfoundation) June 13, 2018
The Federal Government will fund a $3.2 million new pilot project to improve the treatment and care of people with eating disorders.
Almost half, $1.4 million, will go to the Butterfly Foundation to run a project on Queensland's Sunshine Coast, which they will use to first engage with doctors to create better awareness in eating disorders.
Then two treatments will then be offered to patients, including up to 20 psychotherapy sessions for less complex eating disorders and up to 50 psychotherapy sessions for people with anorexia nervosa or other complex eating disorders.
The Central Queensland, Wide Bay, Sunshine Coast Primary Health Network will also receive $1.8 million over three years to commission services and engage with health professionals in support of the pilot project.
In total, 240 patients will be supported and the pilot will end with an evaluation.