By now, every footy fan in the country is familiar with Daisy Pearce.
As the captain of the Melbourne Football Club's women's team, a six-time winner of the Helen Lambert Medal — the Brownlow of the Victorian women's league — and a co-host of Channel 7's Game Day, she is hailed as one of the legends of AFL. And she's only 28.
The footy star will be leading her team into the first ever AFL Women's competition next year, inspiring an entire generation of young girls to pursue their footy dreams.
And it's for her successes on the sporting field that she has been nominated for the Football Woman of the Year award at the Essendon Women's Network Grand Final Comedy Debate on Thursday.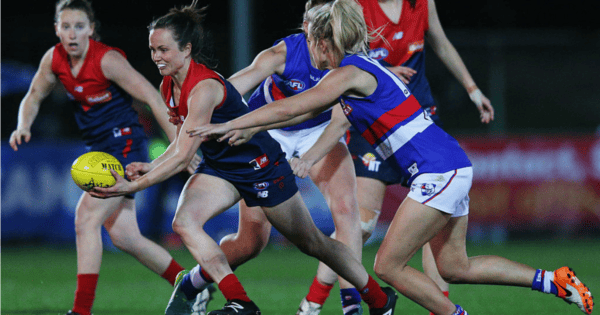 But Pearce cheekily quips, with a laugh, that her mum (aptly named Dee) was more proud of her when she was a midwife.
"People tell my mum, 'You must be so proud of what Daisy is doing and being a role model'. She tells them she was more proud of me when I was a midwife," she jokes, adding: "Well, she has had five babies."
What many don't know about Pearce is that up until late last year when she accepted full-time work at her footy club, she had been at Box Hill Hospital in Melbourne's east.
Over the course of her five years in the job, she delivered about 150 babies.
"It was a job I loved and cherished and I'm sure I'll go back to it at some point," she says.