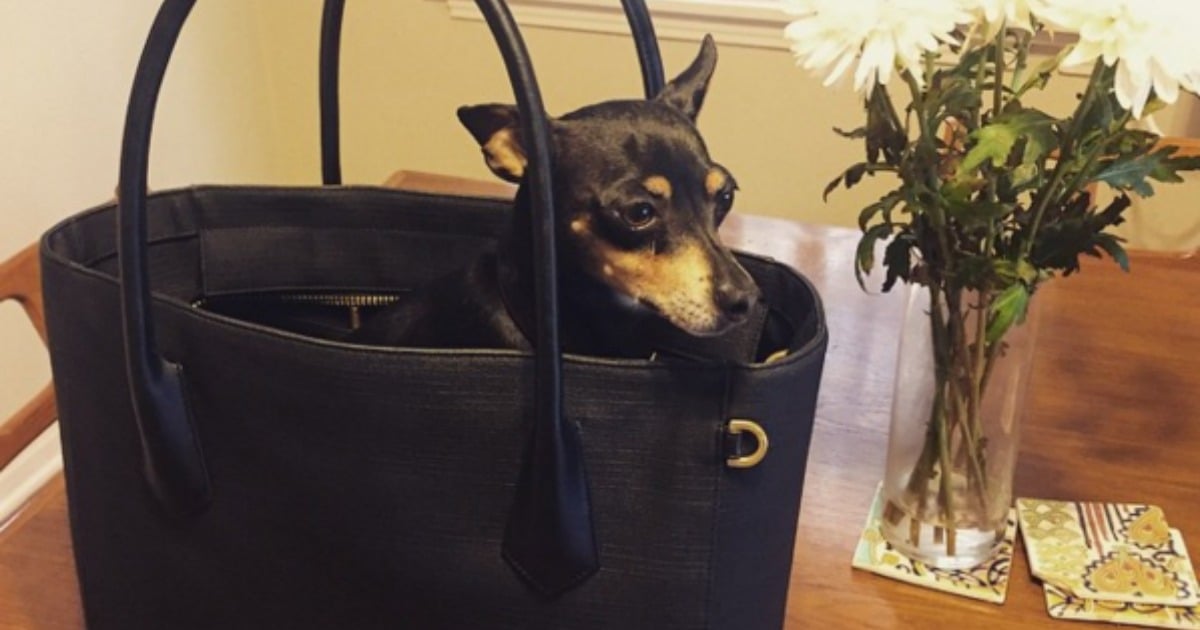 I have never seen two grown humans so excited about something that wasn't an open bar tab.
But last night two of my housemates could not stop talking about their new bags. (My other housemate, a man, just looked confused the entire time.)
It was like show and tell in our kitchen as they got the bags from their rooms and proceeded to wax lyrical about the water bottle compartment.
Let me explain.
My housemates both travel a lot for work. They lug books and laptops and tablets and make up and all that stuff around with them from State to State on a very regular basis.
So when one of them came across a beauty blogger with an obsession with a handbag that she claimed would take you "from 7am to 10pm", she decided to order one for herself.
And then she sent the link to my other housemate, who also immediately bought one.
Now, both bags have arrived and they are in love.
I am pretty sure if either of them had to choose between this bag and a potential love interest, they would choose this bag.
The bag is called the Dagne Dover tote, and it comes in a 15-inch or 13-inch size. Both models were on display on our kitchen table last night.
When I asked why they loved the bag so much Housemate Number One said "Oh my god, SJ, it's amazing. It fits everything you could ever want to carry. It fits my laptop. Finally a bag that fits my laptop AND all the other stuff I need."
Housemate Number Two chimed in: "I love that there is a designated space for your water bottle, and look here – you can clip your keys to this strap". (Then she waved the key chain at me.) "Boom. Everything is in there."
I wasn't sure if I was living in an infomercial, but I've got to admit they were getting to me.
I already own way more bags than I can use, but when I stopped to think about it, that's because no bag has ever fully lived up to what I had hoped.
It never quite fits everything how I want, or has enough compartments, and so I move on to the next model I think might work better.
This one actually looked like it could hold everything.
THEY HAD SUCKED ME IN.
Intrigued by their evangelical fervour I began researching the bag online.
Turns out there are a lot of happy Dagne Dover owners out there.
The company was set up in 2012 by three women who were sick of what they describe as "black hole bags", something I have long referred to as "the Mary Poppins problem".
As in, you buy the biggest possible bag and then throw so much stuff in there you can never find anything. The difference with this bag (my housemates practically yelled at me) is that even though it's big, it's also big on compartments.
Watch blogger Melody Robinson Wright unpack hers:
Dagne Dover CEO Melissa Mash told the Huffington Post that the idea for the bag came from her time working for Coach, watching women come in looking for the bag that would fit everything.
Not long after that, while attending business school, Mash had the same problem.
"My laptop didn't even fit in my bag, let alone the binders, papers and extra pair of shoes that my daily routine required. I realised that no brand had nailed practical bags that actually looked good … that's when I decided to do something about it," she said.
The result of her collaboration with Jessy Dover and Deepa Gandhi was the Dagne Dover tote.
It's like the IKEA drawer organiser of handbags.
But how did they know what to include in the bag? The trio used social media during the design process to find out what women were looking for.
"As three women who are the same demographic as much of our customer-base, we brought them along on our journey with us. They loved seeing Jessy's sketches, the production process, the first shipment of bags that were going out," Mash told Forbes.
I am pretty interested in this bag. But there is one problem. They don't ship to Australia. So my housemates used Australia Post's Shopmate shipping service to get their hands on the bags.
Despite the extra cost for shipping, they both said that the total cost (about $450) was worth it.
"I would have spent more than that on a different bag that wouldn't have been as good so it's fine," Housemate Number Two told me.
At this point I am mostly trying to decide if I can justify the extra money for "the Charlie" which is leather.
And also which colour it should be.
But also, if we've finally found the female equivalent to the briefcase can we please move on to the other great convenience/fashion challenge of our time: mandating that all skirts and dresses have pockets?
A girl can dream.