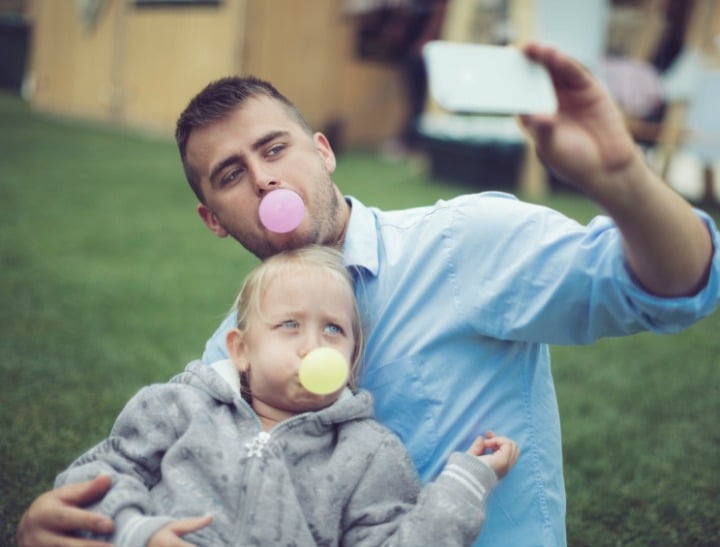 To be fair, I've been most of these dads at one stage or another.
Except Sleazy Dad, because my wife would kill me.
1. Intense Sports Dad.
He's demonstrating how to pack a scrum, but his daughter really isn't interested. Intense Sports Dad has witches hats, portable soccer goals and he's wearing a work out shirt. Even if its 10 degrees.
2. Hangover Dad.
Sunglasses. Coffee. And several trips to the public toilet in the park. It's Hangover Dad. Most of often spotted on Sunday Mornings at your local park, but if Hangover Dad makes a regular appearance at the park during the week it's probably time to give his wife a call.
3. Pinterest Slave Dad.
He's rearranging the table settings to make sure that the flower arrangement doesn't take attention away from the candy stripe napkins. Pinterest Slave Dad's wife asks for nothing short of Pinterest perfection. He's tells us he's "happy", but as he arranges the vintage paper straws a single tear rolls down his cheek and falls on the bespoke piñata in the shape of a strawberry.
4. Paparazzi Dad.
Takes photos of EVERYTHING. The trees. Play equipment. And about 2000 photos of his kid sitting on the grass. Yep, just a baby sitting on the grass. He is clicking away at everything with his DSLR as if Angelina Jolie and Kim Kardashian got in a catfight in front of the Opera House.
5. Hygiene Dad.
Box of anti-bacterial wipes in one hand while Hygiene shifts position between Helicopter and Lawn Mower parent around the perimeter of his child. Hygiene Dad would make an excellent secret service agent because nothing will get between him and his child. Not even a microbe. The park/playground will be so clean the area could be used for open-heart surgery.
6. Negligent Dad.
He's sitting at the on the bench outside the play area mindlessly scrolling through his wife's bff's Instagram feed. Don't judge, he claims she's his friend, too….he just likes to check up on his female buddies when they're wearing bikinis. Meanwhile, Negligent Dad's kid is terrorising the other children at the park.

7. Squad Dad.
A horde of zombie-like grandparents follow Squad Dad wherever he goes. Squad Dad will invade your personal space as his squad zombies tramp right through your cricket pitch, family photo or even your picnic mat wielding iPhones to capture every precious moment.