It's so annoying when a great white shark drops in on your wave while you're surfing. So rude.
Not to mention TERRIFYING.
10-year-old Eden Hasson had no idea he was sharing a wave with a shark until dad Chris showed him the photos.
The incident happened in January, 2017 at Samurai Beach in Port Stephens, New South Wales.
"I've lived here for 45 years, so it's our local." He said he and children Archie, five, Eden, 10 and Olivia, 12 surf there most days.
"The water was crystal clear, it was a beautiful afternoon," Chris told Holly and Andrew on This Glorious Mess. "I'd been surfing all day pushing Archie into waves. Eden was just surfing out up the back with his sister.
"It was last surf of the day. I didn't go out in the surf so Olivia and Eden had gone out. There were four other guys in the water at the time and he'd come in."
Chris Hasson talks to Holly and Andrew about talking that incredible photo and how his ex-wife, the mother of their three children reacted when she saw the photo. Article continues…
"There was a storm approaching in the background – it wasn't too close to us – so it was sort of a moody backdrop. I was on the rocks taking photos with the zoom-lense camera and there was a really good rip right beside the rocks which is an easy paddle out and a peak breaking into the rocks."
He says Eden had come in but asked to catch one more wave. His dad told him to "go a left". Chris waited for Eden to catch that last wave before taking a series of photos.
"As I was taking the sequence I thought I saw something. You know, if anyone surfs you've got this peripheral vision. You sort of see a splash or you see something and I thought I saw something." He said he quickly zoomed in, spotted the shark and quickly called Eden in.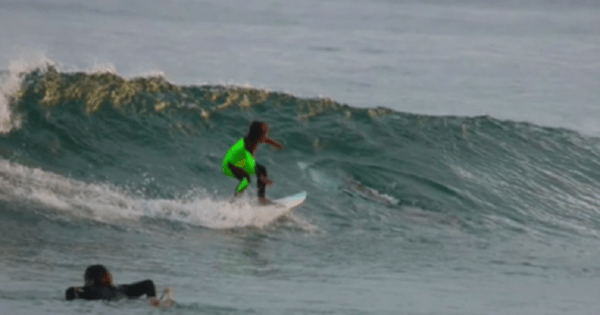 "He'd only just turned around to paddle in, so this was right after that photo, literally, straight after it. So I called them all in and they all came to the camera and I said, 'Have a look at this'."
The kids crowded around the camera and couldn't believe their eyes.