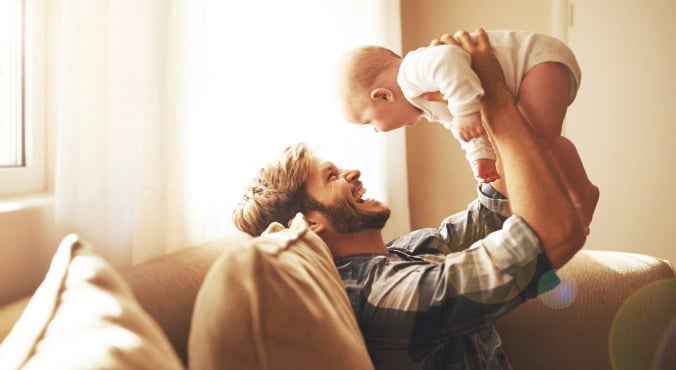 Image: iStock.
I WOULD LOVE TO DO WHATEVER IT IS YOU'RE DOING or plan on doing, or whatever it is I did before I had the third kid, but I have to hold the baby.
Everything now revolves around the world headquarters for life that is my house. You should know that. And I'm more than okay with that. I love it more than anything.
Seriously, anything. I am, after all, holding the baby. I'm holding the whole universe in my arms, and she only reaches from my navel to my right above my heart. I want to hold the baby.
Recently another father of three gave me the most brilliant insight into being the dad of a newborn. He simply said that all his time was taken up by holding the baby. It made total sense and gave me a new maxim, excuse, and principle to live by: I CAN'T, I HAVE TO HOLD THE BABY. (Jamila Rizvi tells us about the pregnancy symptoms she was not expecting. Post continues after video.) 
This is useful for the following situations:
"Hey man, how's your novel going?"
"I CAN'T WRITE, I HAVE TO HOLD THE BABY."
"Hey man, want to go out for drinks after work?"
"HA HA YOU'RE DELIRIOUS OR CHILDLESS…YOU KNOW I CAN'T, I HAVE TO GET HOME TO HOLD THE BABY. PLUS THERE IS NO DRINKING MONEY UNTIL LATER IN LIFE. ASK ME IN EIGHTEEN YEARS OR SO, OR MAYBE WHEN I'M RETIRED."
"Hey bro bro, want to catch a movie?"
"That's nice. That's also what DVR, Netflix, Hulu, Redbox, YouTube, and HBO GO is for. I'm in bed by 9. And most of the time, I'M HOLDING THE BABY."
"Hey you want to catch my friend's band? They play at 12AM on Tuesday night."
"Uh, I wouldn't even do that in my baby-free 20s when I was playing the same night at the same place. Sorry, friend." (Post continues after gallery.)