No, we're not even going to pretend to be chill about this, because it's a dog maternity shoot. A dog maternity shoot involving a Miniature Dachshund and soft back-lighting and flower crowns and a beautiful pregnant dog belly.
The dog is Cindi, the owner is Vicki Miller of Vicki Miller Photography, and the whole thing is both utterly ridiculous and completely wonderful all at once.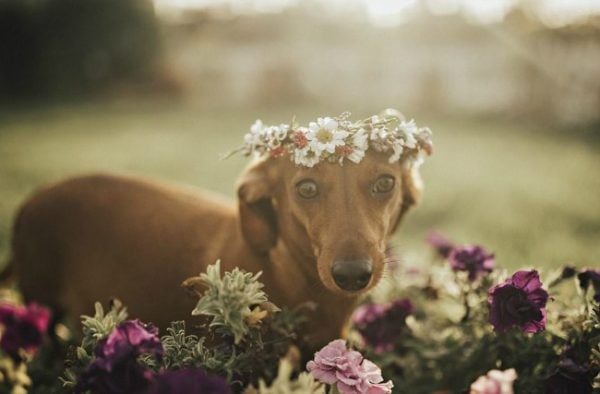 No one appreciates this more than the Queensland photographer herself.
"I've always loved to do things that are a little unique. I actually did newborn photos of Cindi when I got her," Miller told Mamamia. "Animals are a huge part of my life and I include them in many photoshoots, so when I knew Cindi was pregnant, I thought it would be super cute and pretty funny to give her a maternity shoot of her own."
It turns out the heavily pregnant Cindi was a natural in front of the camera, and Miller was able to get what she needed in 15-20 minutes. As for the flower crowns, yes, they were made especially for Cindi's lil' head by a florist friend.
"Most of my expecting mothers wear them for sessions," Miller said, "which is the main reason I wanted Cindi to have one!"
Behold: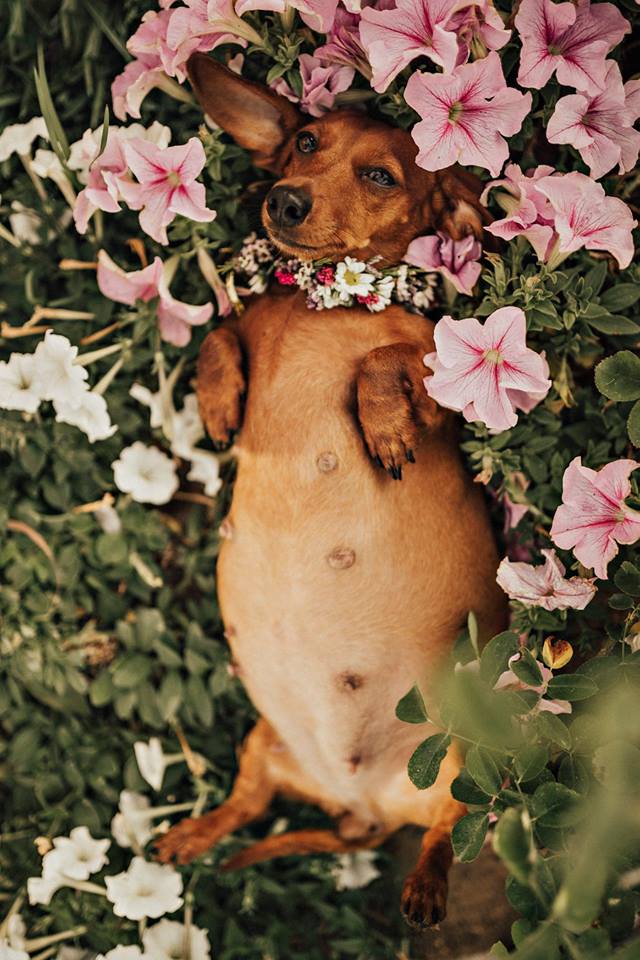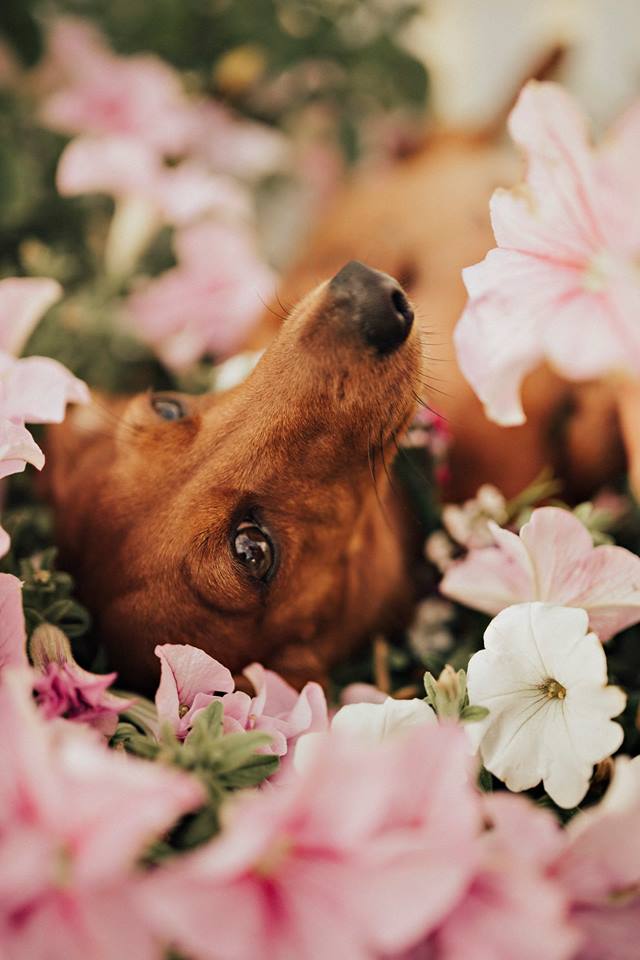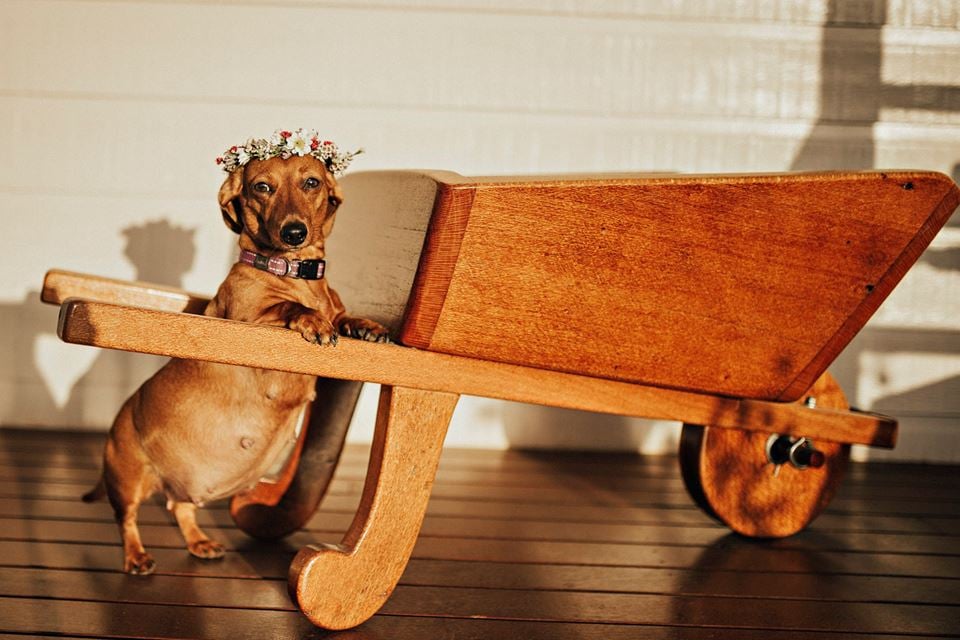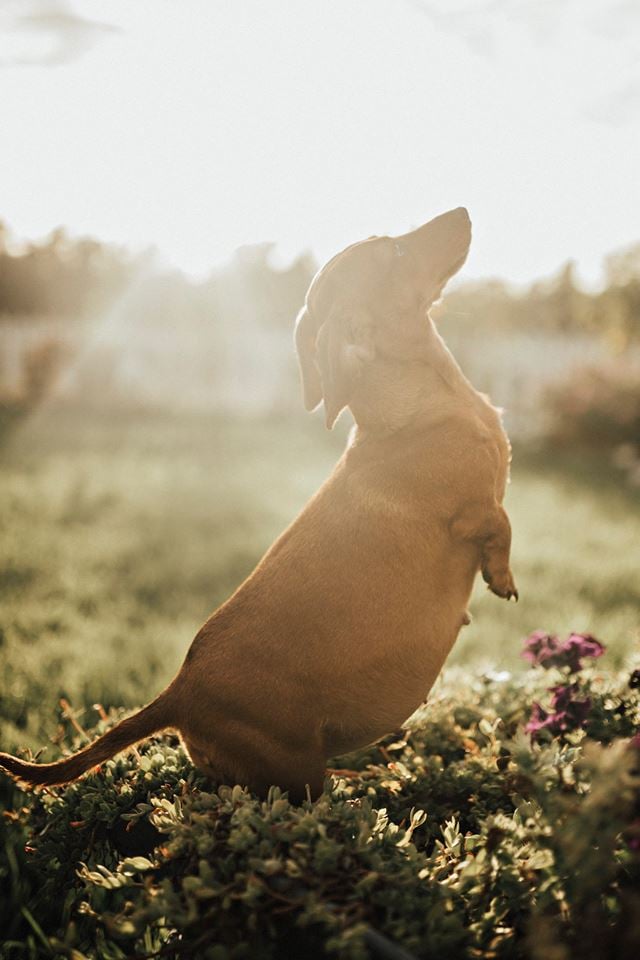 While Miller anticipated the photographs might get some traction among devoted Dachshund lovers, she never anticipated it would spread as far as it did. It's already earned her and Cindi a couple of TV appearances, thousands of reactions on Facebook and Instagram, and requests from other pet owners for similar milestone shoots.
"My followers do love when I create photographs with the unique twists, so I knew there would be a little love for it, but I honestly was not expecting the huge response" Miller said.
"It's been so nice reading comments from people saying how it gave them a laugh at the end of a bad day. It was only ever done to give us something cute to look back on, so the fact that it's bringing joy to others is lovely."
Apparently, not everyone loves dogs. (Post continues below.)

At nearly four years old, this is Cindi's first pregnancy. The father is a special friend named Smallboi, who belongs to an equally sausage dog-obsessed family.
Their puppies are due any day now, and naturally, a family portrait is planned for after their arrival.
"Once the puppies are born, a newborn shoot is going to be super cute, and we will try have Cindi in those also," Miller said.
Gird your ovaries/brovaries, folks.
To see more of Vicki's gorgeous work, check out her Facebook and Instagram or visit her website here.