No, we're not even going to pretend to be chill about this, because it's a dog maternity shoot. A dog maternity shoot involving a Miniature Dachshund and soft back-lighting and flower crowns and a beautiful pregnant dog belly.
The dog is Cindi, the owner is Vicki Miller of Vicki Miller Photography, and the whole thing is both utterly ridiculous and completely wonderful all at once.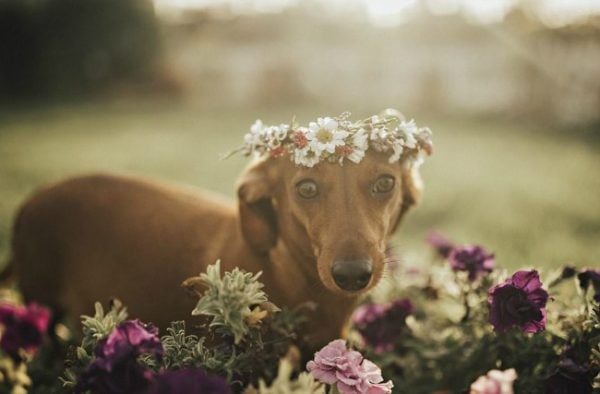 No one appreciates this more than the Queensland photographer herself.
"I've always loved to do things that are a little unique. I actually did newborn photos of Cindi when I got her," Miller told Mamamia. "Animals are a huge part of my life and I include them in many photoshoots, so when I knew Cindi was pregnant, I thought it would be super cute and pretty funny to give her a maternity shoot of her own."
It turns out the heavily pregnant Cindi was a natural in front of the camera, and Miller was able to get what she needed in 15-20 minutes. As for the flower crowns, yes, they were made especially for Cindi's lil' head by a florist friend.
"Most of my expecting mothers wear them for sessions," Miller said, "which is the main reason I wanted Cindi to have one!"
Behold: