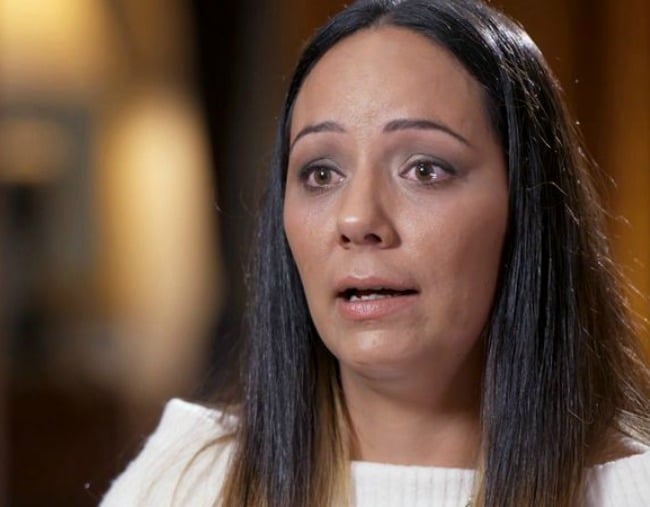 With AAP.
1. Tiahleigh Palmer's mum says she had immediate reservations when meeting the Thorburn family for the first time.
The mother of Tiahleigh Palmer says she had immediate reservations about the family who took in her daughter before her murder at the hands of foster father Rick Thorburn in October 2015.
In an interview with 60 Minutes, Cyndi Palmer said she was right away uncomfortable with the fact her young daughter would be living with two older teenage boys.
She told the program she did "did everything [she] could to try and get her back" after young Tiahleigh went into the care of Rick and Julene Thorburn in January 2015.
"She didn't want to be left alone with [Rick]," Ms Palmer told Tara Brown.
"And she started misbehaving, she was running away, she didn't want a bar of Rick.
"And it wasn't just that, it was the inappropriate clothes that she all of a sudden started wearing. Dresses that had padded bras in them, he'd taken her to get her eyebrows waxed."
She added on her first meeting with the Thorburn family, Rick claimed he had been in a gang "running guns and prostitutes".
"Whether it was true or not, it was inappropriate," she said.
Cyndi Palmer added she does not regret her decision to go to the department to help with her children, though she acknowledges she does feel guilty because she "was meant to be a mother".
"I was suffering through a very severe domestic violence situation.
"I actually went to the department for help because I realised that one day I was just going to die, and they were going to be left there, by themselves.
"I still firmly believe that the day I went to the department asking for help, I made the right decision.
"It's not what I wanted and it wasn't the outcome any of us wanted, but at the end of the day I thought it was the safer option."
On Friday, three years after Tiahleigh was killed, Rick Thorburn pleaded guilty to her murder and was sentenced to life in jail.
2. Barnaby Joyce and Vikki Campion score $150,000 tell-all interview with Seven.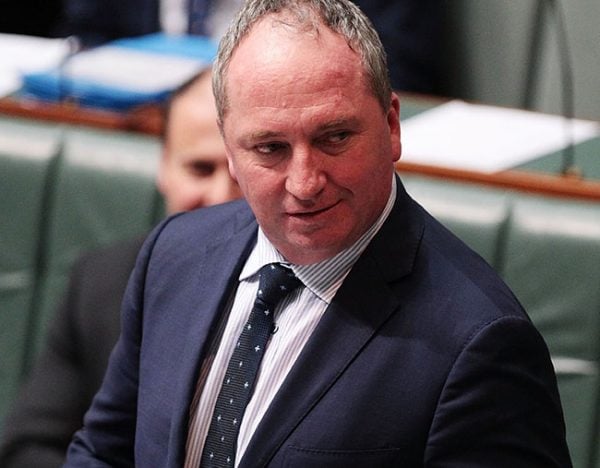 Former deputy prime minister Barnaby Joyce and his partner Vikki Campion have reportedly sold the story of their relationship to the Seven Network for $150,000.
Mr Joyce, who urged the media to "move on" in an unpaid interview with Fairfax in February, was forced to resign to the backbench as a result of the scandal.
Seven's Sunday Night program reportedly won out in a bidding war with Nine's 60 Minutes to secure the exclusive interview.
Mr Joyce indicated late in 2017 that he had split from his wife and mother of his four daughters, Natalie.
The relationship with Ms Campion, his former staffer, became public from February 7. The couple's son, Sebastian, was born in Armidale on April 16.
Prime Minister Malcolm Turnbull said Mr Joyce had not breached any ministerial standards because Ms Campion had not been his "partner" when she worked for him.
But Mr Turnbull went on to criticise Mr Joyce for exercising a "shocking error of judgment" before banning ministers from having sexual relationships with staff.
The scandal was fed by reporting on questions surrounding Mr Joyce's travel entitlement use, his scoring of rent-free accommodation in Armidale, and harassment allegations lodged by a Western Australian woman.
3. More than a million cars added to recall list because of potentially deadly airbags.
The defective airbags have caused about 180 injuries and 18 deaths worldwide and are linked to at least one fatality in Australia https://t.co/r8Sq4LUAim

— The Sydney Morning Herald (@smh) May 27, 2018
More than a million vehicles with potentially deadly Takata airbags have been added to a recall list by the consumer watchdog.
The defective airbags can spray shards of metal upon activation if its propelling mechanism is exposed to high levels of moisture.
Twenty three people around the world have died from the faulty airbags, including one in Sydney last year, with 230 others suffering serious injuries.
The ACCC on Sunday published a revised recall list which added a further 1.1 million vehicles targeted for future airbag replacement, including the Mercedes Benz C Class, Ford Mondeo and Toyota Yaris.
An ACCC spokeswoman told AAP about 2.8 million vehicles were under "active recall" at the end of April, meaning consumers had been or were being contacted.
Of those, 1.9 million have already had their airbags replaced, leaving 900,000 yet to be completed.
The "future recall list" involves vehicles to undergo replacement some time from May 2018, which means there are about two million vehicles that haven't had airbags replaced in total.
Drivers of vehicles involved in the "future recall" group will be notified by email, phone or text message when it is time for their replacement to be completed, Assistant Minister to the Treasurer Michael Sukkar said.
"My message to all Australian drivers is do not ignore or delay responding to a letter from your vehicle manufacturer asking you to have airbags replaced," Mr Sukkar said in a statement to AAP.
"If you don't have your car's airbag replaced, you are taking a serious risk in terms of your safety."
He urged customers who have difficulties or delays to contact the ACCC.
The compulsory recall, which was announced by the government in February and already involved nearly four million vehicles, is one of the largest in Australian history.
The death of a 58-year-old man at Cabramatta, in Sydney's southwest, became the first incident linked to the faulty airbags in July 2017.
It came about three months after a 21-year-old Northern Territory woman was struck in the head by a small metal fragment when her airbag malfunctioned during a crash in Darwin.
4. A 38-year-old man has been charged with the murder of his mother.
38-year-old Jamie Willis is behind bars tonight, after being charged with the murder of his own mother. #9Newshttps://t.co/IqvsaXlXXh

— Nine News Melbourne (@9NewsMelb) May 27, 2018
A 38-year-old man has been charged with murdering a woman in Melbourne's southwest.
Jamie Ian Willis is accused of killing mother Caroline Anne Willis, 69, at a home in Werribee on Thursday, and did not appear at a Melbourne Magistrates Court hearing on Sunday.
The woman's body was found when emergency services were called to the home on Taworri Crescent on Friday at about 7.30am.
Detectives were on Sunday conducting a line search in Wyndham Vale as part of their investigations.
Police want to speak to anyone who saw a silver Kia - a small SUV type car - on Black Forest Rd in Wyndham Vale at about 1.45pm on Thursday. It's thought the car drove past the Wyndham Vale reserve creek area.
Police would also like to speak to a man and a woman, possibly aged in their teens, who may have been doorknocking the area on Thursday afternoon. The pair are not thought to be involved in the woman's murder.
A filing hearing has been set down for June 1.
5. Two former Bachelor stars are now competing for the same Logies award.
They may have entered television looking for love but two former Bachelor stars have forged their own path with two Logie nominations.
Home and Away's Sam Frost and The Living Room's Matty Johnson were announced as nominees for the Most Popular New Talent during the Logies nominations at The Star on the Gold Coast - the TV award night's new home.
Gold Logie nominee and The Living Room host Amanda Keller said Johnson, who starred as the 2017 Bachelor after coming runner-up in the Bachelorette in 2016, was a brilliant new addition to the team.
"He's done some fabulous travel stories for us and I think that shows he's more than just the Bachelor. He can break out of that genre and a be a great personality," she told AAP.
Johnson said he admired the work of Amanda Keller, fellow Gold Logie nominee Grant Denyer and UK TV chat show host Graham Norton and credits his on screen ease to his former television debuts.
"Without a question it wouldn't have been possible without my time on The Bachelorette and The Bachelor. Just becoming comfortable being in an environment when you are around cameras all of the time," he told AAP.
"That was the perfect stepping stone."
Sam Frost rose to fame after she was rejected by The Bachelor's Blake Garvey in 2014 following a marriage proposal and went on to become the first Australian Bachelorette.
Following her departure from 2Day FM's Sam and Rove show, Frost landed in Summer Bay as Jasmine in Home and Away.
"I had a storyline where I was in an abusive relationship, which was really challenging," she told AAP.
Frost said she is constantly growing as an actress and feels lucky to be part of the Home and Away team.
Fellow Summer Bay star Sophie Dillman has also been nominated in the category for her role as the rebellious Ziggy.
Dillman, who originally trained as a nurse, said an upcoming storyline where her character's mother battles cancer has connected with her.
"Seeing that firsthand has hit home for me," she told AAP.
Other nominees in the category includes Dilruk Jayasinha of CRAM! on Network Ten and ABC's Utopia and Sophia Forrest of the Nine Network's Love Child.