One every 12 seconds. That's how many bottles Japanese beauty brand Cure sell of their 'Natural Aqua Gel', an exfoliant that promises to remove all the gunky stuff from your face.
It's the most popular skin product in the entire goddamn world (we can't absolutely verify this as FACT – but Google did say so… if not ze world it's definitely most popular in Japan) and it costs a cool $25.
Considering we're one-part skincare obsessive (Michelle) and other part total dunce (Zara) – combined with the fact we work every Saturday in the lonely Mamamia office together – made the task at hand clear:
We hopped onto Amazon and placed an order with exorbitantly pricey shipping from Tokyo. We waited patiently between 10 and 15 business days. Then we road-tested the bizarro world-wide phenomenon goo. And now? We report back to you, the reader people, with our honest results… because this is what university degrees are for.
Here we go.
But first, our ~skin profiles~
Zara: My skin is not unlike my personality: boringly average. Normal, even. (Though I might be overselling my personality with the latter.) Maybe it's a little bit bumpy in places? I don't know? Is everyone's skin a bit bumpy? 
I have only just started taking care of my skin after I was shamed at work for not looking after my skin. I now cleanse and moisturise twice a day which isn't exactly the bane of my existence but it's annoying to remember.
I really, really needed to exfoliate. I don't want or need to go into details as to how I knew this – there's no need to encourage you to vomit while reading this – but let's just say I have never *properly* exfoliated my skin. So I guess that's the main thing I wanted to…correct. Death to the dead skin. How very meta.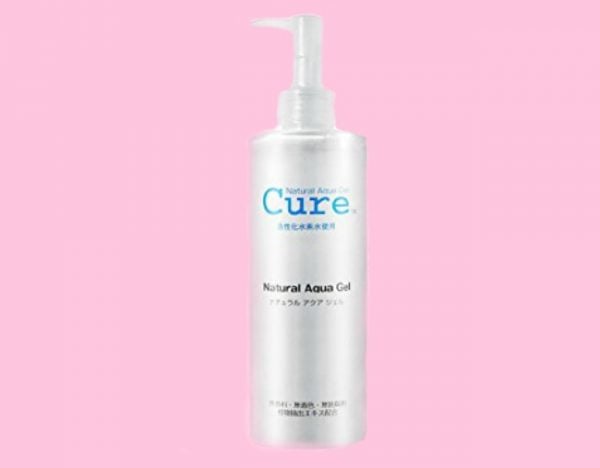 Michelle: I have relatively normal/sensitive skin, with an ever-so-slightly oily T zone and the odd 'oh hey it's me, your period!' pimple once a month that resembles Mount Vesuvius. Random little volcanos on my chin and nose. So cute.
Skincare and makeup is an (expensive) hobby for me. I already use quite an expenny fruit-based exfoliant that I bloody LOVE, I wrote about it here, and it's like a cuddle in a fancy-looking silver tub. Considering I already have an exfoliant I swear by, but is a touch on the pricey side, I am curious as to how this "most popular thing ever" product is gonna go.
Basically, I'm suss. And... open. Mostly suss though.
Also, I'm pretty sure I'm the one who shamed Zara - but only out of love and because she kept complaining about her dry skin without DOING ANYTHING ABOUT IT.
Zara: It was definitely Michelle who did the shaming I just thought it was noble of me to not name names.
First impressions
Zara: Naturally, I googled how to use the 'Cure Natural Aqua Gel' and read - and re-read - the instructions four or five times before using because this is exactly the kind of thing I tend to mess up. The first thing I noticed when I pumped the product into my hand was the smell - it wasn't... nice. 
I made sure my skin was dry, and rubbed two to three pumps across my face in circular motions because that's what Michelle said she does and these are the kinds of times (read: the only times) I listen to what she says or thinks. I think I waited a couple of minutes before taking it off.
Michelle: I love how much product you get with this brand - it comes in a big 250ml pump bottle, which is freakin' huge. This stuff will last years. It's also very hygienic in the way the gel is dispensed through a pushy mechanism-y thing. No germs. Big tick.