Eye creams are a contentious topic in the beauty world.
Do they work? Are they are waste of time? And why do they cost so much more than moisturiser/ serum/ any other beauty product?
These are the questions I have every time I walk through the beauty halls of a David Jones and Myer, begrudgingly recounting the hundreds (maybe thousands) of dollars I, and most women, have spent on sub-par beauty products.
Enter stage right… Kmart. The reason why the phrase "buy yourself some happy" exists, and maker of everyone's favourite well-priced home decor, lounge-wear, stationery. Now, they have added in the perfect eye cream that will cure all the (physical) signs of your late night Netflix binges, teething babies, and insomnia, all for the price of a large, soy cap with a shot of caramel.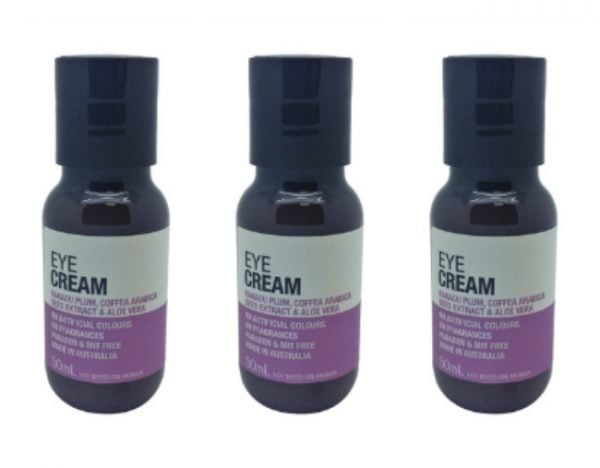 Members of Facebook group 'Kmart Mums Australia,' have been raving about the store's home brand eye cream which retails at just $5 for 30mL, which is pretty darn amazing, considering most department store brands start from upwards of $30 at least.
Users have reported that the cream "eliminates dark circles and bags from first use," with others also give the 'miracle worker' high praise.
"Agreed!!! I started using this for my baby-induced eye bags, love it," said one woman, and " I have really dark but it's lightening them", the other... just in case you weren't already sold.
LISTEN:Jessie's life changing beauty recommendation. Post continues after audio.
Despite the cheap as chips price tag they definitely didn't skimp on the active ingredients (aka the stuff that will actually get you the results).
The list includes caffeine - which stimulates blood flow and helps de-puff bags, and lessen darker circles, kakadu plum extract - a bit of a 'trending super food' in skincare at the moment, and is super high in antioxidants, and aloe vera which is great for sensitive skins for its soothing, and hydrating properties.
At the moment it's only available in-store, so get to your nearest Kmart asap, fill up a trolley... and pick up a cute throw cushion on the way.
You can thank us later.
What are your favourite budget beauty products? We need to know!!