When Delight Greenidge's son came home from school and asked her how to make a tourniquet, she wanted to know why. It was for an assignment he was doing for drama class.
"Oh, my assignment is about how to make crystal meth," he told her.
Greenidge's son is 13. He is in Year 8 in a middle school in Mississauga, Canada. His drama teacher had suggested a skit on crystal meth. The teacher had printed out instructions on how to cook and inject crystal meth, and handed them to students.
Greenidge read the handout.
"I'm reading this thing and my eyes are just swelling as I'm reading it and I think my blood pressure went up by about 50 points because it is detailed, step-by-step, blueprint instructions on what you need to make crystal meth, how to prepare the crystal meth and then how to inject yourself with crystal meth," Greenidge told Mississauga.com.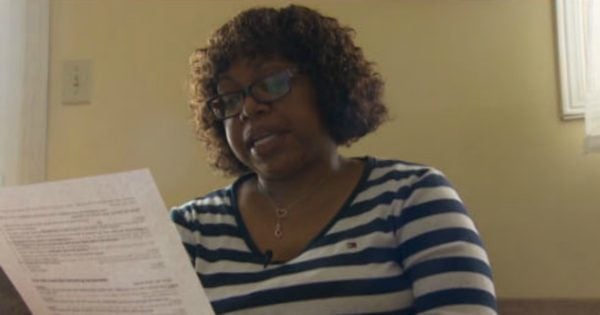 Delight Greenidge reads her son's handout. Image via CBC News.
"I think the worst part is that my son's role in this play, skit – whatever it is – was to be the one injecting himself. So that's the reason why he needed to know how to make a tourniquet."
The instructions on injecting began with this line:
"Step 1. Give your arms a wipe with alcohol wipes (what I use) or use a wet wipe. This is to prevent any bacteria infection."
Later steps went into detail about how to make veins show and how to know when the needle had hit a vein.