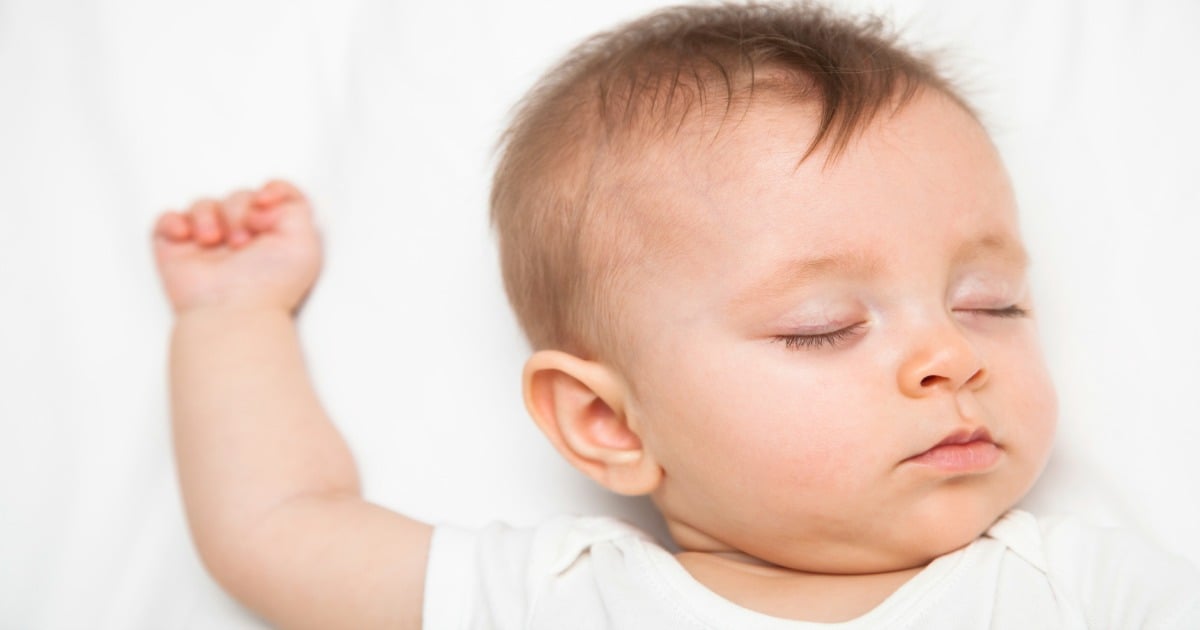 When my first-born son was six months old he would babble and smile all day long with his toothless grin that each time made my heart ache.
He would arch up on his hands and knees and rock back and forth wanting to crawl and he would gaze at me with his big brown eyes devoted, trusting, divine.
The day he was six months old on a sticky February night, one of those ones when the humidity refuses to lift its blanket off the Sydney skies I put him to bed, closed the door and let him cry until he vomited.
It had been six long months of effortless loving and delight and six months of exhaustion so bone achingly hard I felt I would break. Six months of a baby waking every hour or two. Six months of reading every book there was, trying every thing I could, visiting sleep clinics and rocking and patting and shussing and endless tears.
I was committed to trying something that would work and 'cry-it-out' it would be.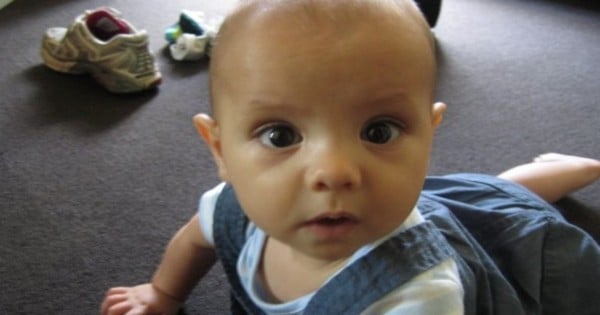 This is my son, Jasper, the day I started controlled crying him. Image: Supplied.
After six months of no sleep you become something of an expert on the pros and cons of sleep training. You've read the stats, you've analysed the studies, you've heard the debates, you've monitored the Facebook judgment and you've made the informed there-is-no-there-option decision that "controlled crying" is the last straw.
I hadn't told anyone I was going to do it except my family. I'd seen the mighty hand of shame cast down upon other mothers who had dared try it.
I had picked a night my partner was away thinking I'd be stronger. I had it all planned out.
It had to work.
I closed the door and tried to breathe and as he wailed for me I watched the clock and held firm, each time it getting harder to leave him longer. The minutes I spent slumped at his door aching to go into his room I sobbed.
I've got this. It has to work. I can't cope.
At 7.15pm I started hyperventilating.
At 8pm he projectile vomited across the room.
He had been crying for only 10 minutes by that time.
I lasted until 1am.
Back and forth, waiting longer, closing doors.
And then I failed.
I picked him and schussed him and held him till he slept and then held him the next night and the next. I had failed at controlled crying.
A study on babies sleep has been released today. Via IStock.
Today that perennial topic of sleep-deprived mothers has entered the news cycle again.
With researchers from Adelaide saying that babies who are left to cry themselves to sleep may develop better overall sleeping patterns – and that the method did not produce any more signs of stress in the infants than a "gentler" method.
It's a reassuring study for parents who've felt that ache of guilt, that fear they were being selfish in just wanting a few hours sleep.