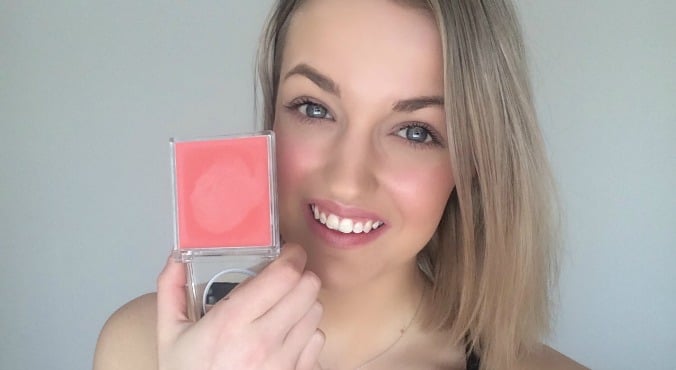 Image: supplied.
Now it's spring, all we're hearing about is warm weather (hooray) and cream blush. But while it feels like the beauty world is up to speed with the cream variety of cheek candy, when we use it it just looks, well, messy.
It doesn't have to be that way. Here's how.
1. Prep and prime.
This isn't new information, but a decent priming routine will set you on the right track to achieving rosey, glowy goodness. After prepping your skin with a hydrating primer, apply your favourite liquid foundation, and let it settle for a moment. (Post continues after gallery.)
If you typically set your foundation with a powder feel free to do so, but be sure to steer clear of your cheeks. Layering your cream blush over powder will take away the blush's sheen and will give the appearance of a muddy complexion. Cream blushes are brilliant because they're creamy, so it's best to apply your setting power in your T-Zone only.
2. It's time to get finger painting, Glowies.
For the application, forget everything you've been told about makeup tools and brushes.
Drop the brushes. Ditch the sponge. You're going in solo. The rumours are true – cream blush is best applied with your fingers. Your digits provide heat, which works the cream into your skin better than any brush will.
If you're concerned about looking like you have pink army paint smeared across each cheek, don't be! The beauty of cream blushes is that they're translucent and incredibly easy to blend. They're a fantastically thin consistency, so your blush will move wherever your fingers tell it to move!
3. Pinpoint the apples of your cheeks.
To apply, you're going to need to pinpoint the apples of your cheeks.
"How do I find the apples of my cheeks?" Oh, I'm so glad you asked.
I find it easiest to pull a smiling-but-without-teeth-face to pinpoint the apples of my cheeks (yes, I look like a dork, but it makes the application process 10 times easier) . Ensuring that your blush is applied in the correct place is crucial if you want to achieve a natural look.
Once you've found the apples of your cheeks, sweep your ring finger through the blush pan and apply in light, circular motions. Using your ring finger is best, because it guarantees a feather-light touch. (Post continues after gallery.)
Treat the product as if it were moisturiser - swirling works better than dabbing. Once you're happy with the amount on your cheeks, continue to blend the product up towards your temples to ensure a soft gradient of colour.
4. Just keep adding. And adding. (And then add a little bit more.)
Think you're happy with the amount of product you have on? Think again. (Warning: I'm asking you to ignore another holy-grail makeup rule.)
When you think you've applied enough, apply a teeny bit extra. Unlike powder blush which sits on the skin's surface, the cream blush will be absorbed by your skin, making it fade slightly in colour over time. While that might sound annoying, I promise you it's a good thing!
The slight colour fade means that there's no need to be super cautious when applying. This gives you the chance to build up the colour slowly (personally, I much prefer this than accidentally going too heavy too soon and there being no turning back).
You will need to invest a little bit more time into the application, but there's nothing better than having control, is there?
Got all of that? Now for some recommendations...
So by now you're practically a cream-blush-encyclopaedia and are raring to go. But what brand should you buy? How much should you spend? Is there a difference between the high-end cream blushes and their budget-friendly dupes?
'Dreamy Duchess' by Napoleon Perdis, which retails for $50, it's great because it's SO easy to blend and doubles as a highlighter, giving the appearance of healthy, goddess-like skin. You can buy it from David Jones.
If you're a bargain-hunter looking for an affordable steal (I'm right there with you) 'Rose Petal' by NYX, is a fantastic budget-friendly dupe. At $11.95, it's got great colour and consistency. You can get your hands on one at Target.
Have you tried cream blush before? What did you think of it?