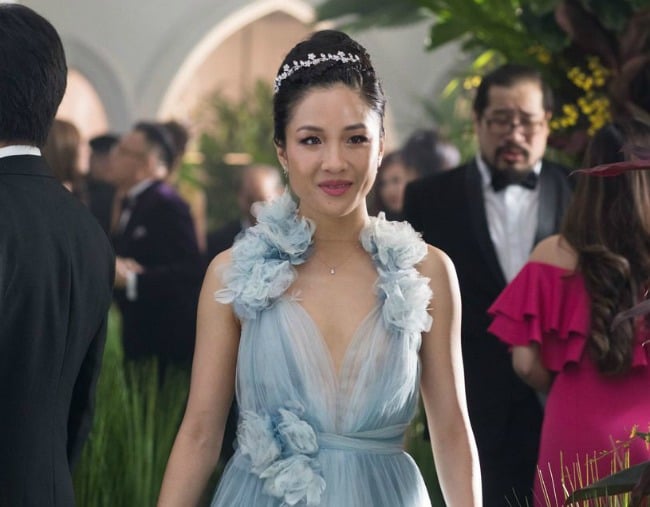 Sitting in the squishy cinema seats waiting for the preview screening of Crazy Rich Asians made me nervous.
As an Australian-born-Chinese person, there are certain representations of your culture that you see on the big screens that always make you cringe. Masterchef is the rare exception, but at times there are certain stereotypes that range from cringey to down-right offensive.
But five minutes into the film it was clear Crazy Rich Asians wasn't that. Instead, I laughed, I cried and I nearly booked a holiday to Singapore.
You see, Crazy Rich Asians is the escapist rom-com that takes everything we've guiltily missed about the golden age of chick flicks and has turned it into a Gossip Girl, Princess Diaries and The Devil Wears Prada like affair but set against the backdrop of Singapore's elite.
Throw in the Royal Wedding of Asia, and you've got yourself a winning combo.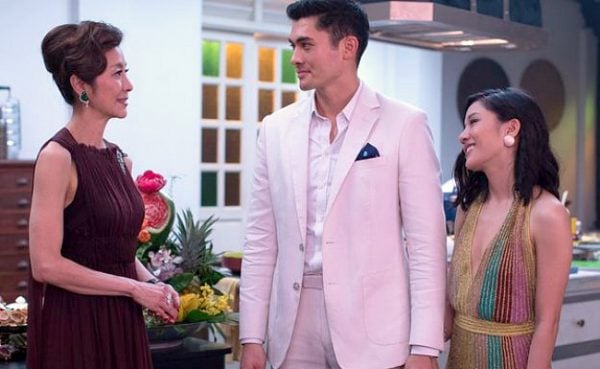 It follows the much-loved trope of a Cinderella story-line, but in this case the wannabe Princess is a feisty economics professor at New York University called Constance Wu (Rachel Chu) while Prince Charming is called Nick Young (Henry Golding) who is the heir to his family's old-money empire that gives the British crown a run for its money.
The Youngs and their social circle make up Singapore's richest and most prestigious bubble. They mingle with foreign royalty and heads of state, live in mansions and penthouse apartments and buy apartment blocks, companies and goodness knows what else over the phone.
Together they go to Singapore - Nick's home town, for the wedding of this best friend Colin Khoo (Chris Pang) and Araminta Lee (Sonoya Mizuno). More importantly, the trip also marks the first time Rachel is meeting Nick's mother (Michelle Yeoh), who does not approve of her.
On the surface level Crazy Rich Asians takes the story-line of the dissenting mother-in-law and plays it out against the lavish backdrop of Singapore - a city who's opulence gives the tried and true backdrop of New York City and it's Upper East Side a run for its money. The island city's iconic buildings make an appearance - like the Flower Dome - AKA the world's biggest greenhouse, the acclaimed 57-storey Marina Bay Sands luxury resort and the beautiful Supertree Grove - and meld perfectly with the high-flying and eccentric characters.
Awkwafina from Ocean's 8 is one of the highlights and steals the majority of the laughs as Goh Peik Lin - Rachel's brazen, nouveau riche sometimes-chauffeur-and-stylist friend who keeps no less than three changes of clothing in the trunk of her luxe sports car.
Then there's the fashion and the wedding antics. It's a mean feat that Crazy Rich Asians manages to hit every chick flick trope without becoming a gooey cliche itself. There's a Princess Diaries-esque makeover scene, a love triangle, the outrageous best friend and an over-the-top wedding (with an tropical island Bachelorette party thrown in for good measure).
Does it all seem too good to be true? Maybe... but it's all just apart of the extravagant celebration the Singaporean elite call 'life'.
Designer clothes, mansions and up-turned noses aside, there's also something to be said for the strong female characters in the film, who control all the action. While not exactly likeable, Nick's mum Eleanor Sun is excellent as the Young family matriarch whose tiger mum antics come from a good place.
Rachel's own mum, Kerry Chu (Tan Kheng Hua), has her own touching story-line that unfolds through the film, and it's impossible not to fall a bit in love with Nick's cousin and confidante, Astrid Leong - the impeccably dressed it girl with a heart-of-gold, who comes into her own throughout the film.
Then there's of course Rachel - who's gutsy determination to win over Nick's family easily makes her a worthy 21st century chick flick heroine.
Get yourself hyped and watch the trailer for Crazy Rich Asians right here:
Crazy Rich Asians is the first major Hollywood production in 25 years to feature an all-Asian cast, since The Joy Luck Club premiered in 1993.
Coming from someone whose childhood mainstream representation of her Asian culture comprised of cringe-filled, failed reality TV audition clips (you know, the ones they put in just for comedic relief), the characters and the story-lines in this film mean a lot to me.
While trailing tax brackets behind, the Crazy Rich Asians reminded me of my very own family of just as crazy Asians, but not just because of our shared cultural identity. It is because the film is just a laugh-until-you-cry-level-good comedy that's universally enjoyable.
And in the end, isn't that what diversity is actually all about?
Crazy Rich Asians will screen Australia-wide from Thursday 30 August. It is rated PG.
Need a quick break? Want to win $100? Want to be listened to? Enough questions already? Do our quick survey now!