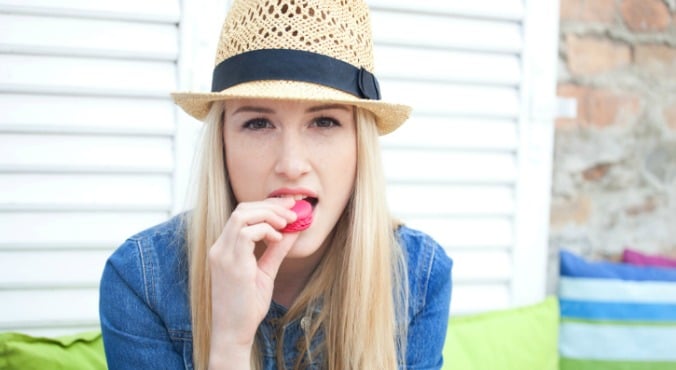 Image via Thinkstock
Want clear, flawless and healthy skin, but instead have pimply, inflamed pores? Well, it might be time to cross these offenders off your grocery list.
Regardless of the fact you're a fully-grown adult now, your diet may be triggering those dreaded skin problems. According to the experts, it's not only what you put on your skin that matters — what you put in your mouth is also important.
"Evidence suggests that components of Western diets may be associated with acne," Assistant Professor of medicine Dr Hope Ferdowsian and Dr Neal Bernard wrote in the International Journal of Dermatology. 
The evidence-based study reviewed 50 years of clinical studies on the relationship between diet and acne. The offenders it singled out as having the worst effect on skin? Milk, sugar and high-GI foods.
Milk
A link between dairy and acne has been suggested by some experts for years, and Dr Adebamowo's studies seems to support claims there's definitely a relationship between the two.
Two large controlled studies conducted by Dr Adebamowo found the intake of cow's milk increased the severity and prevalence of acne in both females and males. But before you reach over for that carton of skim milk, take note: it's not the fat in the milk that's the culprit.
"Skimmed milk was consistently associated with acne, suggesting that the fat content of milk does not appear to affect its acne causing ability," Dr Ferdowsian and Dr Bernard say.
So where does the problem lie? In hormones, apparently. Every glass of cow's milk you drink contains about 60 hormones, including various forms of androgens, present in both females and males – and that's bad news for skin.
"These hormones stimulate oil glands in the skin, increasing the prevalence and severity of pimples," Sydney dermatologist and co-chair of All About Acne Dr JoAnn See told The Glow.
Want healthy alternatives to cow's milk that won't wreak havoc on your skin? Try almond milk, rice milk, or goats milk.
Sugar and high-GI food
High sugar intake and foods with a high glycaemic load, such as white bread, white rice, cakes, cereal, and fizzy drinks, can contribute to acne breakouts.