The UK's St John ambulance has joined with retailer Tesco to create a onesie with a twist.
Known as a "babygrow" in the UK, the onesie informs parents how to perform CPR in the event of an emergency.
It was developed in response to a UK survey of 2, 000 parents, where 74% reported that the "first aid emergency they feared most was finding their baby not breathing". It was found that only 25% knew what to do if presented with the crisis.
Released last month, the design features an illustration of Humpty Dumpty, which colourfully and cleverly outlines how many breaths and chest compressions are required for resuscitation: five puffs of air into the baby's mouth, followed by 30 pumps on the chest, and then two puffs follow by 30 pumps.
The label printed on the inside also offers a list of instructions for what to do when presented with an emergency.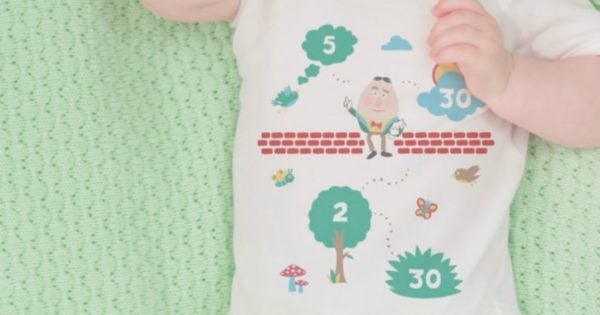 "The characters [from Humpty Dumpty] lent themselves perfectly to being used in the real world of newborn babies," says BBH deputy executive creative director Ian Heartfield. "This meant we could put the instructions right in the hands of Mum and Dad, literally, while still having a cute item of clothing they'll want to dress their newborn in."
In a video campaign, we meet Little Lucy who perfectly presents the instructions.
The limited-edition onesie was given away, free of charge, in Tesco stores on Thursday October 13. Recipients were encouraged to donate a few dollars to St. John Ambulance.