1. Courtney Act had a major wardrobe malfunction while entering the UK's Celebrity Big Brother House.
Courtney Act, who you might remember from Australian Idol season one (circa 2004), or more recently RuPaul's Drag Race, is currently participating in the UK's version of Celebrity Big Brother.
But as she went to enter the house in front of a live audience on Friday, she had perhaps the most epic wardrobe malfunction we've ever seen – tripping over her skirt and in the process ending up completely naked from the waist down.
The ultimate wardrobe malfunction @CourtneyAct! ???? #CBB #CBBShaneJ pic.twitter.com/Dd6KoK2kHv

— Big Brother UK (@bbuk) January 5, 2018
Courtney Act, otherwise known as Shane Jenek, waved to the crowd as she attempted to cling on to her skirt, leaving us all very confused as to whether it was an accident or not.
The very public moment has introduced a lot of people to the act of 'tucking' – well known in drag circles, which involves taping one's penis between and behind one's legs, to hide the penis from the front.
The moment the contestant's skirt came off, host Emma Willis gasped, "Oh my god, I think we've just peaked," and over the weekend, Courtney Act has found herself on the front page of most major news sites in the UK.
Somehow, we think she's going to be a very memorable contestant.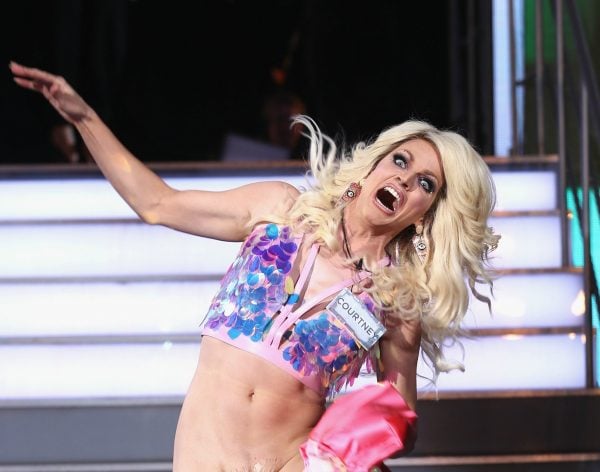 2. Khloe Kardashian has revealed who she wants with her in the delivery room.
In true Kardashian style, Khloe has shared who will be in the delivery room when she gives birth to her first child.
Hint: it isn't you or a giant inflatable swan.
Appearing on Jimmy Kimmel Live!, the 33-year-old said she will give birth in Ohio so her Cleveland Cavaliers boyfriend, Tristan Thompson, can be by her side.
Khloe has also asked from her momager Kris to be in the room. Because this sh*t needs to be managed.
And other members of the Kardashian clan might make the cut - depending on how annoying they are between now and the delivery day.
Khloe said it really comes down to "whoever won't annoy me… whoever's gonna be the calmest".
"I think I have to talk to Tristan about this. I know, it's overwhelming," she added.
3. Kit Harington was filmed being thrown out of a New York pub for being badly behaved.
Game of Thrones' #KitHarington kicked out of bar, captured on video being drunk and disorderlyhttps://t.co/cZWSSo1Z8Q pic.twitter.com/1xyLgiApRs

— HT Entertainment (@htshowbiz) January 7, 2018
Kit Harington has done a thing.
The Game of Thrones star has been kicked out of a New York City bar for fighting over a pool table.
Yep, a pool table not a fancy throne covered in swords and whatnot.
The whole incident was caught on film and shared online because this is 2018.
In the video, Harington can be seen arguing with other hotel patrons about God knows what, probably who's going to rule a medieval fantasy world.
According to a "witness" who spoke to TMZ, Harington was kicked out of the bar, then he came back in and then had to be physically dragged out again by bouncers.
WHAT. WOULD. JON. SNOW. THINK.
4. Meet Leonardo DiCaprio's latest girlfriend, who just happens to be less than half his age.
Leonardo DiCaprio, the man who's dated so many models they created a word for him - modeliser - has reportedly got a new girlfriend.
Argentinian model Camila Morrone is young, blonde, beautiful - just the 43-year-old actor's type. And at 20 years old, she's less than half his age.
While it's true Leo is getting older, his girlfriends are also getting younger - although this one is at least out of her teens. Model Bar Rafaeli was 25 when she split from the then 36-year-old.
Fast forward six years and the Oscar-winner is dating women barely out of high school. He was last linked to New Zealand model Juliette Perkins in October 2016, who had just turned 19 at the time.
So maybe his next girlfriend will be able to drink legally in the US?
5. Bec Judd shares the one downside to her very glamorous family holiday.
A holiday spent skiing at one of Canada's beautiful ski resorts really is the worst isn't it?
Well, no, actually it's amazing. But that doesn't mean there aren't a few drawbacks, as Bec Judd and her family discovered while staying at Whistler Blackcomb in British Columbia, Canada.
In an Instagram post praising the resort and its food and staff, the radio host and TV presenter let her followers know of a winter holiday's one downside: germs.
"I hate germs and believe me when I say that by visiting a place in Winter which is frequented by hundreds of thousands of people from every corner of the globe, you are walking into a melting pot of international bugs," she shared.
"Bad bugs. Like so bad that despite my best germ evading efforts, two kids went down with gastro and four of us have awful colds."
Ever the optimitist, Bec said that despite the "vomitty mess" it was still a "freakin' awesome holiday".