1. Courtney Act had a major wardrobe malfunction while entering the UK's Celebrity Big Brother House.
Courtney Act, who you might remember from Australian Idol season one (circa 2004), or more recently RuPaul's Drag Race, is currently participating in the UK's version of Celebrity Big Brother.
But as she went to enter the house in front of a live audience on Friday, she had perhaps the most epic wardrobe malfunction we've ever seen – tripping over her skirt and in the process ending up completely naked from the waist down.
The ultimate wardrobe malfunction @CourtneyAct! ???? #CBB #CBBShaneJ pic.twitter.com/Dd6KoK2kHv

— Big Brother UK (@bbuk) January 5, 2018
Courtney Act, otherwise known as Shane Jenek, waved to the crowd as she attempted to cling on to her skirt, leaving us all very confused as to whether it was an accident or not.
The very public moment has introduced a lot of people to the act of 'tucking' – well known in drag circles, which involves taping one's penis between and behind one's legs, to hide the penis from the front.
The moment the contestant's skirt came off, host Emma Willis gasped, "Oh my god, I think we've just peaked," and over the weekend, Courtney Act has found herself on the front page of most major news sites in the UK.
Somehow, we think she's going to be a very memorable contestant.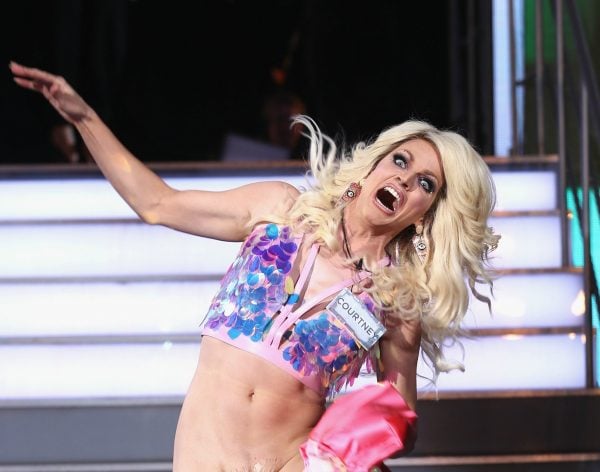 2. Khloe Kardashian has revealed who she wants with her in the delivery room.