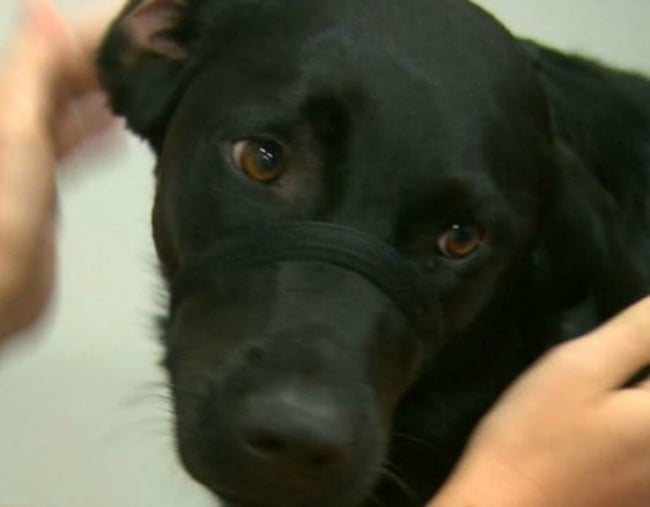 Seated on a sofa in a small, airless domestic violence "safe room" Marie* sat weeping silently, knowing that within minutes she was about to come face to face with her ex-partner in front of a judge.
There could be no lonelier moment in the life of this young woman in her late 20s as she awaited the painful yet vital moment of justice at Manly Court in Sydney.
As she was immersed in the inescapable reality of what she was about to face the door opened and a fluffy, creamy coloured cavoodle dog named Hugo was led in by its owner and handler Joanne Fuda.
The dog's incredible instinct to comfort anyone in distress kicked in immediately.
Without prompting, or guidance, he leapt up onto the sofa next to the woman and snuggled into her lap.
"He then looked up at the lady and literally licked away her tears," Joanne explains to Mamamia as she describes the emotional scene.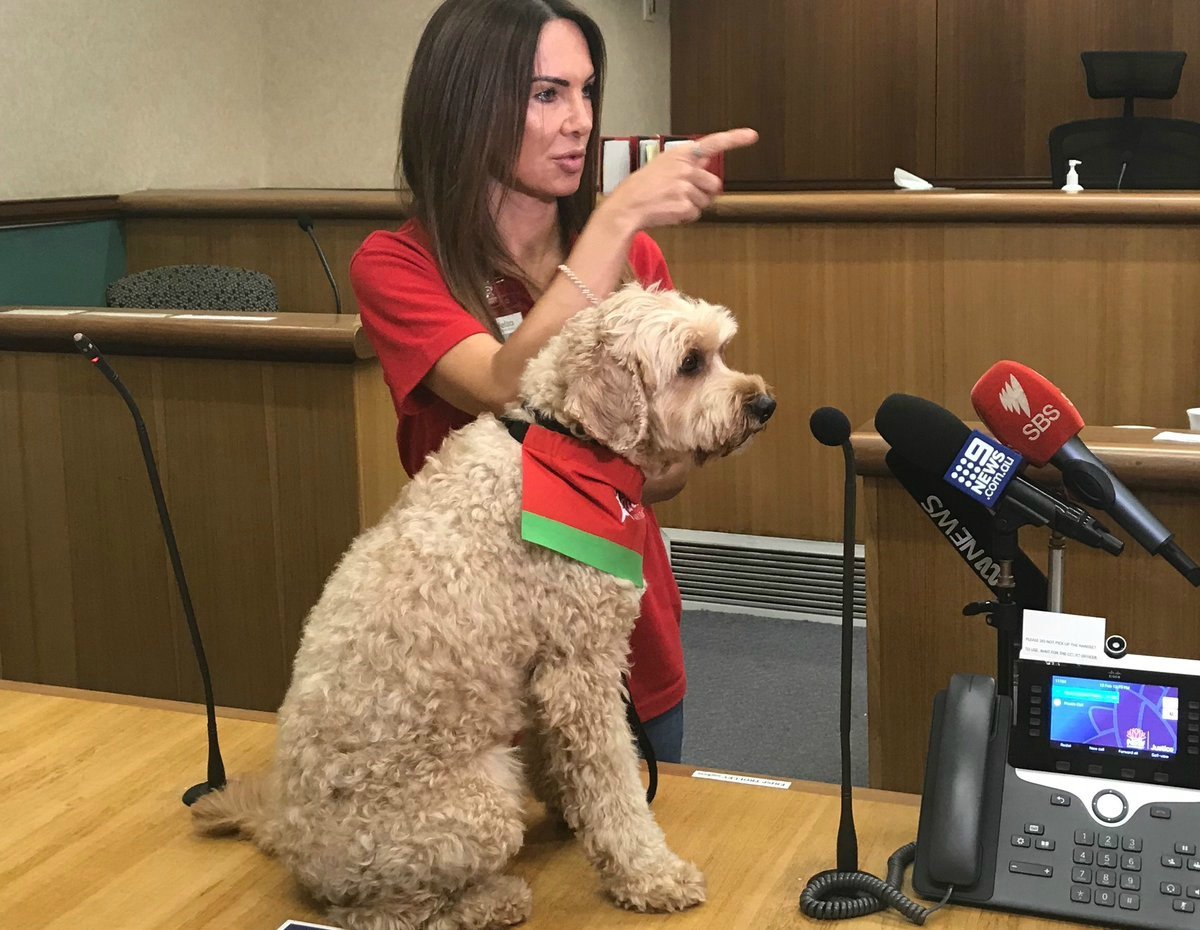 "I didn't need to prompt him, he just knew."
Within seconds the demeanour of the woman altered dramatically.
"She just hugged the dog and her tears were replaced with a smile and then, eventually, laughter," Joanne says, "She said over and over to me 'thank you so much, I feel so much better.'"
"It was wonderful to see - her anxiety and stress literally melted away in front of my eyes."
Joanne is a volunteer for Delta Society which has recently taken part in a successful nine-month long trial in NSW offering dog therapy support for those attending Manly Local Court.
The incredible way caring canines can offer both joy and comfort in times of heightened tension has made global headlines over the past fortnight.
A magistrate in Melbourne ruled on Monday March 5 that the complainants in the Cardinal George Pell committal hearing could have the option of a court support dog while giving evidence.
The accusers, who gave evidence by video-link for the first two weeks of the committal for the case regarding multiple allegations of historic sexual abuse, were also able to have a support person with them.
Meet the hero hounds & volunteers that have made the Court Therapy Dog program such a hit. #workingdogs #doggos pic.twitter.com/PlLL0U3TZ1

— Justice NSW (@NSWJustice) March 16, 2018
Neither the dog, a black labrador named Coop, or the support person are allowed to be seen on camera.
Robert Richter, Pell's famously tough criminal barrister, who is rumoured to be earning $16,000 a day for his services, prompted laughter among the media pack when he quipped that he had no objection to Coop "as long as it doesn't comment."
The three-year-old dog is part of a programme started last year and run by the Office of Public Prosecutions and her presence gave a rare insight to a stage of the case otherwise shrouded in secrecy. The presence of Coop also touched hearts.
Indeed, a tweet by this author revealing details about the extraordinary dog helping the accusers, went viral across Australia.
This adorable Labrador called Coop is on offer to sit at the feet complainants in the #CardinalPell case as they give evidence.Part of a new initiative to help alleged victims of sexual assault. The magistate today said she was highly supportive of the dog being present. pic.twitter.com/x9yhWC9zSk

— Lucie Morris-Marr (@luciemorrismarr) March 5, 2018
The tweet gained nearly 85,000 impressions and over 360 retweets as the public strongly applauded the magistrate's decision to allow the dog to provide some comfort to those testifying on the case, which is being reported around the world due to Pell's senior standing in Rome.
In particular, many past victims of historic sexual abuse commented that they wished a dog had been available during their own legal proceedings against their past alleged perpetrators.
Phil Nagle, Ballarat sexual abuse survivor, told Mamamia he wishes the dog support programme had been available when he bravely gave evidence three years ago at the Royal Commission into Institutional Responses to Child Sexual Abuse.
"We had counsellors and fellow survivors to lean on, but I think the idea of a dog at your feet while you're recounting horrific memories and incidents is fantastic."
Nagle explained how giving testimony about past abuse had the potential to trigger distress and depression.
"If a nice, friendly dog can help even in the slightest with stress levels than that's great," he says.
NSW Attorney General Mark Speakman, who pioneered the pilot programme in Sydney and is now welcoming tender applications from therapy dog groups to extend the programme to 10 other courts across the state, told Mamamia that he believes witnesses are "in better shape to give clear evidence" as a direct result of a support dog.
"A little pat and a scratch can ease a lot of anxiety," he said.
"The calming influence of therapy dogs can help victims and witnesses cope with a day in court; one of the most stressful experiences they're likely to encounter beyond the crime that brought them there in the first place."
Today at #Goulburn and #Campbelltown I announced the rollout of #therapydogs to 10 NSW #courthouses, after the res-hounding success of the #Manly pilot. ???? ????
Other locations will be #Burwood #Gosford #Lismore #Nowra #Orange #Sutherland #Taree pic.twitter.com/NvdTQvACOC

— Mark Speakman (@MarkSpeakman) March 1, 2018
It emerged from the Manly pilot programme children often benefit the most from the interaction with the pets.
Joanne recalls how one day during the programme last year she was called to the police station next to the court in Manly where a 12-year-old boy was in a highly agitated state.
He was due to give evidence against his own father for an unknown matter.
"He didn't talk much and just seemed so scared and awkward," Joanne remembers.
"But as he patted the dog he brightened and you could see he came out of himself.
"He then felt more confident and able to go through a very difficult situation in court."
Joanne believes her cavoodle knows when he is on duty working.
"The dog understands he's doing a job, it's amazing" she says.
"When we go into the domestic violence room with all the women he goes up to each person individually like a doctor doing the rounds in a hospital."
Despite the widespread positive support for the offer of a dog to those giving evidence in the Pell case it has also highlighted the fact that complainants do not have their own lawyer during the process.
Ballarat-based lawyer Ingrid Irwin, who specialises in the area of historic sexual abuse, says: "Allowing a dog in a courtroom is reflective of an effort to comfort complainants, but what they really need in that courtroom is a lawyer for them, to give voice to their instructions and provide legal support."
In the United States the use of dogs in a court setting is already widespread.
For Hollee James, the General Manager of Delta Society, she hopes it will become the norm across Australia like it has in the US but as yet no dogs have been allowed in actual courtrooms, just witness rooms, foyers and video-link rooms.
The dogs from Delta Society, which range from English Springer Spaniels and German Shepherds to Golden Retrievers, also visit people in aged care facilities or in a hospital.
But rather than choosing the best cainine candidates by breed Hollee assesses them largely on their temperament.
For good reason.
"The dogs need to show it wants to be around people and has good basic manners," she says.
"The most important thing is that they want to be there and they are affectionate."
For the complainants in the Pell case, who were grilled by famously forensic Richter for hours and days at a time, it's likely they needed all the affection and support from Coop the Labrador they could get.
*The name of the domestic violence victim has been changed to protect her identity.
Featured image via 9 News.
Lucie Morris-Marr is a Melbourne-based reporter covering the Cardinal George Pell trial for CNN and also writing a column for The New Daily. She tweets @luciemorrismarr