American do-it-yourself guru, Ana White, has released free plans online for a tiny house that could cost under $20,000 to build yourself.
White released her house plans with the hope of inspiring copycat homes across the world.
The mother of two's small house sits amid a forest in Alaska, sleeps six adults and is built on a movable trailer.
It is a clever abode that has a reading nook with a view, storage under the bed and a fold-out dining table.
According to Sydney based construction and refurbishment company, Buildability, the building cost could fluctuate depending on materials but their rough estimate was between $42,800-  $52,800 with a professional build.
The cost is substantially lower to build it yourself, however Buildability Director Darren Ward says the value of your own time and "any potential loss of income that you might have made elsewhere during that time" would need to be considered.
"It feels big inside."
During her video tour, White says the house feels spacious inside despite being the size of a large trailer – 24 feet long and eight feet, six inches wide.
The tiny house movement started as an emergency housing solution in the US following Hurricane Katrina and is growing as a real housing choice.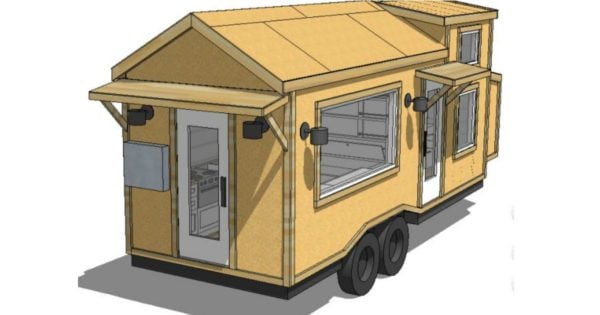 How much does it cost?
Many have accomplished their tiny house dreams under $100,000 and with some Sydney car spaces for sale for up to four times as much it seems like a bargain.
Ward says it is "an interesting concept" but other questions around local government regulations which would need to be addressed such as compliance and where you can keep a mobile home.
 

CONSTRUCTION MATERIALS

Trailer – Say $5,000
Framing materials $2,000
Internal Linings & Flooring - $2,000
External Cladding / Insulation - $1,500
Materials for Joinery / Cabinetry - $1000
Windows / Doors $1,500
Roofing - $1,200
Sundries, fixings, glue nails etc - $500
Paint - $200
Soft Furnishing - $1000

SUB TOTAL MATERIALS – say $16,000

FIT-OUT

Appliances, sink - $1,500
Light Fittings $300
Electrician cost for hooking up for power - $1,000
Plumbing? (where does kitchen drain to?)
Source: Buildability