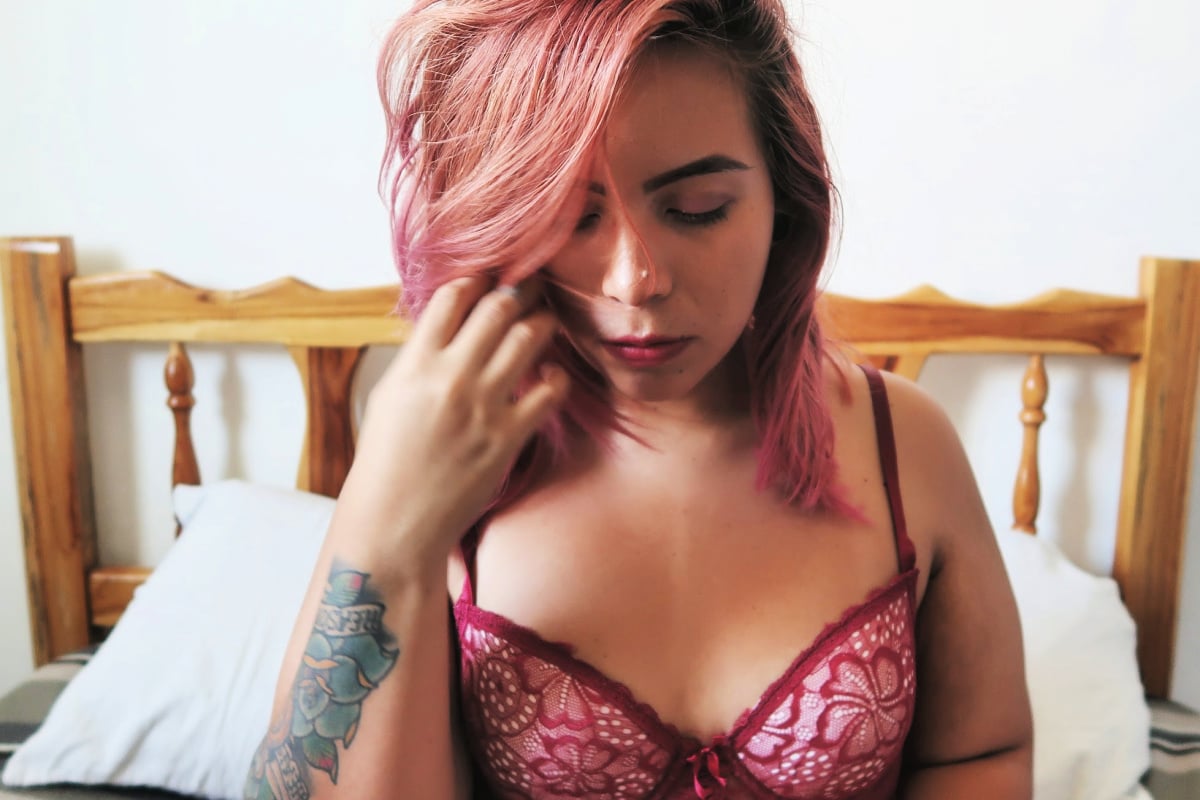 In our new and rapidly-changing coronavirus reality, almost nothing about daily life feels the same.
From the way we work and how we parent our kids, to what those of us who can't get our hands on toilet paper are wiping our bums with, nearly everything we know is changing because of the COVID-19 pandemic.
This includes sex: when, how often, where and with whom.
So, we asked 17 Aussie women who are single, dating, in long-term relationships, living with their partners or married, how our new normal way of life with self-isolation and social distancing is affecting their sex lives. Below, you'll find the good, the bad, and the frequent masturbation.
WATCH: Here's how our favourite celebrities are getting creative stuck in isolation. Post continues after video.
1. Britt, in a long-term relationship.
"My partner is a supermarket worker. He's working extra hours, so sex isn't happening. He's doing well considering and we have a good laugh at things when he gets home, then he falls asleep – he has to get up at about 4.30am and isn't home until 7pm. We know it's not forever and things will go back to normal… I'll just have to jump him one morning before his alarm goes off!"
2. Mel, dating.
"The guy I'm dating was working overseas. Luckily, he quit to come back before they stopped flying people in. Now, he's in quarantine in another part of the state, and we likely won't get to see each other until all this is over. I feel super frustrated and a little sad, I'm working from home so feeling really lonely, isolated and quite redundant. We're still messaging every day (I find that Snapchat videos are a great way to communicate). But it's such a strange thing to be locked in your house, not talking to anyone, and not having any kind of touch or psychical comfort."
3. Jane, in a long-term relationship.
"I've been with my boyfriend for eight months and we are loving it. We both have really high sex drives. We're having the best sex, we're on a roll at the moment! His work routine before coronavirus involved really early starts so he would get home at 4pm and crash hard. We would often send sexy texts to each other during the day, but wouldn't follow through with the fantasies in the evening. Now that our work situations have changed because of the virus, he's doing half-day shifts at the moment and I'm working from home. He comes home at lunchtime and we get it on in my lunch break every day. We are both far away from our families at the moment so it's been a real comfort to have more time to spend together, and in such an intimate way."