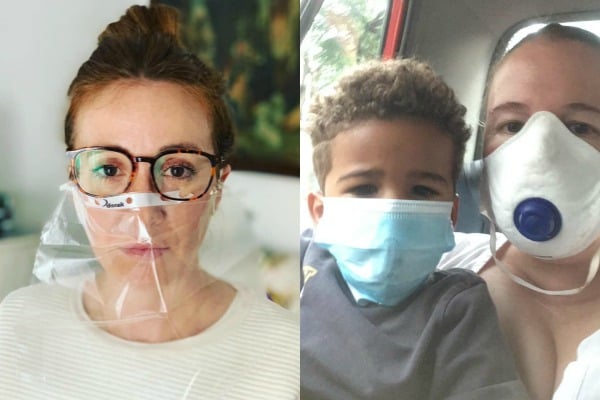 When Wuhan and most of the surrounding Hubei province in China went into lockdown due to the outbreak of coronavirus, now officially known as COVID-19, the world looked on in astonishment.
Suddenly, thousands of residents were forced to remain in their homes. Essentially, the whole of Wuhan was closed.
Now, just two months later, there are over 334,000 confirmed cases of COVID-19 around the world.
As the virus, which has now been deemed a pandemic, continues to spread, nations around the world have begun to introduce strict measures in an attempt to slow the spread of the virus.
From social distancing recommendations to full-blown lockdowns in countries including Italy and France, the situation is ever-changing in Australia and around the world.
In order to get some insight into what the various stages of lockdown and social distancing are like around the world, Mamamia's daily news podcast, The Quicky, spoke to three women who are currently in lockdown or self-isolation around the world.
Mamamia's daily news podcast, The Quicky, speak to three women who are currently in lockdown around the world.
From Hong Kong to Spain and London, here's what they had to say.
Lotta Haegg in London.
Lotta Haegg is a BBC journalist and radio producer based in London. For the last nine days, Lotta has been in quarantine at her home after falling ill with COVID-19 symptoms.
Although Lotta had the symptoms for coronavirus, she wasn't able to get tested in London as she didn't meet the specific criteria.
Speaking to The Quicky, Lotta shared how she experienced a strong sense of community while she was in quarantine.
"When I went into self-isolation, that was when it was really just starting to kick off in the UK. I was trying not to read too much into coronavirus while I was sick because I'm alone so I didn't want to be isolated, alone, and reading this sort of sense of doom," she said.
"I had people that delivered stuff to me and checked in on me every single day. There was this really lovely sense of warmth and community."
Mamamia's Claire Murphy breaks down your most asked questions about COVID-19. Post continues below.