We've all been there or know someone who has. We've changed our pill and had mood swings that make The Hulk seem like a well balanced meditation guru. We've gone with an implant and bled more than Niagara Falls. We've popped in a hormonal IUD and spotted for months, only to have our medical practitioners tell us that's totally normal (yes, because it's delightful to wear tampons or pads every single day for eight months on end – a harrowing, true personal story for another time).
We're all used to our contraceptives and the awesome fertility management that comes with them. We're used to popping a pill and choosing when we want to try to get pregnant. We're used to replacing our implants every five years and not worrying one jot about family planning until we're ready.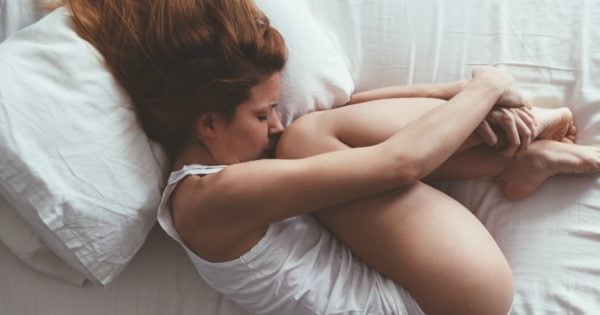 We're also used to putting up with the side-effects. A recent study showed that women taking oral contraceptives were more likely to be diagnosed with depression, with 23% of them being likely to be on antidepressants. And when more than 44% of Australian women take the pill as their chosen form of contraceptive (or period-pain regulator), there are some serious numbers to consider when we think about these side-effects and the number of women who put up, and shut up, every day.
Women have taken on the vast majority of responsibility for contraceptives and while there has been some solid promise on the delivery of new, reliable medical male contraceptives, there have also been some major steps backwards (and some very unimpressed women) when a recent clinical trial for a new male contraceptive was halted because some of the test subjects were experiencing mood swings, weight gain and depression.
Sound familiar? While research on other methods continues, this decision to abandon testing on a 96% effective method still shows that deciding on the right contraception remains in our female hands for now.
Mia Freedman has a mirena. And she wants to tell us all about it on Mamamia Out Loud. Post continues...

That's an area where Australia is lagging behind. We're great at taking up technology, and apps, in particular. We love Lyft, Spotify and Uber Eats and heaps of us are using our FitBits and Bellabeats to track our fitness, steps and time of the month.
Australians love our apps, so it's time to consider using one to go au natural on the hormone front. Fertility Awareness Methods (FAM) are natural ways to preventing pregnancy based on the body's natural hormonal cues. Today, they're backed by technology to make them dramatically more accurate than just checking a calendar.