Constance Hall talked everything from "parent sex" to her "lazy" husband during her appearance on The Project this week. But the blogging queen has revealed there was one topic that was off-limits.
Birth poo.
In a Facebook status posted after Tuesday's segment, the Perth-based mother-of-four said Bickmore was keen to quiz her on the subject, which earned an entire chapter of Hall's book, Like a Queen.
But higher powers vetoed the discussion.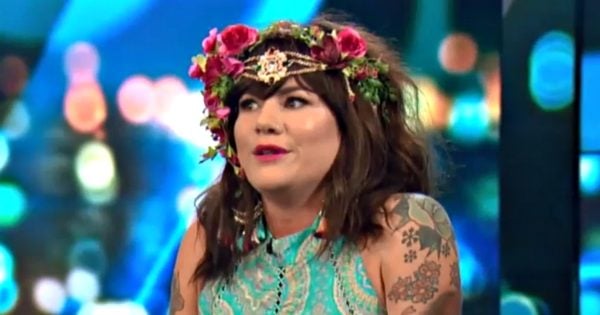 What, no poo-talk? Constance Hall on The Project. Image: Channel 10.
"Carrie is my new celeb crush, she actively loves my book," Hall wrote. "And she told me on the side that she tried to convince producers to talk about my birth poo chapter, but they said no."
And we thought The Project liked to tackle the real issues.
It's a sad day for television, people.
[fbEmbed_url="https://www.facebook.com/1019711431407015/photos/a.1028239657220859.1073741829.1019711431407015/1279340215444134/?type=3&theater"]
Hall has attracted more than a million followers on social media for her unfiltered commentary on parenting.
Including that time she wrote about doing a nervous number two while waiting to undergo a cesarean.
"Billy had to walk me to the toilet and pull down my undies. I was thinking to myself "I thought a C section was the civilised option, I don't really feel civilised holding my husbands hands while pushing out a poo," a post on her blog reads.
"Now the embarrassing part here is that while helping me up, Bill had a confused look on his head after copping an eye full of my business. I burst out with 'Don't look Bill!!!! It's a big poo!!!! It's a nervous poo!! Nerve poos are always huge!! [sic]'"