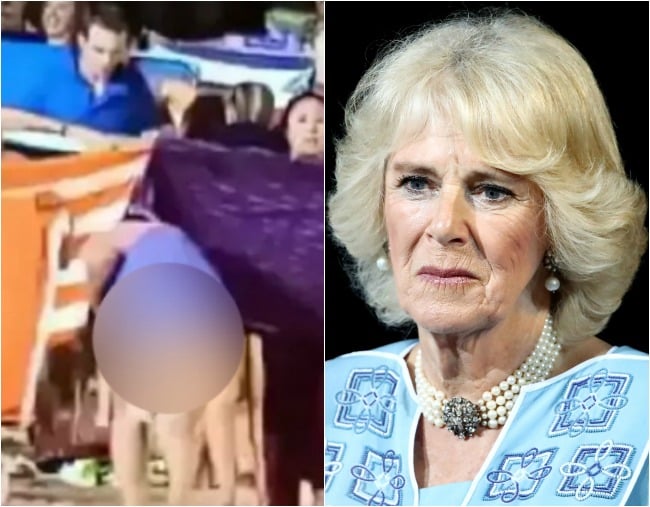 Not everything went to plan at the Commonwealth Games opening ceremony on the Gold Coast on Wednesday night.
Among athletes arrivals and baton passing, there were bare bums, lip syncing accusations and a bored Duchess.
Let's have a recap, shall we?
LISTEN: The Commonwealth Games are happening and all anyone cares about is a bum…
Before anyone even got to the Games it was chaos

The weather gods really didn't care that it was the Commonwealth Games opening ceremony – sending Gold Coast strong winds and several downpours throughout the day and evening.
It was so bad that two police officers on motorbikes as part of Prince Charles and Camilla's police escort crashed their bikes in the rain. Both were taken to hospital, one to be treated for non-life threatening injuries, the other as a precaution, AAP reports.
Getting to the games wasn't any easier for thousands of ticket-holders, the Courier Mail reports.  The extra demand meant some people were forced to wait up to hours for buses to Carrara stadium.
Someone accidentally mooned us all

During Ricki-Lee's beach-themed performance of Technicolour Love, one dancer accidentally flashed her bare bum to everyone watching at home.
While we don't know yet what caused the wadrobe malfunction, it looks like she lost her bather bottoms and when she flicked her towel over her shoulders it didn't come down to cover her like it did for others. So as she bent over to run through a crowd of fellow dancers holding towels, the thousands of people watching saw everything.
#CommonwealthGames2018 #OpeningCeremony pic.twitter.com/IgwIaIjQZ9

— Cask J. Thomson (@Cask_Thomson) April 4, 2018
Thankfully no one got a good look at her face, so she can wait anonymously for the Twitter world to stop sharing screenshots.
Camilla, Duchess of Cornwall, looked totally bored, then trended on Twitter

The Commonwealth Games' committee put on a bright, entertaining show for the opening ceremony, we thought. But Camilla, Duchess of Cornwall, seemed rather unimpressed.
Attending alongside Prince Charles, viewers noticed the royal looked disinterested and actually… a little unhappy. On several occasions, she was seen distractedly flipping through a program.
So many people noticed and wanted to share their opinion in fact, that 'Camilla' briefly trended on Twitter.
Camilla is not even trying to look like she wants to be here. #gc2018 #openingceremony

— Matthew Mitcham (@matthew_mitcham) April 4, 2018
I think that Camilla was reading a New Idea #GC2018

— Paul Hogan (@realpaulhogan) April 4, 2018
Cheer up Camilla, they've still got a Sizzler at mermaid Beach on the GC#GC2018 pic.twitter.com/rt6Cvy8e3W

— Sportsbet.com.au (@sportsbetcomau) April 4, 2018
Performers were accused of lip syncing

Aussie singers Christine Anu and Ricki-Lee gave passionate performances, but many viewers were convinced they were lip-syncing.
Social media users said Anu's mouth didn't appear to move in time with the words to My Island Home. Meanwhile, Ricki-Lee's performance of Technicolour Love was a bright, beach-themed spectacle – but any time the camera zoomed on her mouth viewers thought it didn't seem to be syncing up.
However, Commonwealth Games officials denied the claims in a statement to News.com.au.
Not to mention, there could absolutely have been some sort of feed delay to explain the confusion.
Watch Christine Anu and Ricki-Lee's performances in the video below.