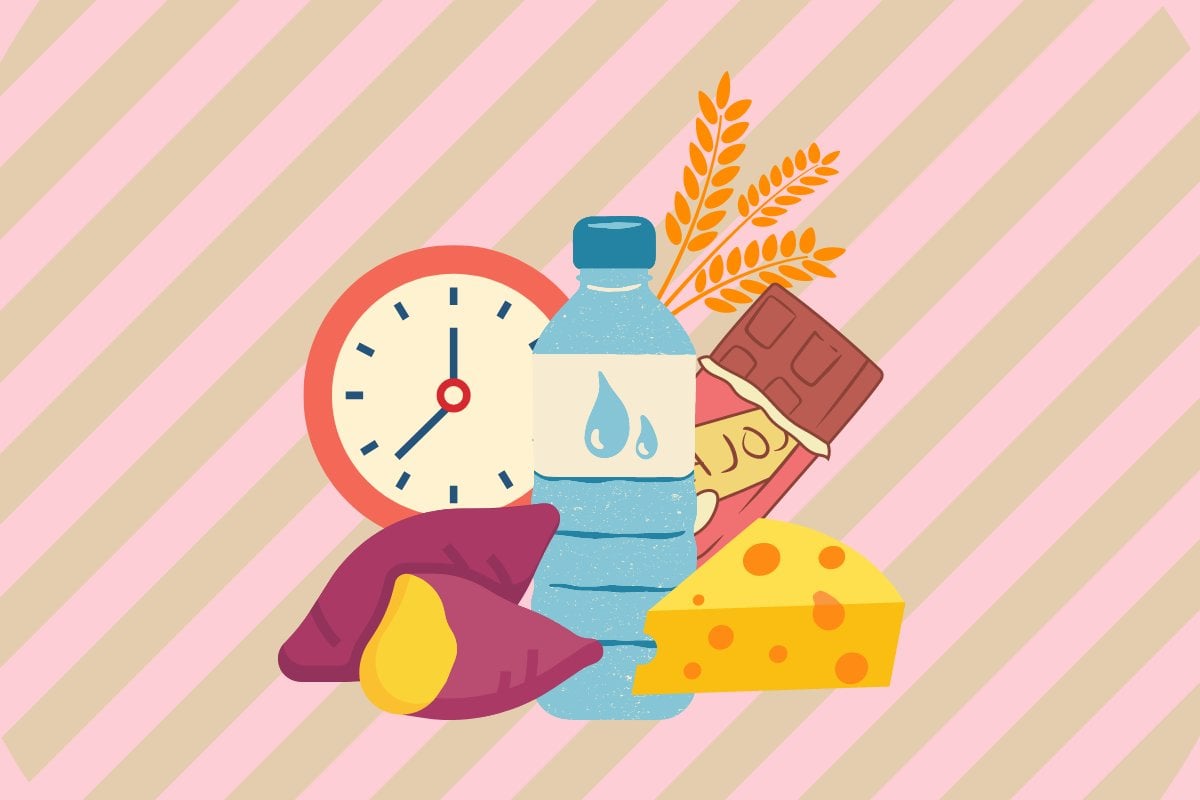 With the abundance of nutrition information available online, it's easy to get confused. Everyone eats, which means everyone has an opinion about nutrition.
Unfortunately, many of those opinions are not scientifically correct. From hearing carbs are bad, to hearing fat is bad, to hearing fat is now good, to hearing eating gluten is basically a cardinal sin.
Watch: There's bad news for french fries lovers... Story continues after video.
Navigating the nutrition landscape can be a real headache. So, I've collated some of the most common nutrition myths I get asked about as a dietician below, and have broken down whether there is any real merit to them.
1. Is it gluten causing your gut grief or wheat fructans?
Gluten often bears the blame for causing gut symptoms such as bloating and abdominal pain. If your gut symptoms are because of coeliac disease, then gluten is certainly to blame. If coeliac disease has been ruled out, yet you find products like bread, pasta and cereal cause your gut grief, then wheat fructans are more likely at fault.
Wheat fructans are a type of fermentable carbohydrate (unlike gluten, which is a protein) which are poorly absorbed, particularly for individuals with sensitive stomachs. If wheat fructans are the issue, then you can enjoy a variety of gluten-containing products that are low in wheat fructans, such as traditional sourdough bread and rolled oats. It's important to note that non-coeliac gluten sensitivity exists, but a wheat fructan sensitivity is more common.
2. Does chocolate cause acne?
As a die-hard chocolate lover, it hurts my soul to see it blamed for causing acne. But there may unfortunately be some merit to this one. Now, there is currently no clear evidence whether chocolate worsens acne. However, some of the research on nutrition and acne may support this theory.
Foods which have a high glycemic load (glycemic load is the amount of carbohydrate in a certain food), have a high saturated fat content and contain dairy have all been associated with worse acne in some individuals. So given that chocolate has a high glycemic load, contains dairy (except for some dark chocolate), and is high in saturated fat – it may have a role in exacerbating acne for some. If you enjoy chocolate (you're only human) then stick to enjoying it occasionally in moderate amounts.
3. Do I really need 8 glasses of water a day?
The old 8 glasses of water (or 2 litres a day) gets thrown around as a blanket water recommendation, but is it accurate?
Water requirements are highly individualised and will change day-to-day depending on the level of physical activity, sweat and climate. Using 2-3 litres (8-12 glasses) of fluid per day is a good rule of thumb. If you exercise or sweat more, you will naturally need to drink more. Use the colour of your urine as a guide – it will be a pale straw to clear colour when well-hydrated.