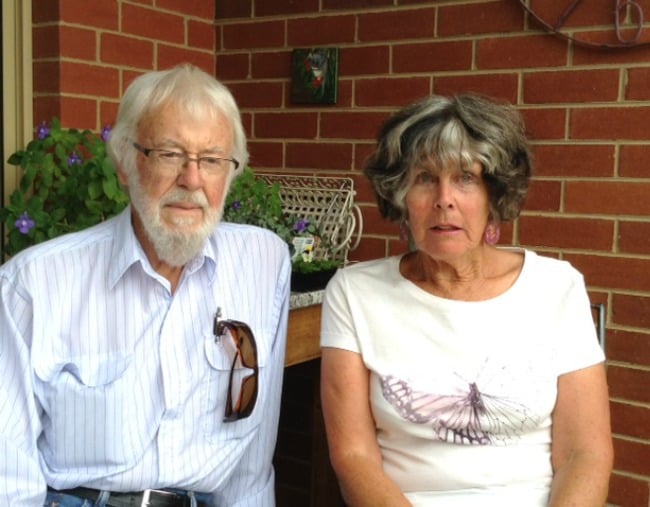 A colonoscopy is not a procedure many would queue for, and yet we are, in the thousands. Some spend anxious months – even years – in a very long line and only reach the front by battling the system.
Jan Maling's pet name for her husband is "Tiger" but her efforts to fast-track his colonoscopy show a fierce strength and courage of her own.
In November their doctor said Neil, 77, needed a colonoscopy, quickly, to confirm bowel cancer. But six weeks went by with no date from the Bendigo Hospital.
"He was anxious the whole time. He would say to me, 'This cancer's not on holidays, it's just gnawing away, moving through'," Jan says.
Like Neil, thousands of Australians with bowel cancer symptoms, or who test positive to blood in their stool through the free bowel cancer screening program, are waiting months for a colonoscopy to learn if they have cancer.
Charity Bowel Cancer Australia wants this changed, and recently petitioned Canberra politicians to guarantee a colonoscopy for those in need within 120 days.
While four months is nowhere near the four weeks that cancer experts deem optimal, it is better than a system that now sees nine in 10 Australians who test positive to blood in their stool wait between 116 and 181 days for a follow-up colonoscopy.
Anger and anxiety sparks action
Faced with these delays, many are being forced to game the system – like changing their address – or they get vocal.
Jan Maling soon emailed the hospital CEO because every day spent waiting for a diagnosis seemed like a week.
"I said 'There seems to be a delay, what are you going to do about this deplorable situation?''," she says.
Tests had shown Neil had bleeding and low iron levels, and despite being a fit long-distance walker, he was unusually tired. All signs of bowel cancer.
Jan heard back within minutes, with a phone call offering her husband a colonoscopy in five weeks.
When Neil saw the colorectal surgeon, the surgeon said he wished he'd come sooner. He had advanced bowel cancer, meaning it had spread beyond the bowel to lymph nodes and other organs.
"His treatment will take a year," Jan says.
After that Jan became so angry she felt she was going to explode.
"I woke up one night and I was hot all over, I was just burning all over I felt so angry. I felt like I could punch a wall or something," she says.
Instead Jan contacted her local member, Jacinta Allen, and became something of a health activist.
Similarly, Mandy de Vries, 51, a mother of two from Darwin, has become a campaigner, after chasing the Royal Darwin Hospital three times to secure a colonoscopy in March after a positive test in December.
"I was classed as a high priority and I didn't feel that I was being treated as a priority," Mandy says.
Exacerbating Mandy's anxiety, hospital staff didn't have the right surgical expertise. The team supported her decision to instead be treated for advanced cancer at Melbourne's Peter MacCallum Cancer Centre.