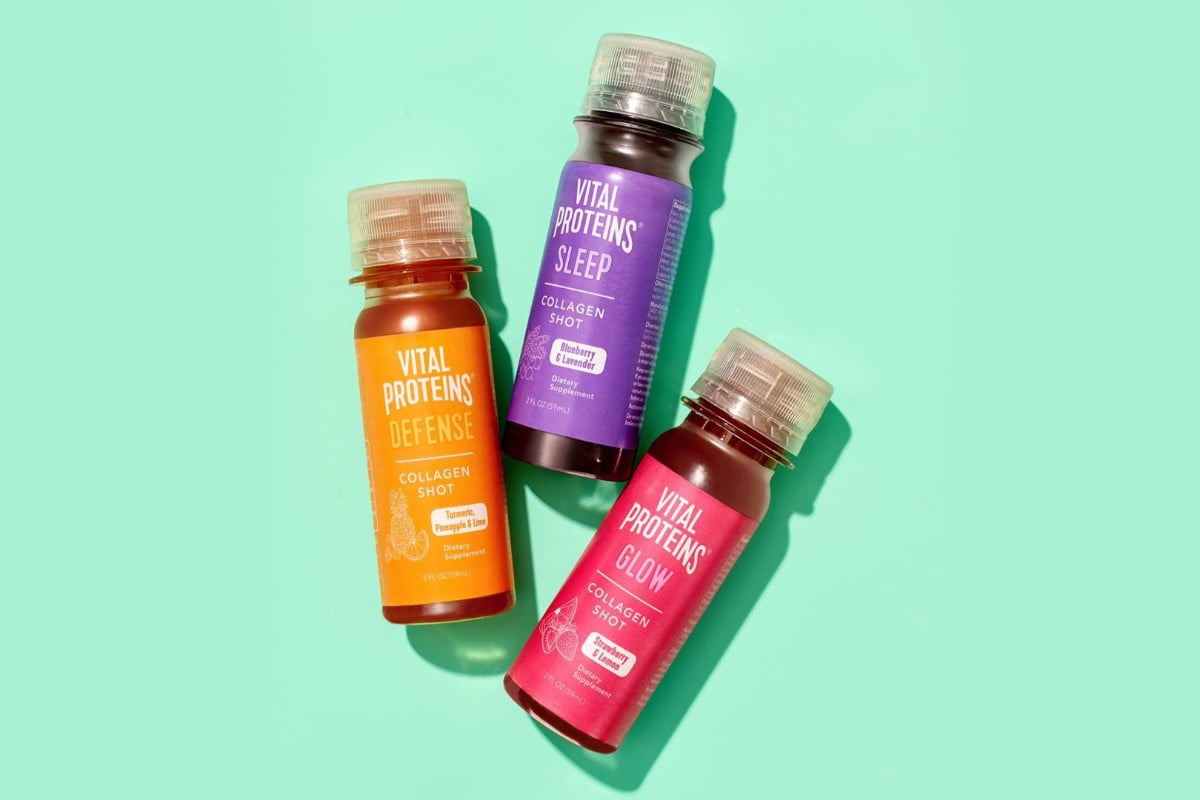 Stroll down the aisles of your local supermarket or servo and you'll find a collagen product promising to make your skin glow and your gut as clean as the day you were born.
No, we're not talking about the collagen powders you might've seen people drinking on Instagram. Today, we're talking about ready-made collagen waters, drinks, protein bars, balls, and even shots.
These products come in bright packaging and with a list of benefits ranging from brighter, younger-looking skin and cleansed insides, to stronger hair and nails – all in a convenient, yummy, on-the-go treat. But are they legit, or a load of crap?
We asked the experts to find out everything you need to know about collagen drinks and snacks, from what collagen actually does (yes, it does do something), to whether these hyped products meet their claims.
Before we get into it, here's some helpful tips to improve your skin while you snooze. Post continues after video.
What is collagen?
Before we get into collagen drinks, snacks and supplements, what the heck is collagen and why would you want to get it into you?
Collagen is a naturally occurring protein we all have in our bodies. From a skincare perspective, if you think of your facial structure as the wooden beams in a house reno, collagen is the cushiony insulation and the screws holding everything together. It's a building block for our hair and nails, too.
Dr Adrian Lim, a Sydney-based dermatologist and the Dean of the College of the Australasian College of Dermatology, told Mamamia:
"Collagen is the padding of the skin and it gives the skin integrity. It also reflects light in a certain way, so it contributes to tautness, radiance and glow."
He also explained collagen diminishes with age (this starts around 25, fun), as well as with sun damage and disease. The result is skin that shows some or all the common signs of ageing like wrinkles, and loss of tone and volume.
The other important thing to know about collagen is it's a large molecule. Dietitian Rachel Scoular broke down the science for us, telling Mamamia, "Once we ingest collagen, it is digested and broken down into amino acid strands that are absorbed by our bodies as they are."