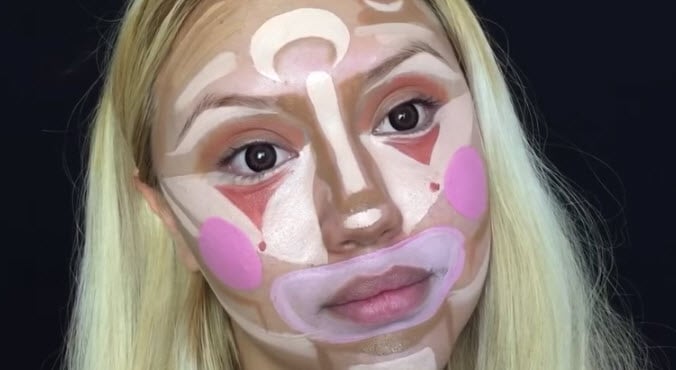 Image via Youtube (belladalune)
We've come a long way since the Kardashian Klan first brought contouring to the mainstream.
An age-old trick used by industry professionals, it's now a method that for many has become a daily routine (although there are still plenty – ahem me- who haven't quite mastered it).
RELATED: Why everyone's talking about "baking". No, it's got nothing to do with cupcakes
We thought we'd already reached peak contouring, but it seems to be the makeup craze that just keeps on giving. And giving. And giving.
While it has its benefits (incredible cheekbones just a blend away? Yes please), I can't help but feel we really have now reached the extreme.
Say hello to clown contouring.
The creation of YouTuber BellaDeLune, it involves painting your face with colour correction concealers, highlighters and contouring products to look like a clown. (Post continues after video.)
It looks comical, complicated and not to mention time-consuming, but here's the thing – it actually works.
RELATED: It's been viewed more than 10 million times: The beauty tutorial that slams makeup-haters
Yep, with a little blending and blotting, the clown makeup is replaced by a surprisingly wearable (albeit high coverage) base.
While it may seem strange to put colours like green and purple on your face, they actually work well at counteracting any imperfections on the skin.
The green works to neutralise any redness, purple counteracts yellow tones and brightens skin, peach warms up any blue-ness around your eye area, while yellow can brighten up the eyes.
RELATED: 9 different "nude" lip colours for different skin tones
The dark browns and lighter colours work to define and sharpen facial features - the basis of contouring.
When properly blended, the colours are worked into the skin and lose the brightness, looking natural. Napoleon Perdis Concealer Pro Palette ($60) is full of three everyday colours and lasts forever.
Clown contouring isn't even the strangest example - you can also find Star Wars, skull and feline-inspired colour correction and contouring tutorials. (Post continues after gallery.)
Extreme contouring: star wars and animal inspired.
But there's more to it than meets the eye.
For BellaDeLune, it was a statement against people who ridiculed her love for makeup.
"I did this to basically send a message - even though you don't need this amount of makeup or any amount of makeup to feel beautiful, let's face it, makeup is fun and it's a way of expressing yourself," she says.