Clementine McVeigh and her AFL star husband Jarrad have announced they are expecting their third child.
The New Zealand-born model shared the news via Instagram on Sunday via a beautiful picture of Jarrad McVeigh kneeling to kiss her pregnant belly, with their daughter Lolita, four, perched on his shoulders.
"ROUND #3 LUELLA + LOLITA + ????????," Clementine wrote. "#anothergirl #girlnumberthree #blessed #virgo #dreamsdocometrue"
Lolita came into the couple's lives in July 2012, close to a year after the devastating loss of their first daughter, Luella.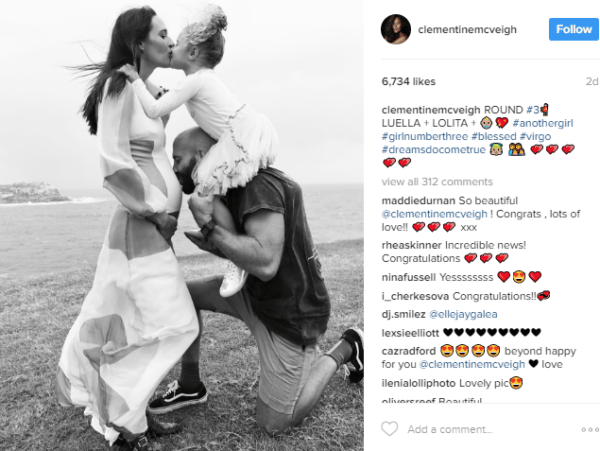 The little girl died at just four weeks old due to a heart condition, a tragedy the Sydney Swan player said changed his whole world.
"It was us as a little family holding her, before she passed away," he told Fairfax media in early 2012.
"She opened her eyes to us, and then looked at us before she went away, which is something we can hold with us for a long time."
The Well team discuss the benefits of structuring grief. Post continues...

More than five years on, Clementine told lifestyle website Sitchu being a parent to both of her little girls has taught brought immense love and overwhelming gratitude into her life.
"After losing our daughter, I now never take anything for granted, and don't sweat the small stuff," she said.
"I feel so blessed to be a mum, and I love every minute of it... apart from the sleep deprivation. We take Lolly everywhere we go, I can't imagine our life with out her."