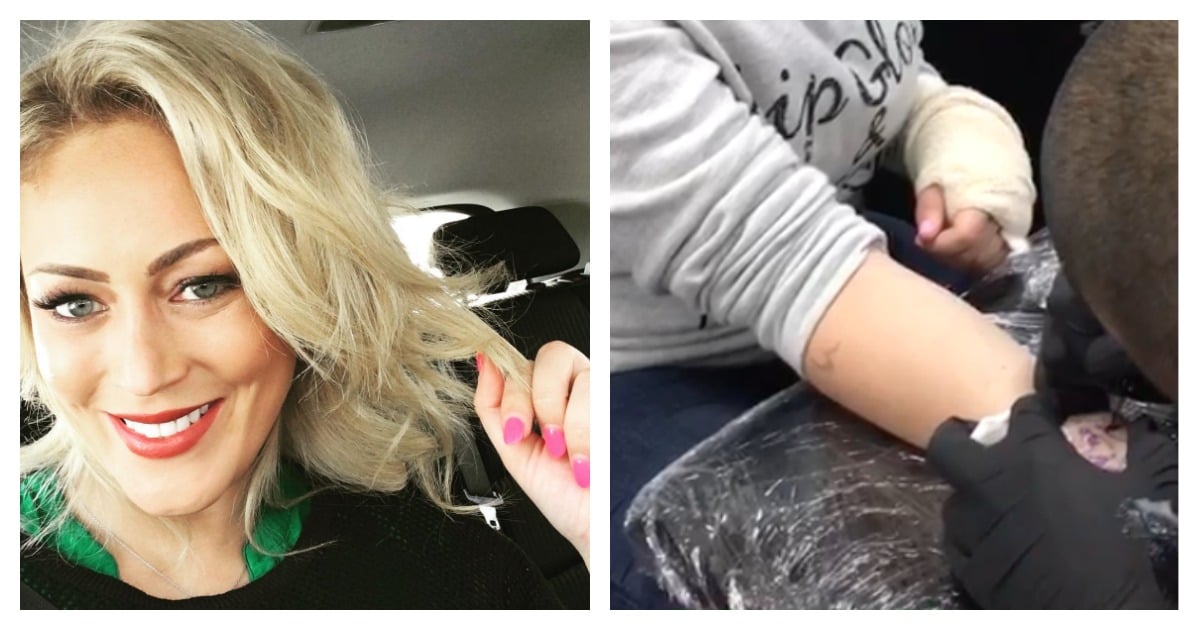 Married at First Sight may have wrapped up just under a month ago, but 32-year-old Clare Verrall has wasted no time in moving on with her life.
And now the Uber driver has just ticked another thing off the bucket list, getting her first ever tattoo – of a wolf!
Speaking exclusively to Mamamia, the known dog lover said that it's something she's been considering for a while, but has been too scared to commit to until now.
"I've always been that bit scared," she admitted, "but then I just though, I'm not letting my fears hold me back anymore."
Verall rose to fame earlier this year after appearing on Season 2 of Channel 9's Married at First Sight. Partnered with 28-year-old Jono Pittman, the couple's match didn't last out the season, with the two going their separate ways just three and a half weeks in.
Heading to Victims of Ink in Port Melbourne with her sister, the Melburnian opted for a black and grey sketched look, with piercing blue eyes being the only other colour used.
When asked why the wolf, Verall said the decision was multifaceted one.
"I've always loved wolves for a couple of reasons. There is an old legend of the wolf being the protector of women, and they're the first dog, and I always used to have recurring dreams with wolves in them" she explains before adding with a laugh, "and I'm a massive Game of Thrones fan!"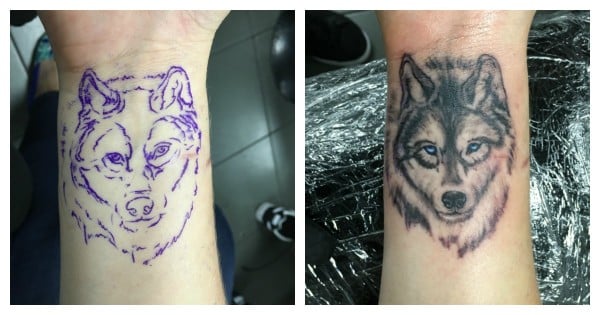 The before and after by tattooist Lamad. Image: supplied. 
The positioning of the tattoo, which sits on her right wrist, was also strategic, aiming to cover up a series of dog bite scars she's incurred throughout her years of rescuing unwanted pups.
When  Despite being on a notoriously tender part of the body, Verrall says there was no pain at all, which is something she'd known about given her broken left wrist!
"I thought it was going to be much worse than it was and was getting really scared, but my sister is covered in tatts and she reassured me that I'd be fine. And I was really surprised, there was nothing! It just felt like someone was scratching my skin," she says happily.
"If anything," she continues, "my left wrist was hurting more!"
When asked if there are any plans for future additions, Verrall says she's likely to keep it to just this one, which she's already affectionately named Ghost in honour of Jon Snow!