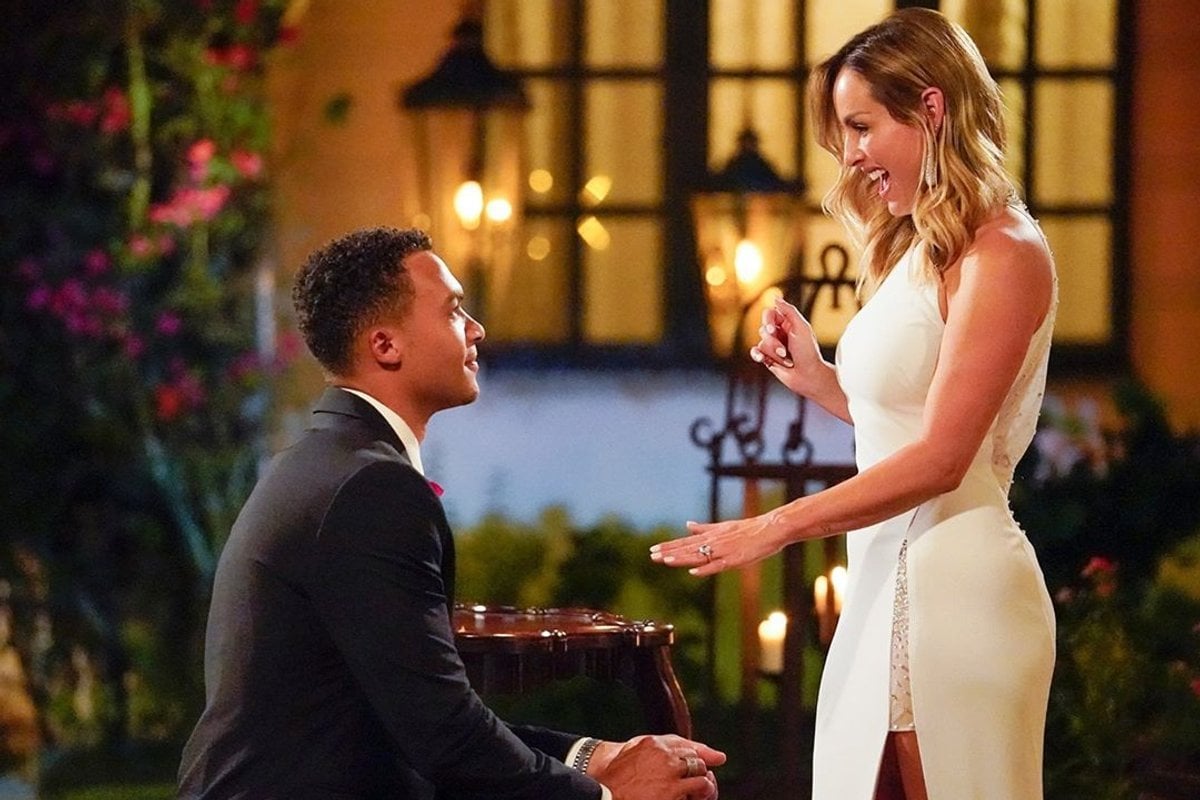 So, America's Bachelorette has just... quit.
Yes, Clare Crawley – the woman picked to be the star of The Bachelorette US – has quit halfway through her season, forcing producers to replace her with a new Bachelorette who will date the remaining contestants.
In case you didn't know, The Bachelor franchise has a frankly concerning tendency to take each season to a whole new level of drama. And if you've ever seen The Bachelor or The Bachelorette in the United States, you'll know that our Australian seasons are quite mild in comparison. (Osher is more pure in his intentions, obviously.)
Watch: Clare Crawley quits The Bachelorette US. Post continues below. 
Here's how the current season of The Bachelorette US has played out so far.   
Clare Crawley's season of The Bachelorette. 
In early March, Clare Crawley, a previous contestant on The Bachelor US, was announced as the 2020 Bachelorette.
After only a few weeks of filming, production was halted on the show due to the COVID-19 pandemic. However, filming later resumed.
So far, the first four episodes of the new season have aired in the US. 
On the first episode, Clare gave her first impression rose to 31-year-old Dale Moss.
After meeting Dale on the red carpet, Clare told producers: "Oh, man. I definitely feel like I just met my husband. I'm shaking!"
Then, in the second episode, Clare gathered the contestants to ask them why they weren't making more of an effort with her.
"I'm a little bit taken aback. I'm sitting here, I made a toast, and then there was the longest awkward silence," she said. "Does anybody want to spend time with me?"
Dale then whisked her away from the group, before Clare told him that he "scares" her because of how strong her feelings were for him.