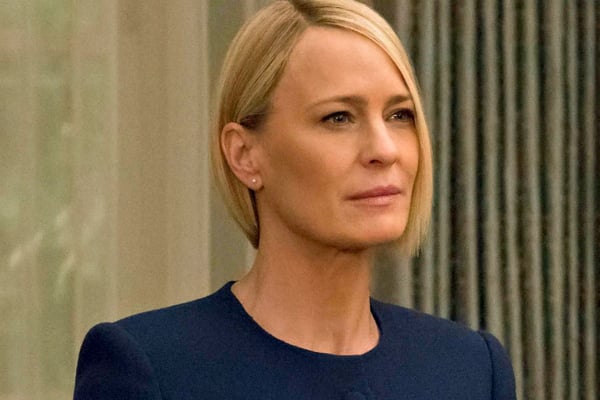 In the latest season of House of Cards, Claire Underwood has assumed the role of president of the United States, but there's one accessory that's very purposefully missing from her outfit.
And as a woman who's just assumed the leader of the free world, while it makes total sense that she should be able to conduct her White House business without a handbag, it still somehow feels like a big deal.
Speaking about the very calculated wardrobe choice, House of Cards costume designer Kemal Harris explained her decision to The New York Times.
"We obviously didn't have a female president as a model, but I revisited the male American presidents of the past to look at their daily wear, their travel wear, and then thought about how that might translate to Claire," she said.
"You never see a male president with a briefcase or a wallet.
"Even though I had a lot of designers reaching out to me to offer their new bags, I thought: 'Claire is not carrying a bag. She has people for that. She's president.'"
Watch the spine-tingling trailer for Season 6 of House of Cards below.
And while the image of Claire in a presidential power suit, court heels, cuff links and no handbag feels like a feminist statement, in the real world, the sentiment of whether 'to bag, or not to bag,' hasn't been as kind to our leading female politicians.
During Julia Gillard's leadership, a 2010 image of the Prime Minister visiting the Governor-General sans handbag got its own headline, with The Australian using this as a critique to distance her from the 'every woman'.
"Julia manages to get through life without ready access to the travelling office the rest of us could not live without," wrote Glenda Korporaal for the publication.
"There is an air of royalty about her that assumes someone else is following along answering the phone, parking the car, taking notes and paying for whatever needs to be paid for."