This afternoon, the High Court ruled Barnaby Joyce's 2016 election invalid after it was found he was a dual citizen of New Zealand.
The court also ruled on the futures of the deputy Nationals leader Fiona Nash, Greens Senators Scott Ludlam and Larissa Waters, One Nation Senator Malcolm Roberts, Nationals Senator Matt Canavan and Independent Senator Nick Xenophon.
Nash, Ludlam, Waters and Roberts were all deemed ineligible, while Canavan and Xenophon were the only ones found elibigle.
It's messy for Turnbull, messy for government and messy for us. There's a lot to unpack, a lot to make sense of and even more that's up in the air.
Here's everything you need to know.
Take me back to the start
OK, so, you may remember this all started with Scott Ludlam. On 14 July 2017, Ludlam resigned from the Senate after a barrister by the name of John Cameron told him he held dual Australian and New Zealand citizenship.
This immediately rendered him ineligible to hold office under section 44 of the Australian Constitution. That same week, his colleague Larissa Waters resigned from the Senate, admitting she too held dual Australian and Canadian citizenship. The dominoes, after that, quickly began to fall. Question marks hovered over the futures of Nash, Roberts, Canavan, Xenophon and Joyce – though it was only the Greens' Senators who resigned, the others referring their case to the High Court and subsequently waiting for the verdict.
Interestingly, Joyce said today he felt in his "gut" the court would make the ruling they did, posing questions as to why he did not cave to pressure demanding he stand down earlier.
According to Professor Cheryl Saunders of the University of Melbourne, it's not immediately clear why he chose to hang on for so long.
"He is the leader of the National Party, he may have had legal advice which gave him more heart than that," Saunders tells Mamamia.
What did the High Court rule?
The court found Deputy Prime Minister Barnaby Joyce ineligible and will face a by-election on December 2 to see if he can keep his seat. It has also found Senators Roberts, Waters, Nash and Ludlam are ineligible. Only Matt Canavan and Nick Xenophon are eligible.
According to the High Court ruling, Xenophon was found eligible because although he is a British citizen, the type of citizenship he carries is a little different. It's called a British Overseas Citizen (BOC), which is different to a full citizenship because he does not have the right to live in the UK. Interestingly, Xenophon had already announced he was quitting federal politics earlier this month to make a return to state politics in South Australia.
In Canavan's case, the Senator argued it was his mother who put in his application for Italian citizenship – something he said she did without his knowledge – and that he was never actually an Italian citizen. The court accepted his argument.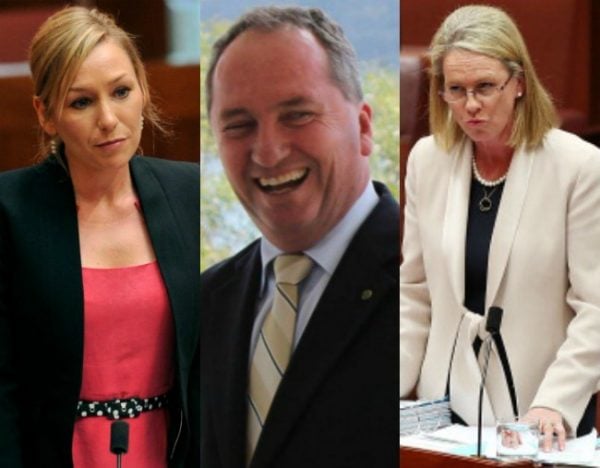 Professor Saunders says in its ruling, the High Court's message today is a simple one:
"If you are a citizen if a foreign power, you should look at it before you nominate for parliament."
What does this mean for government?
Now that today's details are out of the way, there are a few things you should know. Firstly, the ineligibility of Joyce doesn't mean the government has lost power. They have lost their one-seat majority, however, they still retain the support the cross-bench and if a vote is tied, the speaker, LNP member Tony Smith, can vote. Despite this, Smith has signalled he won't use his vote to "manufacture a majority" for the government. This doesn't mean the government will be powerless, or the opposition will be able to pass legislation freely, it could just block the passage of bills for a while.
They also haven't totally lost Joyce yet, who will face a by-election in his seat of New England on December 2. If he wins the by-election - which is expected to do so - the government will regain their one-seat majority of the house. It's expected Joyce will hold onto the seat of New England which has an 17 per cent margin.
According to Professor Saunders, the future of the government in the short-term does rest in the hands of the independents. The government's ability to pass legislation from here "really depends on what the other smaller parties choose to do."
Indi's independent MP Cathy McGowan will hold incredible power in the weeks before the by-election, with the government relying on her vote to pass legislation. However, in a statement released on Friday afternoon, she said she has no intention of de-stablising the government.
"My position has not changed. There will be no deals. As an independent I will consider every bill on its merits, and will continue to represent the interests of my electorate," she said.
Is there any way the Prime Ministership could change hands?
Professor Saunders says it's possible, but not at all likely.
"I suppose it's possible. If [Turnbull] loses majority in the house and if then, for whatever reason, the other members of the house of which he was relying decided to withdraw their confidence because they're particularity cross about the governments performance, then potentially.
"The most simple way to look at it is that this is a government with a very small majority which is now even more precarious."
Listen: The Mamamia Out Loud team discuss the time Larissa Waters' dual citizenship was uncovered, plus whether or not you can lose your job for an office romance.

What happens to the legislation that passed while a cloud hovered over Joyce's eligiblity?
In the last few months, while Canberra waited for the High Court's verdict, legislation has passed by a single vote. So, does this decision cast doubts over those pieces of legislation? After all, the deciding vote was by a politician who wasn't even eligible to be there.
Technically, Professor Saunders says, it should. But it won't.
"The reality is the decision today found Barnaby Joyce was not validly elected. So he has not been a valid member of parliament for a long time. So you might well say, does that affect the validly of the legislation passed with just one vote?"
Saunders says if it was put before the court, she's "pretty sure" the legislation wouldn't be overturned.
"It just becomes too chaotic," she says.
What's more interesting, and what we're likely to hear more about, she says, are the decisions Joyce made as Minister for Agriculture. Decisions he has made regarding his portfolio are "suitable for challenge", she says.
What happens now?
If anything, you can't accuse the government of mucking around. Within an hour, the government had announced Mitch Fifield would take on Regional Communications from Fiona Nash, while Darren Chester will take on her other portfolios.
While the government waits for the December 2 by-election results, Prime Minister Malcolm Turnbull will act as Agriculture Minister. The Prime Minister has already confirmed Matt Canavan will be returned as Resources Minister.
The ABC reports the job of Deputy Prime Minister will be kept vacant until the by-election, with Foreign Minister Julie Bishop expected to act as Prime Minister when Malcolm Turnbull is out of the country.
While Nash has been ruled ineligible, questions still loom about her future in the Senate. As per the Constitution, a recount of Nash's senate seat is likely to occur. If this is the case, Liberal member Hollie Hughes would take her place in the Senate, who was next on the Coalition's list at the previous election. The National Party are currently investigating ways for Nash to come back into the Senate.
Either way, while it hurts the Government and Nationals to lose their deputy leader, it will not weaken their power.
Does this have any bearing on the same-sex marriage postal vote?
Professor Saunders doesn't think it will affect the postal vote hugely.
"I don't know what this does to the government's party room dynamic; one assumes Joyce's voice will be missing from discussions at least until the by election is held.
"So maybe that changes the dynamics, but probably not dramatically. In don't think it's going to make a huge difference on the floor of the parliament."