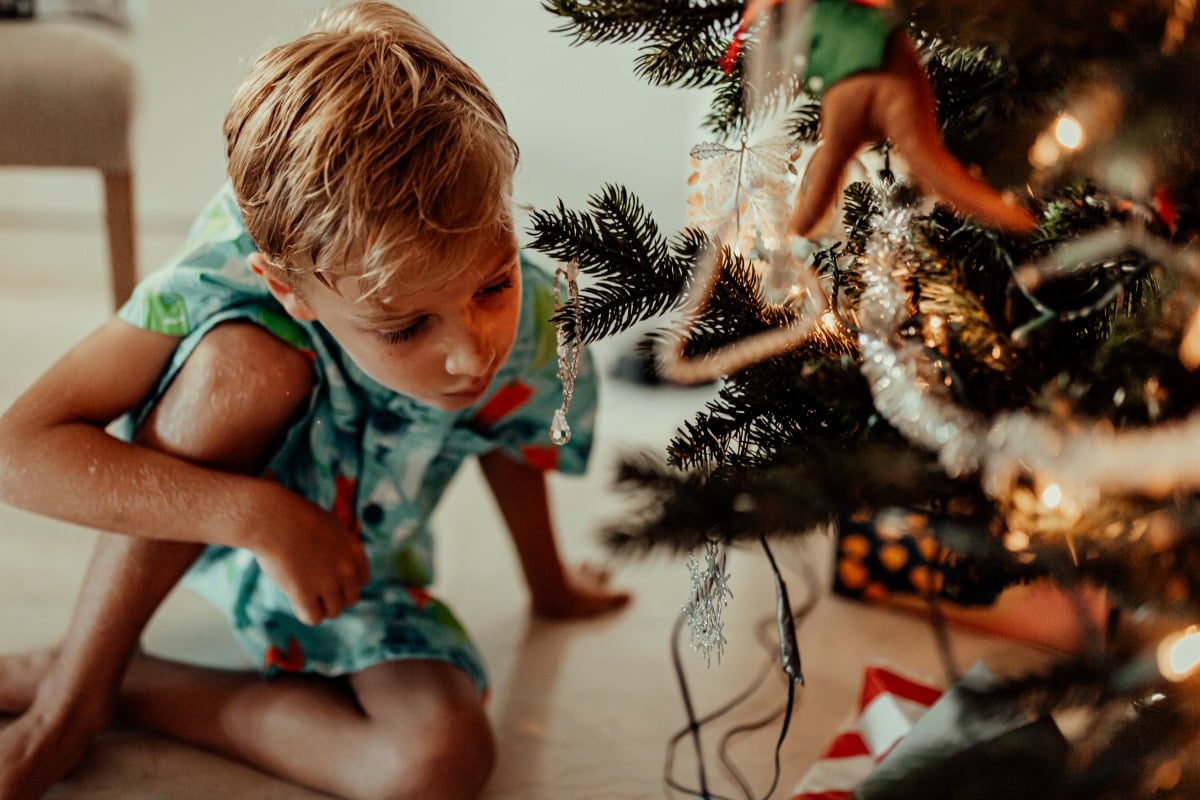 In 2019, Christmas is on the brink of cancellation.
The carols are being played a little quieter, ever since we discovered a bunch of them were problematic.
You'll notice Christmas decorations are more subtle. With religious adherence in Australia on a steady decline, a baby in a manger surrounded by three wise men, some curious sheep and a handful of confused donkeys has never felt more out of place.
Watch: Here are a bunch of alternative Christmas movies. Post continues below. 
Fake Christmas trees, ultimately made from plastic, now elicit an awkward twinge in the belly. Should we really be buying a plastic Christmas tree from a shop that made a big fuss about banning plastic bags?
Christmas lights too can't be gazed at with the same level of affection as years gone by, given what we know about goddamn fossil fuels and carbon dioxide in the atmosphere. One can barely finish the sentence, "Wooooow, look at the… " without another muttering, "That cannot be good for the planet".
Presents feel distasteful in light of our cultural awakening around waste. Do we really need another scented candle? Or a book we won't read? Wrapped in paper? That we'll throw in the bin 10 minutes later?
We always knew the answer was 'no' but this year, when a 16-year-old Swedish girl refuses to even step onto an aeroplane because of the damage it does to the environment, we must admit it all feels a little less… fun.
The Christmas spread has also become a riddle that's impossible to solve, with guests who are gluten-free and lactose intolerant and vegetarian and vegan and pescatarian and on a FODMAP diet or a KETO diet or they have deadly allergies to peanuts or shellfish or eggs. Food has never been so complicated.
And then there's all the parties.
Ever since the rise of The Introvert, people are suddenly allowed to say no. 
Discomfort is very 10 years ago. Unlike our grandparents' generation, it's perfectly acceptable to say you won't be going somewhere simply because you don't really want to.
As Natalie Reilly put it this week, relationships are now more than ever framed as 'work'. There is labour involved in spending a day with your uncle who is – to be frank – quite racist, and to placate the grandmother who would just like you to explain one more time why you're not married.
Reilly also points out that we are living in the era of mandatory self-care, with "terms such as 'gas-lighting' and 'emotional abuse' that used to be confined to psychology manuals… just as likely to spring up on your friend's Facebook wall".