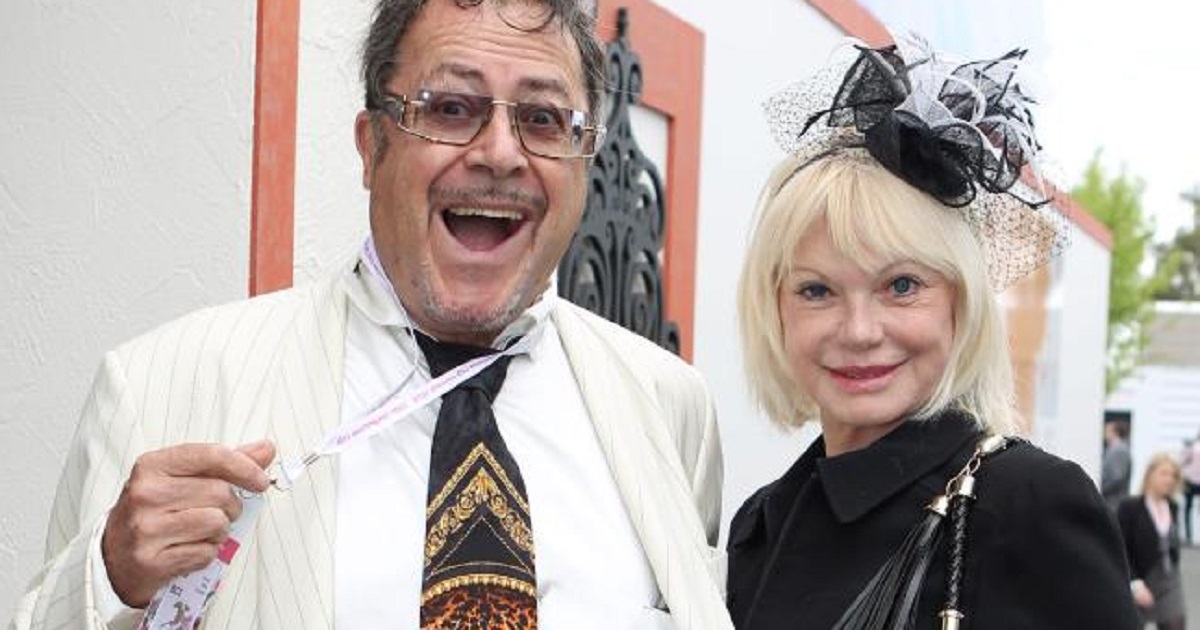 You may have seen Christa Billich as a regular guest on Real Housewives of Melbourne but what you probably didn't know was that she and husband of 30 years, Charles Billich, have an open marriage.
I was interested in buying some figurative paintings…
I was familiar with Charles Billich's lifestyle and some of his works, but I had never met him personally. A mutual friend introduced us and suggested that before I do anymore shopping, I should definitely go and see Billich's work first. Billich was very well know and a familiar figure as the worst dressed man, plus a rather juicy socialite. When I came to his studio and he opened the door, my first reaction was 'really this is supposed to be the playboy?' I thought they were meant to have a lot more style and pizzazz. He prepared a fantastic lunch, with a lot of people in invited, and we settled down for a nice glass of Shiraz, which certainly made my decision of buying paintings a lot easier. And yes I did fall in love with his work immediately, and bought four of his figurative oil paintings.
He offered to do a sketch of me…
Generously, he suggested he would love to do a crayon sketch of me, upon his return from Italy, where he had a studio, escaping the Australian winter. True to his word, he arrived one evening on my doorstep, full of enthusiasm to complete the promised sketch. Flattered, even though I had never posed for an artist and certainly never in the nude, I was quite confident I could.
Mamamia confessions: When you knew he was the one. Article continues after this video.
Billich set himself up in the lounge room, prepared his crayons and drawing board and I thought, well, now is the time I'll have to disrobe, and pose. After a few gulps of wine, I decided to do so, came back, walked into the lounge room and Charles looked up from his drawing board with a startled and surprised look on his face saying "I was thinking of a head and shoulder' – somehow, that broke the ice. We both laughed, and Charles decided while I was already here as his next nude model – why not continue? And so it began…
I wasn't interested in him romantically at first…
Honestly speaking, I never, never, ever considered Charles as more than an exciting fling – maybe a nice friendship, and I was totally surprised after a few months when he proposed.  I couldn't take him seriously as I couldn't imagine he'd really want to get married as he had four past failed marriages and countless engagements behind him. As I still don't know to this day, I did say yes after some coaxing, to my own surprise. I must confess, Charles is an interesting and stimulating, energetic person to be with. His creative senses reach from his studio to the kitchen, to the bedroom – so that's my excuse, and why I love him.
Charles' freedom and spontaneity was a welcome change in my life…
Charles decided that we would get married in him hometown, Lovran in Croatia. Where we had many international guests, and he would feel very comfortable to get married. The wedding was planned, I would arrive in Lovran with my flowers, my dress, everything to make the day very, very special We visited the mayor to ask her if she would do us the honor of marrying us, with only a few days notice. To my surprise she flatly refused, her excuse was probably the same as my initial instincts, that Charles, a most charming artist would make a very unsuitable husband. Charles didn't worry too much, he thought 'we'll just have a big party and get married somewhere else'. Obviously if something is denied to you, if you really want it, you go back and try again. So I went back to the mayor and convinced her that I would really like to get married, that Charles is a very good and supportive partner, and that while he might have had a very flamboyant and colourful past, the future, of course would be very different.
At our wedding Charles was attracted to our photographer...
On our wedding day, the mayor sent us a couriered mail, saying she was prepared to marry us, at the Town Hall of Lovran at 5pm as planned.  We had a fabulous wedding, the people of the town were lining the streets, the ceremony was brief but very meaningful and we walked out of the town hall showered in confetti, rice and good wishes and made our way towards the bridal party as husband and wife. With countless photos, pleasantries and toasting to our happiness, it was a wonderful event. Until... a very attractive young lady, our wedding photographer entered our celebration and Charles was totally taken by her beauty, her good figure and her amazing charm. I couldn't quite share his enthusiasm, and I was quite surprised that my husband of one hour paid her so many compliments and gave her so much time.
At first I was uncomfortable with my husband's obvious attraction to other women...
I felt a little bit lost on our bridal table, watching him revert back to his old habits. I left the celebration, and waited for my husband to come to our honeymoon suite. 'Somehow', we was delayed and not wanting to have our first fight, we ignored the situation completely and just moved on. After the wedding, I returned back to Australia and Charles stayed on in Lovran. To my surprise again, I found out that Charles still had a fiancée in Melbourne! She was equally surprised to find out he got married, without mentioning a thing. When Charles finally returned home to Melbourne, he kept seeing his old fiancée, and somehow convinced her that our marriage was not binding. Only after her suggestion that it would probably be easiest if Charles would dispose of me - possibly best with poison, Charles felt it would be a much saner decision to leave her and say with me.
This was only one of the women I had known Charles to be unfaithful with during the first six months of our living together back in Melbourne as Mr. and Mrs. Billich.
We needed to find a way to live together...
These six months were filled with constant ups and downs between us, and so Charles suggested the way we could continue to live together and enjoy each other's company was to agree on an open marriage OR separate. There was A LOT to consider on my part, as I had already opened an art gallery filled with Billich works and was totally immersed in Charles' life. I felt that I could handle the idea of an open marriage and I wasn't ready to walk away from his life and the life we were building together in the art scene. I really had no idea how an open marriage would work, but I found out quickly. I constantly heard Charles receiving phone calls late at night, he would get up, get dressed and go to a party. Using my rights within our open marriage, I too got dressed and went out myself! And one particular night I remember very well - I said to myself, I won't be home before 10am the next morning, so he would be shocked, wondering where I was - and he WAS!
I feel I've made the right decision...
30 years on, and looking back, I still feel I've made the right decision. I gained my emotional independence, became a much stronger and assured women. Sometimes I catch myself asking "have I missed out on the experience of a conventional life?". But having seen so many marriages fail because of deceit and lies, either from one or both involved, and years of fighting, court cases and bitterness I feel I've made the right decision for my particular marriage. I'm not by any means suggesting a marriage like mine would work in most cases. A marriage like mine is truly unique, there are so many facets and moving parts to our relationship. Sharing the idea of an open relationship also allowed myself to have enjoyable affairs with several partners, who have all had significant, positive impacts on my life.
I think more women should try having open marriages...
If women ask me what to do, when their relationship is breaking down and feel like divorce is their only option, I always suggest to try an open relationship or marriage. If you have enough good points in your marriage, and being unfaithful is the only negative, then maybe, just maybe, it's better to concentrate on the valuable points instead of dividing a happy home and distressing young children. I always believe, in all aspects of life, if you find the possibility to build instead of destroy, I certainly would prefer to build.