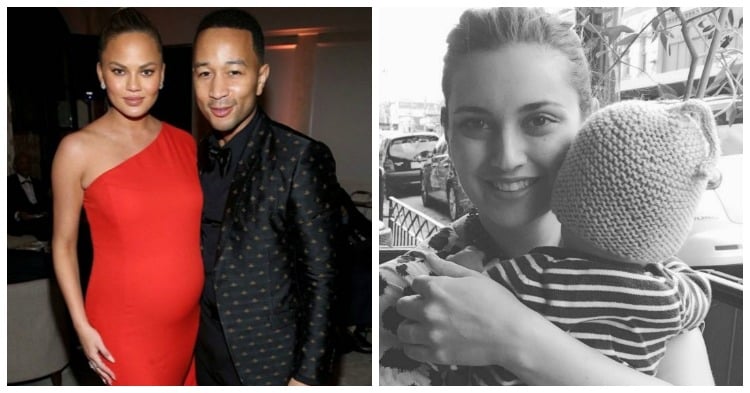 TV host and model Chrissy Teigen is pregnant.
She and her husband – multiple-Grammy award-winning artist John Legend – are expecting a little girl.
They're expecting a little girl who is a little girl by design, not chance.
Teigen and Legend chose the gender of their unborn child through a process called Preimplantation Genetic Screening (PGS). PGS is a perfectly legal – albeit controversial – option that is offered by some fertility clinics in the United States to patients already accessing IVF.
Teigen told People magazine this week, "I've made this decision… Not only am I having a girl but I picked the girl from her little embryo. I picked her and was like, 'Let's put in the girl.'"
"I think I was most excited and allured by the fact that John would be the best father to a little girl. That excited me," Teigen said, when pressed on the question of why she wanted a girl.
Teigen took to Instagram in October to announce her pregnancy.

Here in Australia, the procedure is illegal in several states, including NSW and Victoria. In the remaining states and territories there is no governing legislation but there are also no fertility clinics offering the procedure. China, the United Kingdom and Canada have also outlawed gender selection.
To call the issue fraught, is an understatement.
Since her interview with People, Chrissy Teigen has been accused of playing God, of being selfish and ungrateful, of not deserving to have children and a whole raft of other labels too cruel to repeat. While gender selection is not uncommon in the United States, speaking openly about it is. And Teigen's candid comments, coupled with her public profile, has refuelled the ethics debate around the issue.
So, where do you stand?
With more and more Australians heading overseas to access the procedure, it's not simply an issue of outlawing gender selection here at home. The reality is that Australian parents are having babies, who will ultimately be Australian citizens, whose gender has been predetermined. How do we, as a population, feel about that?