Prolific tweeter Chrissy Teigen has announced she has made her Twitter profile private after trolls saturated her account with hate and abuse.
When asked by a follower about the decision to make her profile private, Teigen tweeted:
"Yeah. Not strong enough anymore."
The surprising admission was a shock to fans, who celebrate Teigen for her no-holds-barred honesty and authenticity with both her opinions and appearance.
Teigen has shut off her account from the negativity and abuse that so many celebrities experience on Twitter, ensuring that only those who already followed her are able to see her tweets.
The settings also allow the model the power to approve new followers.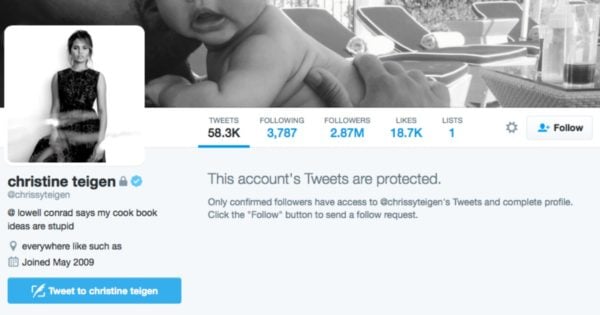 In the past, Teigen has made her mission to be unapologetically honest on social media, posting photos (more than once) of her stretch marks.
In addition to her refreshing truth bombs, Teigen never shies away from telling the world what she really thinks - even when it's an issue that is outside the US.
In July, Teigen posted a series of tweets condemning the sentence of Australian so-called 'Tinder Troll' Zane Alchin, after he was sentenced to a 12-month good behaviour bond for using a carrier service to harass, menace or threaten.
"Interesting case out of Australia. Our jails are full enough here but perhaps we can create a troll farm," she wrote.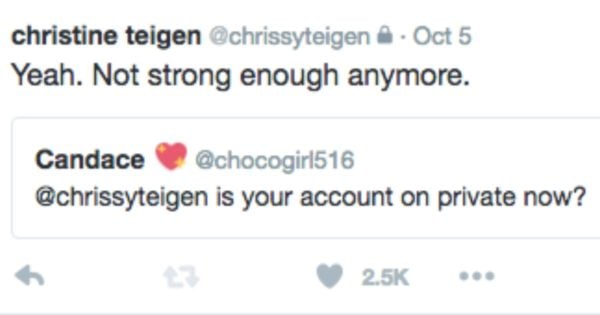 "I would like to start the first troll farm. It isn't a prison, merely a place where they cannot have access to actual happy people," she added.
The Twitter exit comes just days after Teigen defended Kim Kardashian in a series of tweets after the reality star was held up at gunpoint in her Paris apartment.
"Fame is interesting," she tweeted. "Celebs are supposed to love you guys while also knowing you'd make a meme of our dead bodies to get retweets."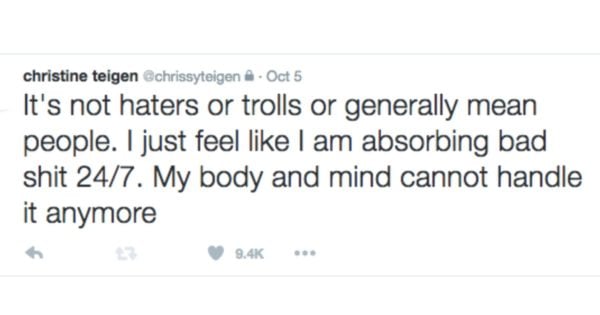 "Some s— just isn't funny. I see you trying, but it isn't," she added.
However, it wasn't just trolls that forced the model and mum-of-one to shut her Twitter down to private. It was negativity as a whole.
"It's not haters or trolls or generally mean people," she tweeted,reported Time magazine.
"I just feel like I'm absorbing bad s— 24/7. My body and mind cannot handle it anymore."