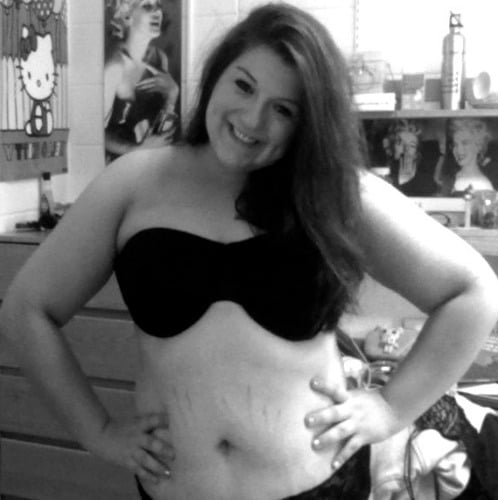 When it comes to being real about her image, Chrissy Teigen – model, food blogger and general cool girl – is kicking goals.
She recently posted a picture of her stretch marks, which she affectionately calls "stretchies" on Instagram. It went viral, and women the world over started sharing their own "lines".
Now, she's declared that she will no longer use photo editing apps to retouch her selfies.
"I just didn't feel like doing it anymore—and I'm never doing it again, because I think we forgot what normal people look like now," she remarked on The Meredith Vieira Show. (Post continues after gallery.)
Chrissy Teigen's funniest Instagrams
Seeing as Chrissy loves sharing photos of her life on social media – especially on Instagram – this is a refreshing stance. When looking at celebrity Instagram feeds, it seems like they all #wokeuplikethis – with "this" meaning perfectly clear skin, bright eyes and general glowiness.
But don't be fooled. The queen of selfies, Kim Kardashian, reportedly uses photo editing apps to improve her selfies. And if Kim does it, it's likely that everyone in Hollywood is doing it, too.
Related: 4 things your beauty therapist is thinking while giving you a spray tan.
Chrissy says that often, her famous friends do not look as perfect as they present themselves on social media. She says, "It's so unfair… I've seen these women in person, they are not like that. Please know that. I've shot in barely anything with them and it's just amazing what people do to tweak themselves."
As a professional model, Chrissy Teigen is very image-conscious. However, it is still reassuring to see her advocating against excessive and unnecessary retouching. For those in the modelling industry, the pressure is on to look flawless 24/7. With the omnipresence of social media, it is all too easy to wipe away blemishes with the tap of a finger on a screen.
Related: Why is Miley Cyrus' picture such a big deal?  
I take a lot of selfies for my work here as acting beauty editor of The Glow. I always like to see photos of real women trying out beauty products and techniques, and I figured that you would like it, too.
Yet, with every single photo of myself, I've had to restrain myself from retouching the photos. My first university degree was in Design (Visual  Communications), which means that I know how to professionally retouch a photo using Photoshop and Lightroom.
Just last year, I was working as a semi-professional portrait photographer. All of my clients said a big "yes" to the free Photoshop re-touching package that I offered.
I was incredibly tempted to Photoshop my pictures from my balm stain story, because I had a huge pimple just above my lips. It would have been so easy. I was actually going to do it, and just not say anything. Here's a humblebrag: my Photoshop skills are so good that no-one would have noticed that I had retouched the photo.
Related: I stood next to a supermodel and it's immortalised forever on film. And I still love my body.  
However, I realised that if I Photoshopped my own photo, it would be only for short-term gain. The outcome would be that I looked like I had flawless skin. That's it. Pretty boring, right?
This would go against what I believe in, as a beauty editor. What I love about make-up and beauty in general is that we can use it to feel better about ourselves, and to hide the little blemishes that we all have. I'm not a model or a makeup artist - if I was, I'd be off doing those things. I'm a woman, and I'm a writer, and I love to share my knowledge about beauty with you. I can't do that if I look like I have the perfect face, because then, what would I say? "Just use Photoshop, and you'll be fine." Again, that's boring.