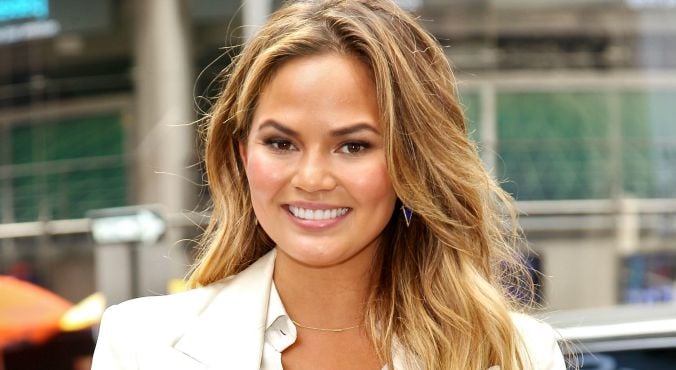 Image: Getty.
In recent months Chrissy Teigan has been widely cheered for promoting body positivity. Between refusing to retouch her social media photos and uploading photos of her stretch marks, she's been a breath of fresh air.
This week, however, the US model and food blogger has come under fire for comments she made in an interview about her eating habits. Teigen — who is currently working on her own cookbook — spoke about her favourite meals and cooking tips, and mentioned her unusual method of eating Doritos.
RELATED: The 'health food' eating disorder you had no idea existed.
"I lick off the nacho cheese seasoning and put the chips back in the bag. You still get all the flavour, not all the carbs!" the 29-year-old quipped.
It was a light-hearted comment, but it prompted a strong reaction on social media with many users accusing her of promoting disordered eating. Overnight, a clearly frustrated Teigan responded to these claims with a flurry of strongly-worded Tweets.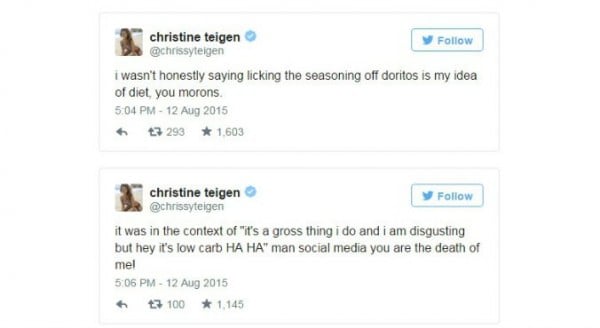 "I can't believe I have to address this, but my quote about licking the seasoning off Doritos isn't "promoting eating disorders", it's a hobby," she began.
"I wasn't honestly saying licking the seasoning off Doritos is my idea of diet, you morons... It was in the context of 'It's a gross thing I do and I am disgusting but hey it's low carb HA HA'. Man social media you are the death of me!"
About ten minutes later, she added, "Sorry. You all aren't morons. Just the people who seriously think I go on Doritos seasoning diets. The rest of you are my everything."