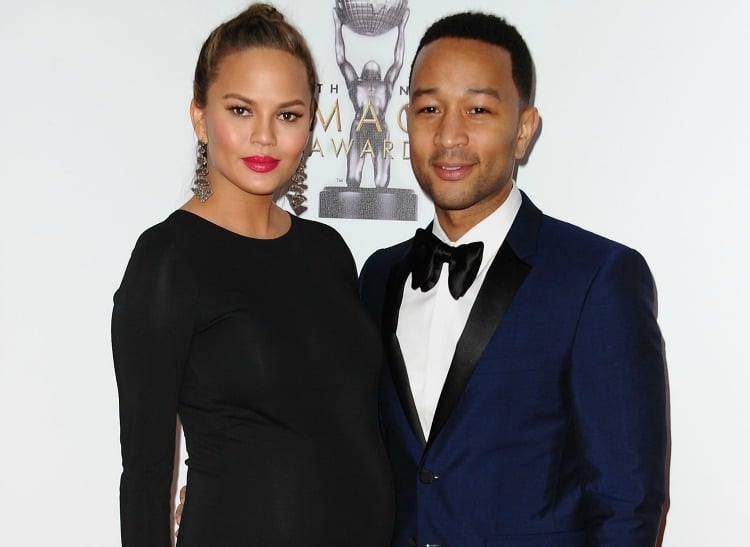 Chrissy Teigen and John Legend celebrated the imminent arrival of their baby girl over the weekend, at a princess-themed baby shower in New York City.
At this point we're not sure if we want to be Chrissy Teigen, or her soon-to-arrive baby girl. I'm leaning towards baby. Because if their baby shower is any indication of what's to come, Princess Legend has a very lucky life to look forward to. Not only will she inherit a fairly ridiculous combination of genes, and a dad who can sing her lullabies like NO ONE ELSE, her parents also have excellent taste in all things baby-themed.
The very pink baby shower was held on Sunday at the upmarket jewellery store 'Material Good' in Soho. The couple wore matching crowns that read 'Baby Mama' and 'Baby Daddy', and guests munched on cookies shaped like onesies and bottles. While it's traditional for baby showers to be a ladies-only event, this couple are far from conventional.
  Oh, and their French Bulldog (AKA soon-to-be big sister) Pippa was also there to celebrate.
She seems appropriately excited about the new addition to the family.
Teigen, 30, and her musical husband, 37, are expecting their daughter in mid-April. In recent months, the pair have attracted a great deal of attention after speaking openly about selecting their first born's gender through in vitro fertilization.
The swimsuit model has talked openly about her fertility issues, and since becoming pregnant, has been admirably honest about the realities of her pregnancy body. A few days before the baby shower, Teigen told an audience on FABLife that her "nipples are all sorts of weird right now".
Watch The Motherish team confess their first thoughts upon seeing their baby. Post continues after video.

And just like every other mum-to-be, Teigen consulted President Barack Obama about potential names for her daughter. During an appearance on The Late Show with Stephen Colbert, she said, "I asked President Obama if he liked one of our name choices and he said he did. But then I realised I should have come up with two, so he could pick one because, you know, you've got to be nice about it if you give someone a name."
Let's hope we can trust Obama to be honest, so we don't end up with another 'North' or 'Apple' in Hollywood.