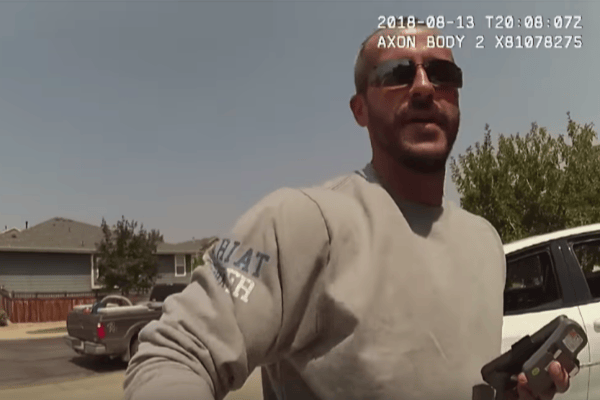 -With AAP
1. The moment Chris Watts' story fell apart, just two days after killing his wife and two daughters.

A newly-released video shows the moment authorities arrested Chris Watts – two days after his pregnant wife Shanann and their two daughters were murdered.
In a video obtained by PEOPLE and excerpted by 9News in Denver, Watts is seen to be questioned by hours by police on August 15.
He underwent a polygraph test but failed it. When questioned about what really happened, Watts maintained his innocence.
"I didn't lie to you on that polygraph, I promise," he told an officer before requesting a meeting with his father.
After speaking to his dad, Watts told authorities that he saw Shanann killing Celeste in the baby monitor and he strangled her in a rage, but police did not believe this version of events.
The video shows police asking Watts to stand up and face the wall before he is handcuffed and arrested, just hours before police announced they'd discovered the bodies of Shanann, Bella and Celeste on a property owned by the Colorado man's former employer.
The girls had been submerged in crude oil vats, while their mother, who was 15 weeks pregnant, had been buried in a shallow grave nearby.
At his sentencing in November, Weld County District Attorney Michael Rourke said Shanann had been strangled, and Watts' daughters were smothered. His four-year-old daughter Bella showed signs of fighting for her life.
Authorities have said Watts was having an affair with a co-worker and believed his motive was so he could have a fresh start with this new love.
"The evidence tells us this: The defendant coldly and deliberately ended four lives, not in a fit of rage, not by way of accident, but in a calculated and sickening manner," Rourke told the court.
Watts refused to speak himself, but through his attorney said he was "very sorry".
Nearly two weeks after pleading guilty to their murders, as well as one count of unlawful termination of a pregnancy and three counts of tampering with a deceased human body, Watts was sentenced to life in prison without the possibility of parole.
2. ABC reporter wins apology after being removed from parliament for 'baring too much skin'.
Patricia Karvelas should not have been thrown out of Question Time for baring arms, Speaker says https://t.co/6uPO4TaB7x via @abcnews

— PatriciaKarvelas (@PatsKarvelas) December 4, 2018