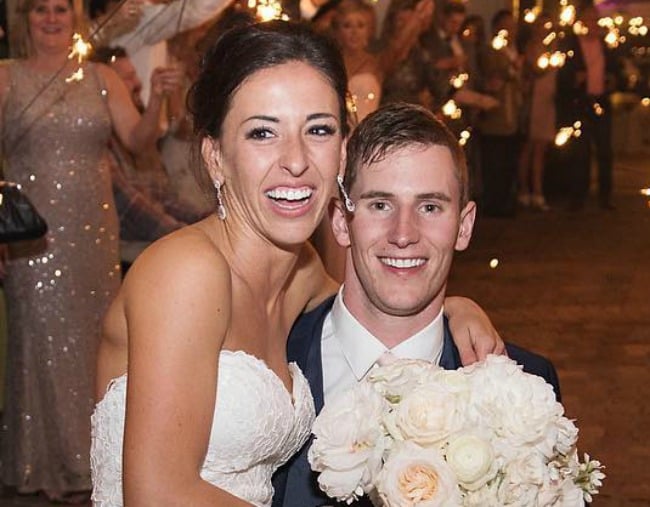 Chris Norton has continuously defied the odds.
Eight years ago when he was playing football for Luther College, the unthinkable happened.
During a tackle at kick off, Chris' head collided with another player's knees and he immediately lost all feeling from his neck down. At 18 years old, surgeons told him that he had a three per cent chance of regaining any movement or feeling below his neck.
But last Saturday, after years of rehabilitation, physiotherapy and recovery, he married his fiance Emily Norton Summers, and walked her down the aisle.
Speaking of the time after his initial surgery, Chris' father Terry Norton said he began to defy the odds from the very beginning.
"Immediately after the surgery he had all these wires coming out of him. He had this breathing tube coming out of him so he couldn't speak and he could move his left shoulders," he remembers in a video for Wellmark.
"Immediately he had beat the three per cent. We were in tears."
The four questions every kid asks Jess Smith. Paralympian Jessica Smith speaks about how she does simple daily tasks with one arm. Putting up her hair? Easy. Driving a car? No problem. Post continues after audio.
After seven months of recovery, Chris transitioned to a more local college and it was there that he met Emily while trying online dating in August of 2013.
Their first date was at a hot dog stand and the rest, as they say, was history.
"I knew we were stronger together," he told People.
A year into their relationship they made it a goal to to train Chris to walk across the stage for his college graduation and on May 23 2015, the day before the ceremony, he proposed in a local restaurant. John Legend's 'All of Me' was playing in the background.
The next day, he walked across the stage for his college graduation, and they later made a similar goal for Chris to walk down the 6.4 metre aisle at their wedding.
Speaking to USA Today, Emily said that seven months out from the wedding they were less hopeful.
"Chris couldn't take one step," she said.
"His foot would get tangled up. He just got mad and said, 'Just put me in bed.'"
A few weeks before his wedding, after hours of training and practice he was just a metre short of his 6.4 metre walk, and then on the 21st of April 2018 Chris, after exchanging their vows and their first kiss as husband and wife, walked the entirety of the aisle, to the standing ovation of their guests.
Speaking about their wedding day, Chris told People he "didn't know how the steps would go".
"I just wanted to take my time and enjoy the moment too.
"Just being able to go from not being able to walk a step to smoothly walk seven yards," he said.
Watch the video of Chris and Emily walking down the aisle here…
Now a video of that moment on their wedding day has gone viral, with a video on People's Facebook acquiring 16000 shares and 1.6 million views.
Currently working as a motivational speaker and founder of non-profit SCI CAN, which raises money for similar individuals with spinal cord injuries, Chris says that if he could go back in time and change that initial tackle, he wouldn't.
Speaking to Wellmark he said he's, "really found a purpose to help other people and inspire other people.
"There's more opportunities out there for us to really make a difference in the lives of those with disability," he said.
"That's what I'm doing now. Fulfilling that purpose."
Posting a photo of him and Emily halfway down the aisle, Chris said on Instagram it was never about the "physical act of walking".
"It is about not letting your challenges and setbacks keep you down," he writes.
"It's about how we are all stronger with love, and it is about trusting in [fate] even when you feel hopeless."