Professional cricketer, self-proclaimed 'Universe Boss' and certified troller Chris Gayle has marked the anniversary of the now infamous 'Don't Blush Baby' interview with an Instagram post telling Australia to "lighten the phuck up".
In characteristic form, Gayle posted the message alongside a video filmed at the ULTRA Carnival on the Caribbean island of St Kitts and Nevis, where he and wife Natasha Berridge engage in an original Jamaican dance called "daggering".
For the uninitiated, the dance purports to be as explicit as it sounds, incorporating dry sex, wrestling and other forms of frantic movement to create quite the viewing for your average weekday.
The video is one of many Instagram posts Gayle posted throughout his time at the festival on Tuesday and Wednesday, engulfed by colourful costumes and provocative dancing.
Gayle saturated Australian headlines last year after a post-innings interview with former Channel Ten journalist Mel McLaughlin went viral during his Big Bash game with the Melbourne Renegades. During the exchange, Gayle asked McLaughlin if she wanted to come out for a drink with him, before quickly adding "don't blush baby".
"I wanted to come and have an interview with you as well, that's the reason why I'm here," he said at the time. "Just to see your eyes for the first time. It's nice."
As a result, the batsman was fined $10,000 by the Renegades and was made to apologise to McLaughlin.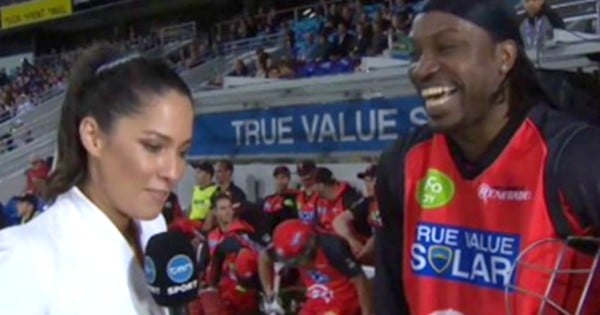 In April, Gayle and his wife welcomed a baby daughter, aptly and perhaps not at all ironically named Blush.
Since then, he has been steadfast in his belief that he did nothing wrong and that the entire scenario was "blown out of proportion". In an interview with The Guardian in June this year, Gayle continued the narrative of the entire exchange being "just a joke".
"The players are laughing. They know I like to clown around. She knew it as well," he told the publication. "She was laughing before the interview and saying: 'Guys, stop it, stop laughing.'
"But you're a woman in an environment with men. You're good-looking. What do you expect? People are going to make jokes. I've seen people kiss the same Mel on live television. There are double standards. All the commentary guys found it amusing – but then someone whisper in their ears and everything was blown out of proportion."
Since the McLaughlin incident, Gayle found himself at the centre of another wildfire of controversy in May after boasting to Times Magazine journalist Charlotte Edwardes about his 'very big bat'. The article also states Gayle asks Edwardes how many black men she has "had" and asked if she has ever had a threesome.