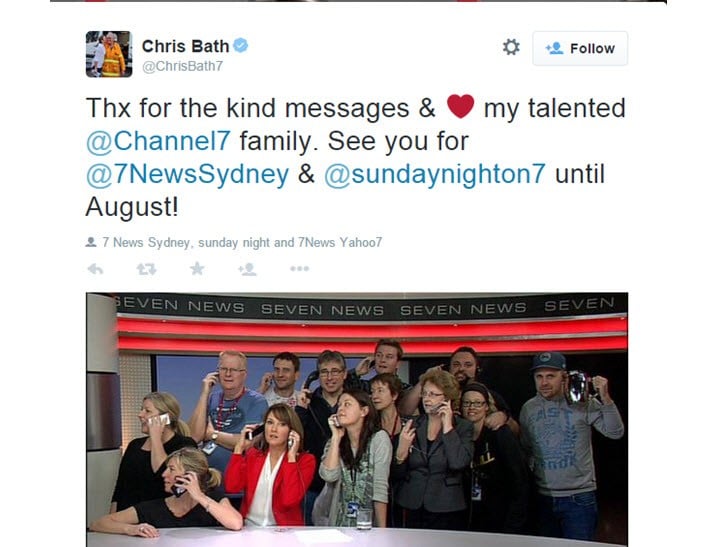 She's leaving the coveted role.
Longtime Channel Seven newsreader Chris Bath, 48, is leaving the network after 20 years of service.
Who's replacing her? None other than Melissa Doyle, 45, who was herself ousted from the top spot on Sunrise by Samantha Armytage in 2013.
Bath has said it was her own decision to depart from the coveted position at the end of July, which is when her current contract ends.
But that hasn't stopped speculation that there's some kind of complicated war going on between the women at Seven. Because we all know women cannot work together, am I right?
Armytage, 37, who controversially replaced Melissa Doyle as David Koch's Sunrise co-host, and Bath have reportedly got some kind of Taylor Swift/Katy Perry bad blood going on.
According to former Sunrise producer Adam Boland, Armytage dubbed the newsreader "Bath Vader" and the two have a longstanding feud.
There is speculation that Bath has been ousted as the network scrambles to compete with Channel Nine news, hosted by veteran Peter Overton, in the timeslot.
Bath took over as the weeknight newsreader when Ian Ross retired in 2009, but ratings suffered and she was moved to Friday and Saturday bulletins and presenting Sunday Night.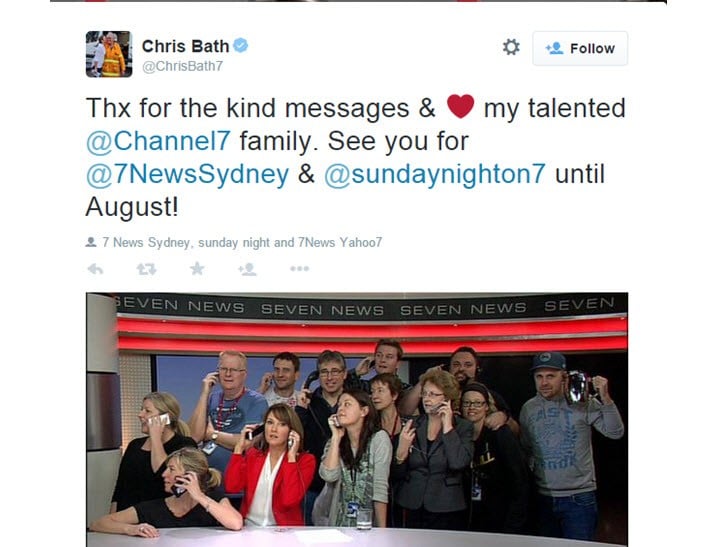 "This has been a very big decision," Bath said in a statement. "I'm very grateful for the past wonderful 20 years at Seven.

"I want to thank the Network for giving me the chance to enjoy every broadcast journalism experience possible; from reading news to assignments abroad including East Timor, Bali, Gallipoli, royal weddings and various Olympics; to interviewing pollies on Face to Face, 11am and Sunday Sunrise; to Witness and Sunday Night; to the glorious anarchy of anchoring breaking news events for hours with our first-class studio crews; to tangoing to AC/DC under a mirror ball on Dancing with the Stars.

"I've loved it all, worked with some amazing people and made lifelong friends at Seven. It has been a tough decision to leave, but years ago I left a great job in regional television because I didn't want to say, 'What if?' about life, and I feel with all that experience on board now, the time is right again to explore new horizons."
Watch Bath on Dancing with the Stars…Post continues after video.
Bath has not indicated she's leaving her position, which The Australian speculates pays something in the region of $800,000 a year, for another opportunity.
Channel Seven chairman Kerry Stokes paid tribute to Bath, saying her work is "impeccable".
"For all of the long days that inevitably turn into long nights, I thank Chris for not once taking the easy way to get the facts that get the story. Chris has always been there to work in the community, especially with schools, and has made trips to Perth to help with Telethon.

"I'll miss her sense of humour and on-air professionalism. Channel Seven will always have a place for Chris. In the meantime however, I wish her every success for the future."
For her part, incoming newsreader Doyle tweeted, "My sincere best wishes to @ChrisBath7 as she starts a new chapter. I have big shoes to fill."
More TV trivia?

He was one of the most recognisable faces of children's TV. Then he disappeared.

The TV moment that left us all in disbelief last night.

Sonia Kruger's baby dominates morning TV. Needs to get an agent.