This week, on advice podcast Dear Prudence produced by Slate, Mallory Ortberg read out loud a letter that left her asking, "What the actual hell?"
The letter read;
I've been best friends with Jane since we were in middle school. Jane got married a few months ago and told me she was only planning on having her sisters in her wedding party. I was hurt, since she was in my wedding, but I understood her desire to keep the party small. Well, on her wedding day I discovered she actually had four bridesmaids, her sisters and two of her college friends. I didn't want to ruin her day, so I didn't say anything about it at the time.
About a month later, she texted me to get together and I told her I was hurt by my exclusion from the wedding party and asked if I had done something to upset her. She then admitted she hadn't asked me because I'm overweight and she thought I wouldn't look good in the bridesmaid dress she had selected. I had no idea what to say to this, and told her I felt hurt and didn't think I could see her again any time soon.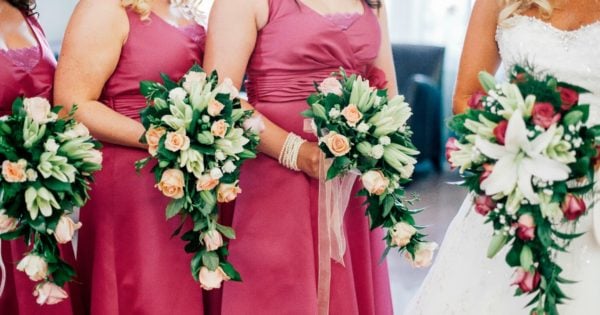 I'm not so sure what to do. I feel pretty devastated about this, especially since my weight has always been an issue for me and I thought Jane understood.
Jane told me she was sorry but I don't know if I can get over this. At the same time I don't know if I should throw away a nearly 20 year friendship.
What should I do?
Holy. Sh*t.
WHO chooses their bridesmaids based on how much they weigh? And how they will look in the dress you've (already... ?) picked out? What kind of logic is that?
LISTEN: Mia Freedman, Monique Bowley and I discuss the horrifying letter on the latest episode of Mamamia Out Loud. Post continues below.