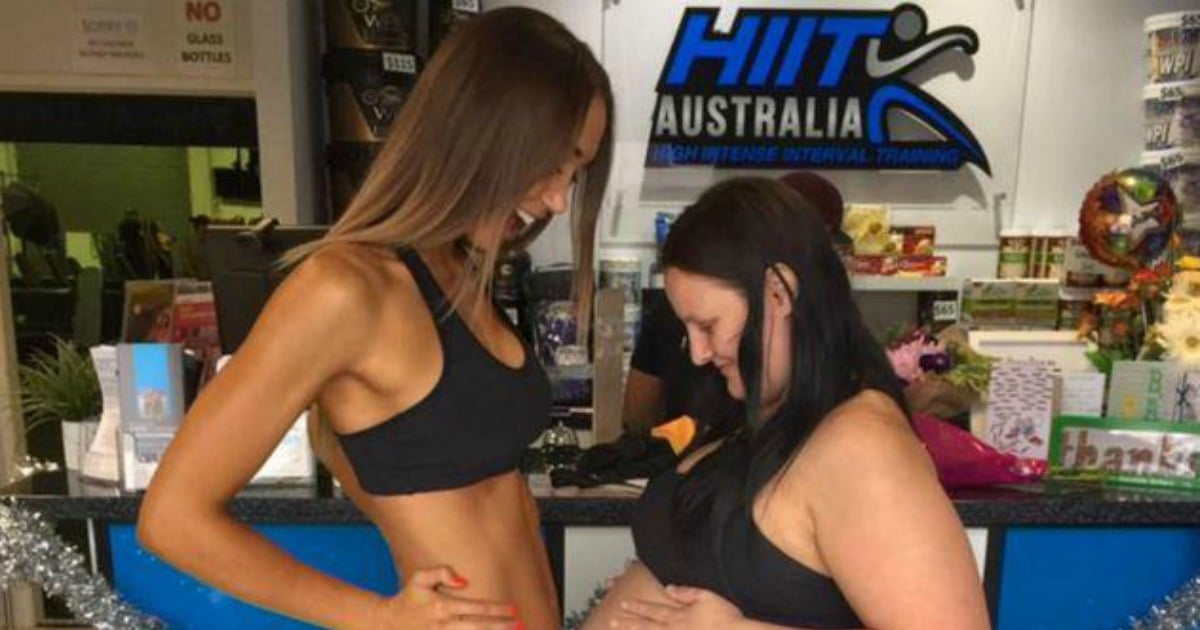 Earlier this year, fitness instructor Chontel Duncan posted a photo comparing her pregnancy belly with a friend's. And it went absolutely bananas online for a pretty obvious reason.
Although there was just four weeks between their due dates, with Chontel at 21 weeks and Nat 25 respectively, the difference in the two women's bodies was enormous. Marvelling at the disparity between their growing bellies, and wanting to remind her followers that 'each women carries differently', Chontel took the opportunity to comfort expecting mums that bump size "certainly doesn't mean (you are) doing something wrong".
And now, six months down the line, the friends and new mums have come back together to reiterate that very same point. They've recreated their viral photo, but this time with two very special (and very adorable) additions.
"Had a lovely surprise visit from Nat & baby Charlie." Chontel told her 550,000 Instagram followers, adding that both bubs are healthy and happy, "two healthy pregnancies & now two healthy baby boys." Unsurprisingly, the image has had similar success to the first – attracting over 18,000 likes in under 24 hours.
 On March 25, Chontel and her husband Sam welcomed a bouncing baby boy in Jeremiah. Since becoming a parent, the Instagram sensation has posted a number of adorable mum and bub workout snaps, calling her little boy her "favourite training buddy".
When the fitness junkie was 27-weeks pregnant, she said she had persisted with her extensive exercise routine despite her changing body. "I train as much as I can & feel great moving my body," she wrote in a Facebook post, continuing that working out "makes me feel alive and really happy".
When Mamamia spoke to Brisbane Obstetrician and Gynaecologist, Brad Robinson, on the safety of exercising while pregnant, he said that mums-to-be should not be too concerned.
"I encourage my patients to exercise throughout their pregnancies and it's often possible to continue doing whatever exercise regime you were doing pre-pregnancy – albeit modified as necessary."
We're all happy to see the mums and bubs doing so well.
Watch the Mamamia team answer the pregnancy questions you're too afraid to ask.