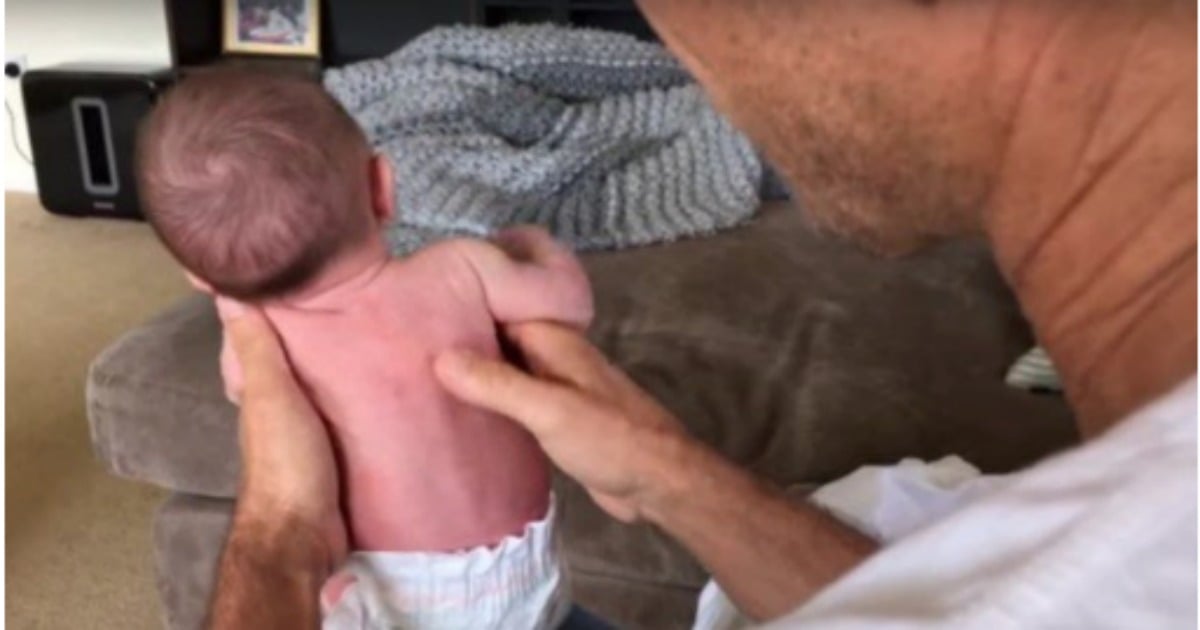 We've rounded up all the latest news from Australia and around the world – so you don't have to go searching.
1. Chiropractor temporarily banned from treating children after video goes viral.
The chiropractor who manipulated the spine of a four-day-old baby in a video that went viral has been temporarily banned from treating children.
Dr Ian Rossborough from Parkdale in Melbourne may face tougher penalties reports The Herald Sun with the Chiropractic Board of Australia expected to hold a hearing into his conduct.
Dr Rossborough performed a chiropractic procedure on a newborn in a video that then went viral where he performed a manoeuvre on the spine of a four-day-old baby, after her parents allegedly said she had colic and reflux.
It prompted Health Minister Jill Hennessy to call for more regulations for chiropractors performing "unproven and potentially unsafe" procedures on infants.
The Herald Sun reports that Dr Rossborough's medical registration says he is prevented from assessing, performing, formulating a management plan or providing any manual therapy including manipulation of the spine to anyone under 18.
The ban, reports The Age will stays in force until June 2 while the Chiropractic Board of Australia it investigates his conduct.
2. PM faces pub test in Darwin.
The Prime Minister faced voters in Darwin last night at a 'politics in the pub' event alongside the Liberal MP Natasha Griggs who holds the seat of Solomon by a 1.4 per cent margin.
The ABC spoke to some of the locals who questioned him with one saying the PM was "eloquent and very well spoken, definitely very persuasive."
Another said Mr Turnbull's $15 million pledge to bring a PET cancer diagnosis scanner to Darwin was "huge".
"It's close to a lot of people," she said.
But another said the PM was "just rolling out rote notes on the policy, playing the policy line."
3. Missing Sinead O'Connor found safe after making headlines overnight.
Singer Sinead O'Connor, who was reported missing in Chicago, promoting a large police response and search has been found safe.
Police said overnight they were "seeking to check the well-being" of the 49-year-old.
Police were called after O'Connor "left the Wilmette area" for a bicycle ride at 0600 local time on Sunday, and had not returned after more than a day.
A concerned caller contacted police after seeing O'Connor on the bicycle.
Police have since said she was found safely.
O'Connor had posted on her official Facebook page at around 9am on Sunday, addressing her adult son Jake and talking about her custody battle with her ex-partner Donal Lunny.
"Jake, kindly go to the court on Tuesday and take custody your brother from Tusla. My lawyer will be making the illegal way yourself and Donal got him into Tusla (lying to the cops etc) known to the judge," wrote O'Connor.
"Expect to be in trouble. In fact you'd best bring a lawyer of your own. And do not abandon your brother or any other of my babies again. What you have done to your brother and your mother is LITERALLY criminal."
O'Connor has previously posted distressing updates on Facebook, including last November, when she wrote that she had taken an overdose.
"There is only so much any woman can be expected to bear," she wrote.
"What was done to me this week was appalling cruelty.
For help: Lifeline 13 11 14. 
4. Man to appear in court over rape of 3-year-old girl.
A 43-year-old man will appear in court today charged over the alleged sexual assault of a three-year-old girl in the WA town of Bruce Rock.
The man was charged yesterday with two counts of aggravated sexual penetration of a child aged under 13, aggravated indecent dealing with a child under aged 13, aggravated burglary and stealing.
The incident allegedly happened on while the toddler was sleeping in a room in the company of her five-year-old brother when the man allegedly entered and carried out the sexual assault.
5. Investment schemes overtake fake romance as top scam.
A report by the Australian Competition and Consumer Commission has shown that losses to investment scams doubled to $24.4 million in the last year with investment scams now overtaking dating and romance scams as the biggest money spinner for scammers.
The ACCC has revealed that six investment scam victims lost more than $1 million each in 2015.
"The low interest rate environment has led to those semi-retired or retired searching for investments with higher returns, and scammers are preying on them," said Delia Rickard, deputy chair of the ACCC.
"A lot of these offers aren't that much higher to be 'too good to be true', so they think it's a good option."
Fairfax Media reports that while investment and love scams accounted for only 3.7 per cent of the 105,200 scams reported to the ACCC they accounted for more than half the $84.9 million of total losses.
6. Antidepressants "not as effective "as previously thought.
Fairfax Media reports that doctors are being urged to scale back their prescription of antidepressants as more research suggests the drugs have been oversold.
Writing in the Medical Journal of Australia, Christopher Davey, a psychiatrist at Orygen, the National Centre of Excellence in Youth Mental Health, said that, as more studies of antidepressants have been analysed, including negative trials that were previously not published, the drugs have been found to be ineffective for 30 to 40 per cent of people who use them as a sole treatment for depression.
One in 10 Australian adults takes antidepressants daily with Australia having one of the highest rates of antidepressant use in the world.
The doctors say that antidepressant medications still have an important role in the treatment of moderate to severe depression, and that they should be provided as part of an overall treatment plan that includes psychotherapy and lifestyle strategies to improve diet and increase exercise.
7. Man receives penis transplant in US.
A hospital in Boston has become the first in the US to perform a successful penis transplant.
Thomas Manning, 64, received the donated organ three years after his penis was amputated due to penile cancer.
He is the third man worldwide to have had the experimental surgery performed.
The patient is expected to regain normal urination and sexual function in the next several months.
Mr Manning hopes that by speaking publically about his experience he will remove the stigma of genital injury and inspire other men to remain hopeful about recovery.
"I want to go back to being who I was," Mr Manning told The New York Times.
Worldwide, only two other penis transplants have been reported a failed one in China in 2006 and a successful one in South Africa in 2014. The man had had complications following a traditional circumcision ceremony.
He later went on to father a child.
8. New Zealand campaign for "T" Plates for tourists.
New Zealanders are throwing their support behind a plan which would mean tourists have to pass a test before they can drive on New Zealand's road and when they pass the test they would then have to drive vehicles with "T" marked plates.
The campaign set up by a group on Facebook is urging the government to adopt the T plate system.
"People who come to this country are given the right to drive despite many of them not knowing our driving rules or regulations — hence the number of crashes that occur on our roads," one of the men behind the campaign told Newshub.
"I think there should be a test for tourists to sit like our learners test that is compulsory for anyone who wants to drive in this country.
"Following passing this test they could receive a T-plate which would allow other drivers to know the dangers."
The campaign's Facebook page has attracted more than 3000 followers.
According to the latest data from the New Zealand Transport Agency, foreign drivers contribute to about six per cent of all crashes resulting in injury or death.
Do you have a story to share with Mamamia? Email us [email protected]