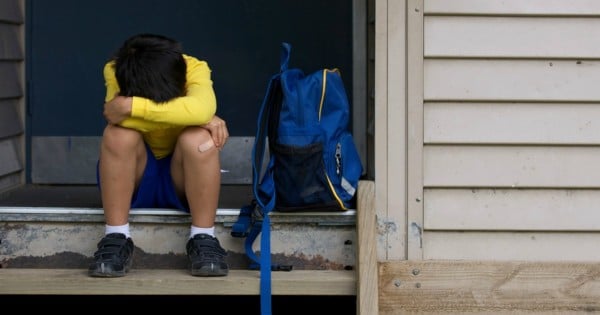 Last year, people were horrified to hear of a young boy with autism being kept in a cage at a Canberra school. It wasn't an isolated incident. Other parents from around Australia have come forward to say their children with disabilities have been locked in rooms and pens, as well as held down and dragged by teachers.
Two mothers, one from Queensland and one from NSW, share their stories with Mamamia.
Melissa's story
Oliver, my youngest child, is on the autism spectrum. He's also been diagnosed with ADHD [attention deficit hyperactivity disorder] and high anxiety.
We always had problems with Oliver not fitting into the school system, but in Year Two, things really started to fall apart. I had him on medication, but it was having horrific side effects. Plus, we suspected he might possibly have a heart condition. So we had to stop medication immediately.
The school wanted Oliver on medication and compliant.  To try to get him to comply, they locked him in a room with a concrete floor and cage walls. They said it was for his own safety, but we're talking about a child that's going to smash his head on a concrete floor. I had discussions with the school, but they continued to lock him in this room.
In Year Three, his teacher gave him a wedgie – apparently, in order to stop him from running away. She pulled his underwear up through his butt cheeks. The teacher said to me that this was protocol for restraining a child. I was like, 'Are you serious? That's physical assault.'
They see him as defiant, basically. They don't understand that he's experiencing sensory overload.
A week into Year Four, a parent came up to the school and said that my child had hit his child. The school didn't question anything and punished Oliver by taking away his reward time. Despite him asking what he'd done wrong, they didn't tell him. At the end of the day, he had a huge meltdown. The teacher grabbed him on his arms and actually left bruises. I still have photos of the bruises.
Oliver's arm following the incident. "My son was a very small child and the teacher a large man and there was absolutely no way the teacher needed to use such force to restrain a very small child," Melissa says. Photo supplied. 
After the incident with the teacher, Oliver would literally vomit at the thought of going to school. The school refused to move him into a class with a more suitable teacher that understood about ASD [autism spectrum disorder]. I was given no choice but to pull my child out and keep him home.